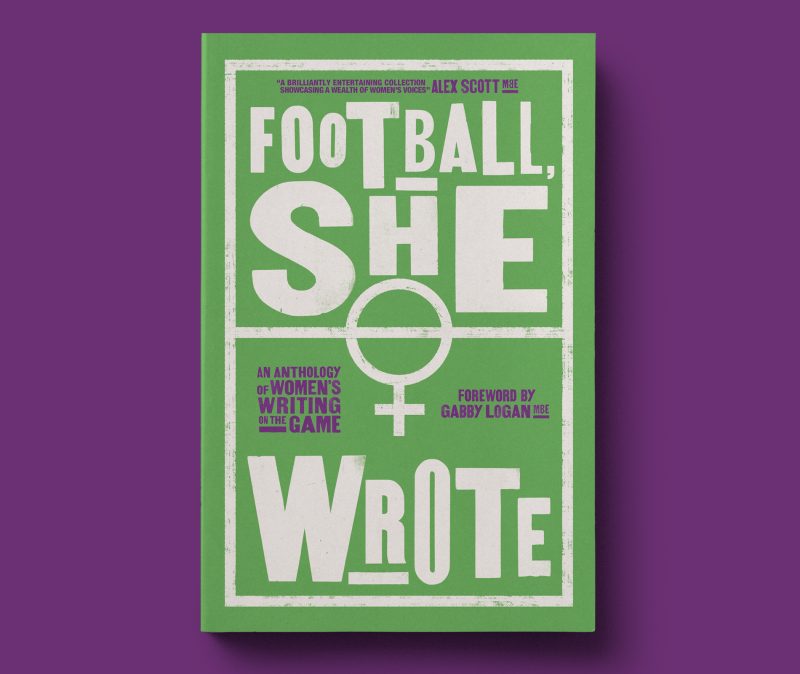 A superb new anthology of women's football writing has been brought into being by a collaboration between publisher Floodlit Dreams and Women in Football.
The book features 20 pieces, 10 by experienced, commissioned writers and 10 by new writers who were chosen from a strong entry list after submitting their pieces to a competition.
"I am so proud of this book," said Floodlit Dreams founder Ian Ridley, who also curated the book, which has been edited by Charlotte Atyeo.
"We launched the Vikki Orvice book prize back in 2019 in honour of my late wife, who was a founder and board member of WIF, and there were so many great ideas well beyond the marvellous winner, Susie Petruccelli's Raised A Warrior, which we published last year. It got me thinking that we should do something more.

"The result is this collection and it is full of remarkable material that shows the depth of talent among women wanting to write about football. They just need platforms, particularly when it comes to books.
She Kicks Editor Jen O'Neill, who was invited to help decide on the ten new writers, along with Ridley and Atyeo, said:
"'Football, She Wrote' is deliciously readable and wonderfully diverse. Though the topics, styles, perspectives and experiences in each chapter are different, the same passion for the game and high quality of writing, is on every page."
With a foreword by Gabby Logan MBE, this unique collection includes memoirs, profiles, interviews and takes in talking points about sexuality, diversity and inclusion. From Julie Welch's brilliantly illuminating story of the first women's international match after a 50-year ban to the madcap tale of two black radio rookies in China… From the trials of covering the soap opera that is Newcastle United to the glamour of establishing Real Madrid TV… From the making of the magnificent Emma Hayes to the equally amazing Mums United FC…it is an anthology to make you think and feel, laugh and cry.
The full list of contributors is (in alphabetical order): Kehinde Adeogun, Isabelle Latifa Barker, Kate Battersby, Alison Bender, Jade Craddock, Hayley Davinson, Molly Hudson, Tracy Light, Renuka Odedra, Fadumo Olow, Katie Mishner, Christina Philippou, Jane Purdon, Ali Rampling, Louise Taylor, Julie Welch, Julia West, Cassie Whittell, Katie Whyatt and Suzanne Wrack.
Priced at £14.99 you can buy it from Waterstones, Amazon and here: https://www.floodlitdreams.com/product/football-she-wrote-an-anthology-of-womens-writing-on-the-game/
SHE KICKS HAS 5 COPIES OF 'FOOTBALL, SHE WROTE' TO GIVE AWAY!
To be in with a chance of winning one, email: info@shekicks.net with subject header: 'Football, She Wrote' (Closing date 5pm, 8/10/'21. UK only)