Published in full colour, She Kicks is a bi-monthly women's football magazine available in both print and digital format. Each issue is packed with News, Features, Photos and Exclusive Interviews with key players, coaches and officials involved in the Women's game within the UK and beyond.
The printed magazine can be purchased for delivery direct to your door as a single issue (£4.25 inc. UK postage) or by annual subscription (£25). For full details and to purchase via our online shop please click HERE.
You can also subscribe and pay by credit card over the phone. Please phone 0191 4424015 during office hours to subscribe and pay.
Want to have a look at a magazine to see what we are about before you buy? Well you can view a previous issue for FREE. Just click on the cover image of Issue 75, our European Champions Special issue, to access and read that copy online.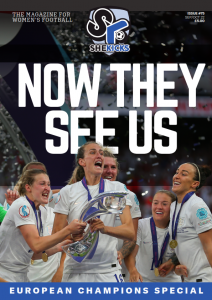 [This collectors item is still available to buy in our online shop]
Current issues of the digital version of the magazine (or a digital annual subscription) can be purchased to read online or downloaded to read offline on your tablet or mobile at £3.00 for a single issue or £6 for an annual subscription. Please click here for full details.
The team behind She Kicks Magazine have been involved in producing Women's Football Magazines for over 20 years. You can read a digital copy of our 20th Anniversary Issue for free by clicking on the cover image on the left. Unfortunately we have sold out of this particular issue but there are still a few issues remaining of the European Champions Special issue.
"The last 20 years has seen the transformation of women's football in the UK, Europe and indeed the world, it is without doubt in the best place it has ever been, thanks in a big part to so many unsung pioneers that read your words and are inspired to do more. You have been there every step of this journey and ensured we all knew about the great stories as the game made these strides" – Rachel Pavlou, Women's Football Development at The FA