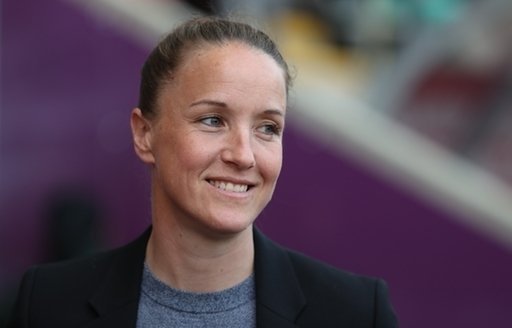 Former England & Team GB captain, England women's team assistant coach and current Manchester United manager, Casey Stoney MBE, has co-written a book. We wanted to know more! So SK's Chris Brookes grabbed her for a chat…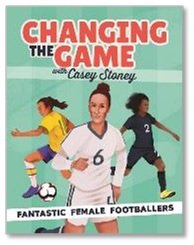 SK: What first sparked the idea for the book?
CS: I gave a talk a few years ago about my journey, and the book company were in the talk, so they came and spoke to me, we had a chat. I was very passionate that I grew up without any role models, I grew up not feeling there was anyone to look up to in the women's game, and that there's still not really enough visibility in terms of that. I've got two little girls now, I've got a little boy, and I want them to grow up seeing their role models, on the telly, in books, so I was really passionate to remember those who have gone before me that have put the game in the place that it is now. So those were the two key reasons for me going down the route with this book.
SK: How time-consuming has it been for you, alongside coaching/management, being a mum etc.?
CS: I've had an awful lot of support from the publishers, with the amount of work they've put in, the amount of influence I've been able to have on it. It's been ongoing for over a year now really. We had to go back and forth on a few things, in terms of my preferences and what I wanted it to feel like and look like, and who I wanted it to appeal to. It is obviously directed at a younger audience, and we want them to pick it up and be engaged, and we want it to be informative as well, and to celebrate where the game is. It was quite a long process but a really enjoyable one, because you kind of forget where the game was. Sometimes you forget how many people have influenced it, and you realise you're really privileged to be part of that era and part of something very special.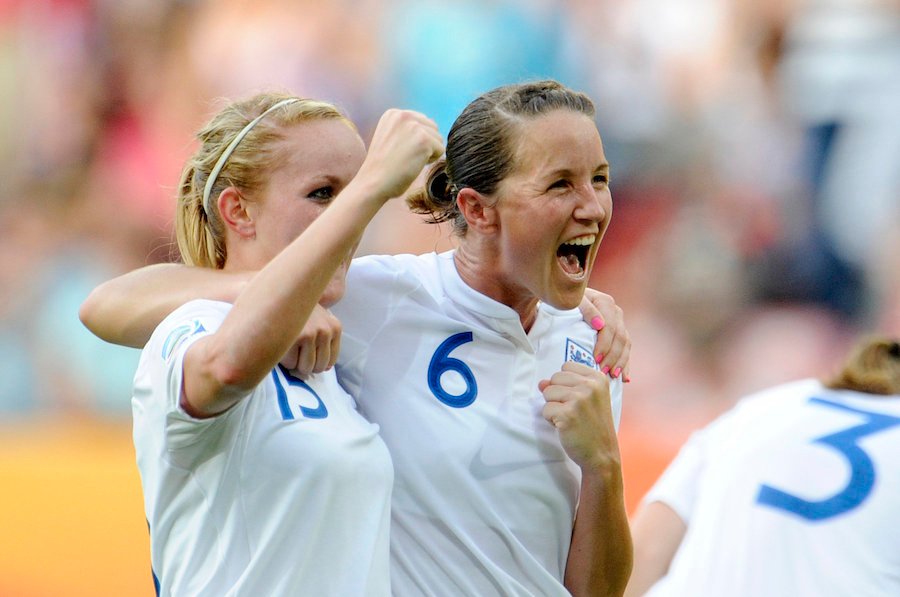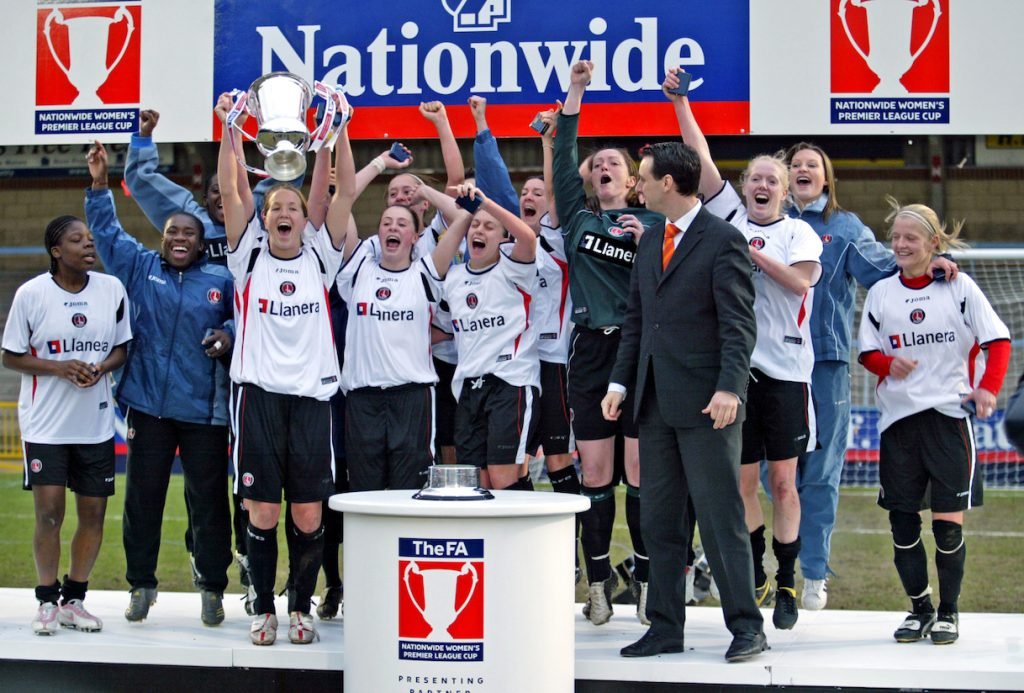 SK: Is there a favourite chapter or section for you? 
CS: Do you know what? I always – not in an ego way – I quite like to look at the pages of my journey and where I started, and where I am now. People talk about my achievements, and I've never really stopped to look back and reflect, if I'm honest. One of my biggest things was I always wanted to leave the shirt in a better place, no matter my achievements, and I look back and I feel like I've done that. I suppose one of my favourite things as well is looking at the stars of the future, the next generation that's going to come through, and be excited about where the game's going.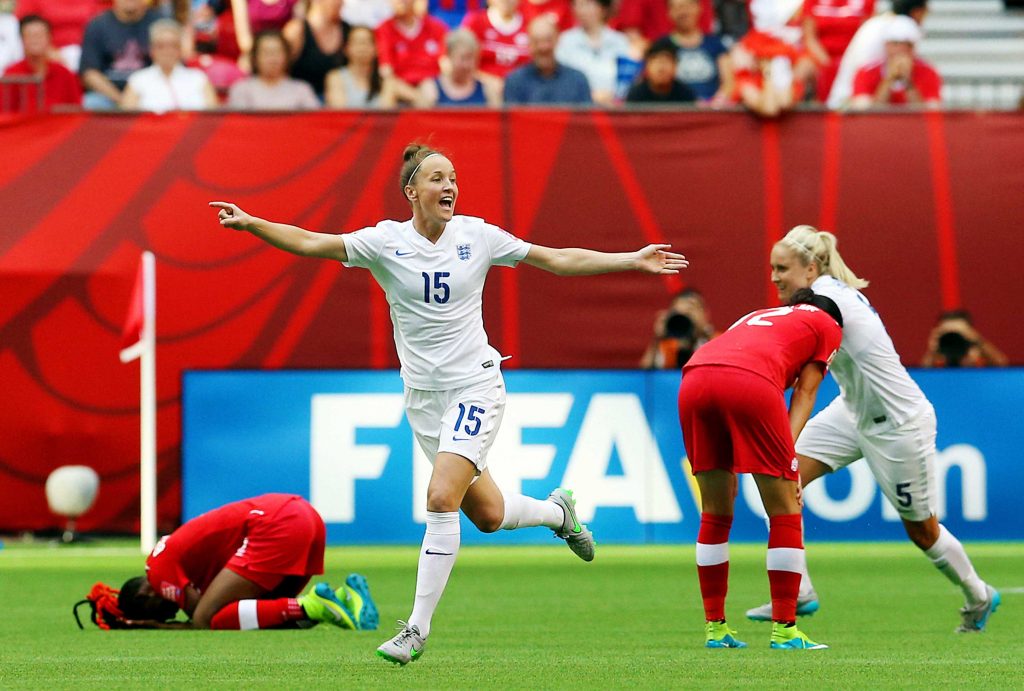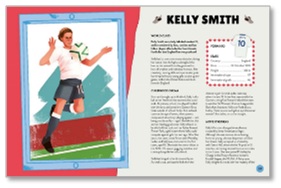 SK: Do you think you'll look to work on more books in the near future?
CS: Yeah, definitely. I'm an avid reader anyway. I learn a lot, if I'm reading anything about leadership I'm learning, and also I read with my kids every single night. I think there's such an importance to reading, so we're looking at different ways in terms of what kind of books we'll bring out next. I've really enjoyed the process, so it's something that I definitely want to do again.
SK: And finally, what does it give you to see the Lionesses selling out Wembley after all that you and others invested of yourselves to help push it on?
CS: It gives me immense pride. Immense pride for all of those that have gone before me, and all of my generation, to go 'look at what we've done. Look at how far we've taken the game.' Now these players get to go out there and express themselves in front of 90,000. I look back and we never even had kit that fitted us. We had to get ready in dressing rooms before we even got to the ground, you were told you couldn't play, you shouldn't play – now there's 90,000 people coming through the door to watch a women's game. It is absolutely incredible.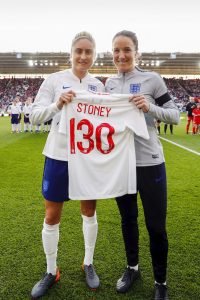 FACTFILE
Full name: Casey Jean Stoney MBE
DOB: 13 May 1982
Place of birth: Basildon
Current role: Manchester United Women (head coach)
Previous management career: Chelsea Ladies (player-manager)
Playing position: Centre-back
England caps/goals: 130/6
Club career: Arsenal Ladies (two spells), Charlton Athletic Ladies, Chelsea Ladies, Lincoln Ladies, Liverpool Ladies
Major honours (manager): FA Women's Championship 2018/19
Major honours (player): FA Women's Premier League National Division (2000/01, 2001/02), Women's FA Cup (2001, 2005, 2014, 2016), FA Women's Premier League Cup (2000, 2001, 2004, 2006), UEFA Women's Euro 2009 (runner-up), FIFA Women's World Cup 2015 (bronze)
You can read Olivia's ace interview with Casey in #SK57's #SHEKICKSLITTLEKICKS section. Order your copy HERE.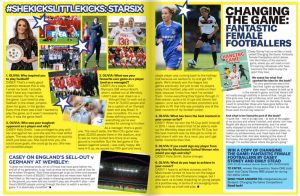 🎉 WIN! WIN! WIN! 🎉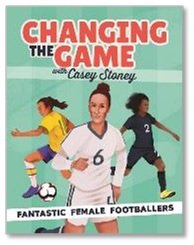 THE HAPPY WINNER OF THIS COMPETITION WAS: Darren Jeffery, New Cross, London.
AND, we have a copy of Changing the Game: Fantastic Female Footballers by Casey Stoney and Emily Stead (RRP: £12.99, Hardback, Bonnier Books ISBN: 9781787415676) to give away.

TO ENTER, answer this question: Name ONE club team that Casey Stoney MBE played for during her stellar career.
SEND YOUR ANSWER TO: info@shekicks.net (Subject: Changing the Game Competition) Good luck!
We made this gallery 📷 when Casey retired. Have a 👀 …