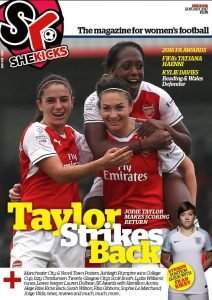 Gosh. Where to begin with #SK39?! Well, how about:
England and Arsenal striker Jodie Taylor talks about her spectacular scoring returns for both club and country
+ 
⚽ Kylie Davies reveals why she will take a break from Reading and Wales action;
⚽ We check in with some of the winners at the FA's Annual Awards;
⚽ Tatjana Haenni, FIFA's Head of Women's Competitions, discusses how she sees the development of the global game and some of the work that the world's governing body is doing in that area;
⚽ Frantastic Fran Kirby takes us through the role of the striker in our Position by Position series;
⚽ Also Izzy Christiansen tweets back; we hear from Ashleigh Plumptre on her College Cup success and Glasgow City boss Scott Booth opens up about coaching the Scottish Champions;
⚽ While you, dear readers, tell us about your top bits of last year and what you're looking forward to in 2017; Hamilton Academicals tell us who would win what in our fun SK Awards; Anna Signeul and Spain coach Jorge Vilda react to the Euro 2017 draw plus the Matildas' keeper Lydia Williams outlines her top tunes.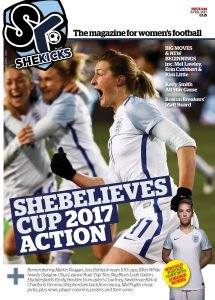 Jammed full of women's football goodness (and fresh from beating the USA on home soil at the SheBelieves Cup, though obvs not quite good enough to win the whole thing), is #SK40. This latest issue includes interviews with these top players:
Kim Little, Jess Fishlock, Mel Lawley, Leah Galton, Emily Heckler, Erin Cuthbert and Fiona Brown
+ 
⚽ Position by Position playing guide by Jordan Nobbs (Central midfield);
⚽ We feature the retiring Kelly Smith's All Stars Game, which was mega fun;
⚽ And we also remember and pay tribute to former England Women's Manager Martin Reagan who passed away in the winter
⚽ Plus there are galleries of images from the SheBelieves Cup and Women's FA Cup and of course a host other news, regulars and footie-related silliness.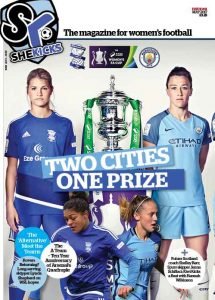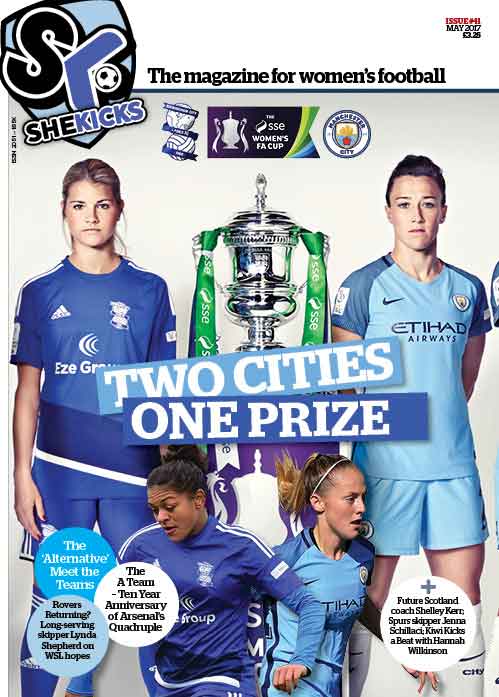 It's the 2017 WOMEN'S FA CUP FINAL SPECIAL! In #SK41 you can:
Meet the cup final teams Birmingham City and Manchester City, as introduced by the players themselves
+ 
⚽ Plus enjoy interviews from both finalists with Jess Carter & Marc Skinner (Birmingham City), Toni Duggan & Keira Walsh (Manchester City);
⚽ It's 10 years since an incredible Arsenal side won the Quadruple, so we look at back at that stunning success and ahead to the UWCL Final in Cardiff on 1st June;
⚽ Also featured are coaches Shelley Kerr and Willie Kirk, as well as Kiwi baller and musician Hannah Wilkinson; as well more news, fun, pics and an ace England poster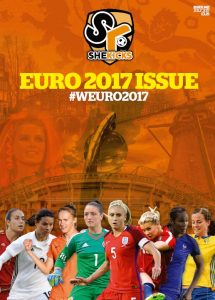 OMG OMG OMG! Here's #SK42 and it's our EURO 2017 special (72 pages)…which means EURO 2017 is (almost) HERE! We've concentrated on our home nations teams competing, so… 
We've got plenty of #Lionesses stuff (with player profiles, interviews and a Steph Houghton poster) and also Scotland goodness too (inc. player profiles and interviews)
+ 
⚽ There's a match planner, an incredible 'Euros Mixed Tape' with fave tunes from each of the 16 competing teams
⚽ Fun phrases in Dutch
⚽ Predictions from pundits and an array of our usual regulars too.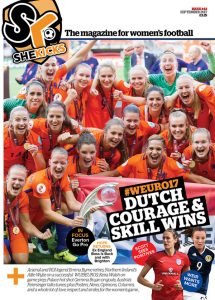 If you want 64 pages of Women's Euros football love then you want #SK43. What a gas #WEURO2017 was and now we are full steam into the 2017/18 season, so we look back and look forward and generally celebrate the women's game. It features:
Interviews with Jill Scott, Caroline Weir, Hope Powell, Gemma Bryan, Keira Walsh, Jamie Sherwood, Laura Feiersinger
+ 
⚽ We ponder who has done the best business in the transfer window
⚽ Report on the FAWPL Charity Trophy and the England All-Stars
⚽ Visit Everton LFC to check out how the club is fully backing their full-time women's team
⚽ Plus we we chat to Scotland coaches Anna Signuel and Shelley Kerr, Northern Ireland's Alfie Wylie, look at the #WU19Euros, plus there's posters, news and a bit of fun too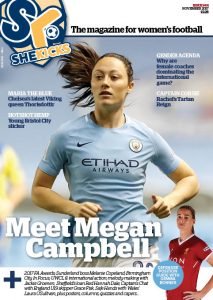 #SK44 is made up of 64 pages of glamour-sized, full-colour coverage. Included in this issue are feature interviews with:
Manchester City's Irish international and left-foot specialist Megan Campbell
Chelsea's new Norwegian defender Maria Thorisdottir
+ 
⚽ Seattle Reign defender and brand-new Scotland skipper Rachel Corsie
⚽ Bristol City's England Young Women's Player of the Year Lauren Hemp
⚽ Coach Kicks with Sunderland manager Melanie Copeland
⚽ and that's not all…there's also coverage of The FA 2017 Awards, a round-up of international and UWCL action, a Club Focus on WSL1's Birmingham City, a feature on the women at the top of the international coaching game, plus posters, news and plenty of fun too.