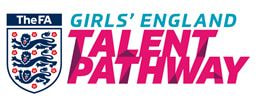 COVID – 19 UPDATE. DUE TO THE CURRENT SITUATION, THERE IS UNCERTAINTY AS TO WHEN IT MAY BE POSSIBLE FOR 2020/21 RTC TRIALS TO TAKE PLACE.
SOME RTC's ARE ASKING FOR AN EXPRESSION OF INTEREST FORM TO BE COMPLETED FOR PLAYERS INTERESTED IN ATTENDING TRIALS, FOR WHEN TRIALS ARE ABLE TO TAKE PLACE.
WE WILL ENDEAVOUR TO UPDATE THE INDIVIDUAL PAGES IN THIS SECTION FOR EACH RTC AS AND WHEN WE ARE AWARE THAT INFORMATION BECOMES AVAILABLE.
STAY SAFE.
There are currently 34 approved Women's Football Regional Talent Clubs (RTC) in operation across England providing weekly quality coaching and a localised fixture programme for 'excellent' girls from the age of 7-17.
The FA Girls' England Talent Pathway allows female players opportunities to access appropriate levels of coaching and support throughout the talent pathway, enabling the programme to reach the ultimate goal, in producing elite English female players to compete on the world stage.
The structure in place aims to support in the identification, development and progression of players with the potential and aspiration to play for the England Women's Senior team.
For further information about the FA Girls' England Talent Pathway or other playing opportunities in your area, contact your local County FA.
In this section you can also find out about The FA Girls' Advanced Coaching Centres (ACC).
The FA Girls' Advanced Coaching Centres (ACC) are part of a specifically designed programme to support the development and progression of players in the South West and East of England. Counties will operate squads at U10 (optional), U12, U14, & U16. ACCs run for a minimum of 29 weeks starting in September.
They are designed to complement grass roots club football and provide additional training and fixtures for players. Access to ACCs by a trial process.

REGIONAL TALENT CLUBS BY TIER