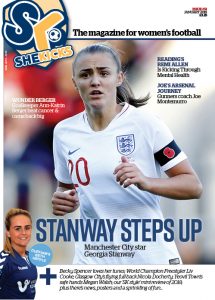 We start off a big year for the women's game with another full-colour , 72 page issue, as #SK51 glances back at 2018 and looks ahead to 2019:
Manchester City and England U20 midfielder and latest Lioness, Georgia Stanway on another breakthrough year for her
+ 
⚽ We feature Birmingham City's in-form 'keeper Ann Katrin-Berger on an eventful 12 months (just weeks before her move to Chelsea);
⚽ Arsenal manager Joe Montemurro on a storming start to the season and great first year in charge at the Gunners;
⚽ Reading's 2017/18 player of the year Remi Allen reveals some of the struggles beneath the surface and introduces an online series of interviews where top players bravely explain how they have 'broken through mental health' issues in their football careers
⚽ Footballing freestyle sensation Liv Cooke talks through her early years and what's in store for the future.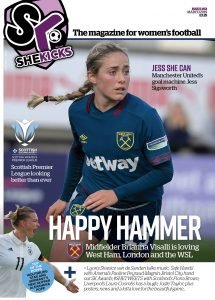 #SK52 is again full to the brim with women's football goodness as we look ahead to the kick off the SWPL season and include all the usual regulars, plus:
An American with more than a little link to the UK, West Ham's midfield dynamo Brianna Visalli checks in with us;
+ 
⚽ Manchester United number nine Jess Sigsworth's ambitions and adaptations;
⚽ New Germany captain Alex Popp on fresh beginnings and finding that old winning feeling…just in time for a World Cup;
⚽ Liverpool midfielder Laura Coombs takes on our ten tremendous questions in Quick Kicks and Lyon's Dutch star Shanice van de Sanden kicks a beat!
#SK53 has been put together in the glorious afterglow of England's SheBelieves Cup triumph and so you may find we mention it. There's certainly some action and a nice poster celebrating the #Lionesses' success. But that's not all:
We talk to England's Rachel Daly on overcoming setbacks, the gift and the curse of being a versatile player, World Cup hopes and more
+ 
⚽ Scotland's Chloe Arthur – on her journey from working behind a bar to World Cup qualification
⚽ Marta Corredera on her grounding at Arsenal and ambitions for the World Cup and women's game in Spain and also getting to know Germany's Leonie Maier
⚽ Coach Kicks with two-time NWSL-winning coach Paul Riley and Quick Kicks fun with Manchester City's Pauline Bremer, as well as all of the usual (average, ha ha) regulars.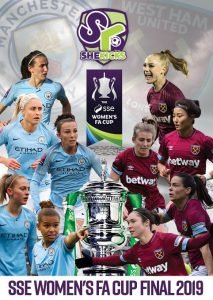 We ❤️ the big game of the year and so we have produced this special She Kicks SSE Women's FA Cup 2019 Final Preview Supplement that we are sending out as a BONUS issue to subscribers and also distributing FREE to fans attending Wembley for the showcase domestic game of the English season. 
Meet Manchester City and West Ham United's teams, as introduced by their team mates, plus interviews with the managers and key players from each side.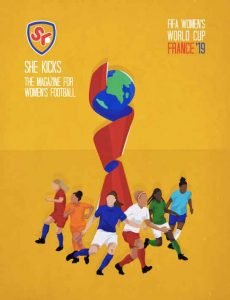 The wait is almost over, the FIFA Women's World Cup 2019 is about to kick off and #SK54 embraces  our anticipation and giddy excitement in a slightly calmer and more methodical way than the SK team can manage in person.
We feature England and Scotland player profiles, with nuggets of knowledge galore;
+ 
⚽ And then there's chats with current world champion USA's Lindsey Horan; Norway captain and Chelsea star Maren Mjelde; Spain's super striker Jenni Hermoso; Australia's flying full-back Ellie Carpenter kicks a beat; and Italy's dazzling forward Barbara Bonansea.
⚽ Plus various other players from across the World Cup groups and also a glance back over the stats of the 2018/19 WSL season & Cup Final & UWCL Final galleries.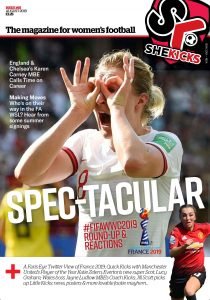 Well, that was a summer of football, wasn't it? #SK55 tries to capture some of the scenes and emotions of the World Cup in France, so inevitably it features:  
A whole bundle of World Cup action, reaction, galleries and posters;
+ 
⚽ Also the latest transfers from the FA WSL and Championship, with several 'new signing' interviews;
⚽ We bid a reluctant farewell to England and Chelsea star Karen Carney MBE;
⚽ There's Quick Kicks with Manchester United's Player of the Year Katie Zelem and Wales manager Jayne Ludlow MBE features in our Coach Kicks interview;
⚽ and we hear from Everton's up-and-coming Scotland midfielder Lucy Graham, plus a host of other regulars and happy nonsense.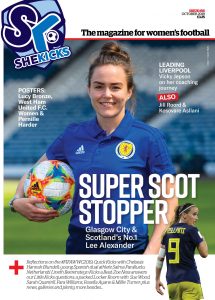 We are still getting over the summer's kick about in France and #SK56's content reflects that, as well as the usual array of coverage of the UK game and stars and stories from further afield:
So, Sweden's FIFA Women's World Cup star Kosovare Asllani Scotland and Glasgow City keeper Lee Alexander are our big interviewees;
+ 
⚽ We also meet Arsenal's latest Dutch delight Jill Roord and chat Coach Kicks with Liverpool manager Vicky Jepson
⚽ Chelsea defender Hannah Blundell takes on our Quick Kicks Q&A and we learn about the dual talent that is Salma Paralluelo – a U17s Euros and World Cup winner with Spain and 400m hurdler at the senior European Athletics
⚽ We share some final reflections on #FIFAWWC France 2019 and the ledge that is Fara Williams MBE gives us an insight into her pre-match preparation and post-match recovery routines.
#SK57 sees a portion of all proceeds from sales being donated to the Darby Rimmer MND Foundation and a fascinating insight into how mindset can play a role in your game and how it was key to the USA success at #WWC2019.
We also have an in-depth and open conversation with Manchester City and England's Keira Walsh;
+ 
⚽ All about West Ham United's Canadian forward Adriana Leon;
⚽ Quick Kicks fun with Arsenal's Lisa Evans;
⚽ Coach Kicks with Reading boss Kelly Chambers;
⚽ Manchester United manager Casey Stoney joins us for #SHEKICKSLITTLEKICKS: STARSIX, SK columnist (and Hibernian skipper/Scotland international…) Joelle Murray turns feature star and Everton's new keeper Tinja-Riikka Korpela kicks a beat.
WANT TO ORDER A PRINT COPY OR SUBSCRIBE TO DIGITAL ISSUES: https://shekicks.net/shop/