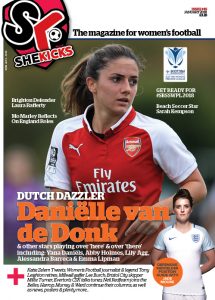 We welcome 2018 in #SK45 with a bumper 72 pages – featuring Daniëlle van de Donk (Arsenal/Netherlands), Yana Daniëls, Abby Holmes, Lily Agg, Emma Lipman, Katie Zelem, Elizabeta Ejupi and Alessandra Barreca as our 'theme' this issue considers players playing outside of their home countries, in Europe.
+ 
⚽ Position by Position guide with Jade Moore (defensive midfield);
⚽ England U19/20 Coach Mo Marley talks about her time with the Lionesses;
⚽ Laura Rafferty (Brighton/Northern Ireland) and World Beach Soccer Player of the Year Sarah Kempson chat with us;
⚽ We put the 2018 SBS Scottish Women's Premier League in focus;
⚽ While Courtney Sweetman-Kirk (Everton) reveals her music tastes, Lee Burch (Millwall Lionesses) shares his coaching thoughts and there's Neil Redfearn (Doncaster Rovers Belles), Mel Lawley (Man City/England), Millie Turner (Bristol City), Almuth Schult (Wolfsburg/Germany) and more besides.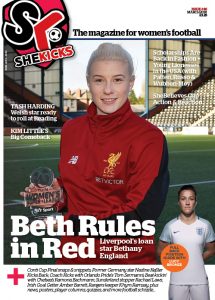 At 76 pages, Issue #SK46 features action from the She Believes Cup Tournament, as well as being packed with some pretty big names, and some interesting characters, from across the women's game, including:
Beth England (Liverpool), Natasha Harding (Reading/Wales) & Kim Little (Arsenal/Scotland)
+ 
⚽ Lotte Wubben-Moy, Alessia Russo & Anna Patten (England U20s & UNC/FSU) on taking up scholarships in the U.S.;
⚽ Coach Kicks with former Matildas manager Tom Sermanni (Orlando Pride);
⚽ Also Nadine Kessler (former FIFA World Player of the Year/Germany); Ramona Bachmann (Chelsea/Switzerland) and (not to be missed)…
⚽ Position by Position info provided by Lucy Bronze about playing full back!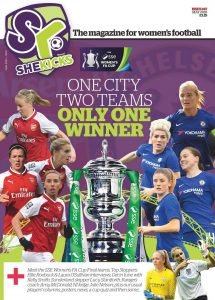 #SK47 was our 52 page Women's FA Cup Final issue (Arsenal v Chelsea), where we meet the teams (it's two members of the team that does the introducing!).
Also featured are two top stoppers: Manchester City's Ellie Roebuck & Wales' Laura O'Sullivan
+ 
⚽ We check out Kelly Smith's music tastes;
⚽ Chat to Rangers' coach and former player Amy McDonald;
⚽ Ask Sunderland skipper Lucy Staniforth about her captaincy style;
⚽  and find out how Millwall's Charlie Devlin prepares for games… and there's a cup winners quiz too!
We always get a wobbly bottom lip when one of our fave players retires but we have soldiered on and paid tribute to the incredible Katie Chapman in #SK48. What else was there?
Well, Toni Duggan reviews her first season at Barcelona;
+ 
⚽ We check in with Lizzie Arnot (Hibs/Scotland) as she returns from an ACL injury
⚽ Mo Marley & Megan Finnigan (Everton) help us look ahead to the U-20s FIFA WWC in France
⚽ Sue Smith Kicks Back (and talks about her switch from the field to the mic)
⚽ Plus, Jess Carter, Maren Meinert, Lee Alexander, Rachel Rowe, Katie McCabe, Libby Piggot, Emily Scarr, Women's FA Cup, UWCL, Lucy Bronze poster and more!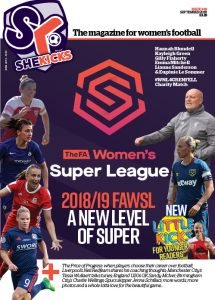 #SK49 marks the start of the 2018/19 season in England and so we talk to a collection of players and coaches from FA WSL clubs, in a varying degree of depth and in varying degrees of seriousness:
Hannah Blundell (Chelsea/England) kicks us off talking about her fantastic 2017/18 season and how she feels at home at the Blues
+ 
⚽ There's Gilly Flaherty (West Ham Utd/England) on her new start with the Hammers and Kayleigh Green (Brighton & HA/Wales) talks goals for club and country, while we also hear from Emma Mitchell (Arsenal/Scotland) who is currently one of her club's longest-serving players and is gunning for league honours
⚽ Lianne Sanderson (Juventus/England) tells us about her recovery from an ACL injury and the start of her new life in Italy
⚽ Plus we hear Neil Redfearn's (Liverpool) coaching thoughts, Tessa Wullaert's (Manchester City/Belgium) love for music, learn bout Manchester United's past women's sides, Spurs skipper Jenna Schillaci on captaincy, Birmingham City's Charlie Wellings on match prep & recovery, Sheff Utd's Sam Tierney tweets back, U20 GK Sandy McIver on goalkeeping, as well as the usual news, columns and we introduce our first 'LITTLE KICKS' section for our younger readers.
We celebrated 50 issues of She Kids with… wait for it…yes…you got it… #SK50! We also celebrate 50 years of the Donny Belles too, plus loads of other great content such as:
New Birmingham City midfielder Lucy Staniforth's long road to the #Lionesses;
+ 
⚽ The Adventures and ambitions with Manchester City and Scotland's Claire Emslie;
⚽ Everton and Wales midfielder Angharad James' highs, hurts and hope, and Manchester United defender Amy Turner's new lease of life;
⚽  The USWNTs legend Heather O'Reilly reveals the secrets of her position as a wide player.
⚽ Also…we have England & Scotland posters, Arsenal and England's Leah Williamson kicks a beat, Coach Kicks with Australia's Alen Stajcic, Sweden's Caroline Seger, the LITTLE KICKS fun continues, plus player columns, news, quizzes and a whole lot more…