Our FIFA Women's World Cup Canada 2015 issue is here. It's still a regular She Kicks issue, being #SK28, with many of the regulars and coverage of FAWSL, FAWPL, except it has a wallplanner in the centre spread and a generally giddy World Cup feel!
It includes a collection of preview interviews with England players and some world stars (we even have Marta answering out 'Before & After' questions!)
⚽ There's a special Kicks & Giggles & quiz spread and also Lisa Evans on her move to Bayern Munich, plus a grassroots footie winners' gallery and a load more beside.
What a great month or so of women's football it has been! #SK29 pays tribute to that. The excitement at the World Cup has seen coverage of the game reach new levels and as always She Kicks is there to give you that little bit extra.
This issue was published just days before the Women's FA Cup Final (which was played at Wembley on Saturday 1st August) and contains 20+ pages of World Cup images, interviews and more – a fantastic souvenir of a wonderful tournament.
+ 
⚽ There's also Hannah Blundell, USA midfielder Morgan Brian and #Lionesses Lucy Bronze;
⚽ And then there's Chelsea boss Emma Hayes, Blues co-captain Gilly Flaherty, plus Chloe Kelly, Jade Moore, Mark Sampson and Casey Stoney… it is our most popular issue ever!
ANNIVERSARY ISSUE! To celebrate lingering like a bad smell for that long we (She Kicks) have produced a special anniversary issue. #SK20 is 80 pages of A4 (bigger than our usual magazine) gold, stuffed full of our coverage of women's football from the last 20 years.
WHAT'S IN IT?
Loads of great pics, facts, interviews (old and new) and snippets from the past. Taking a chronological meander through the past two decades we reflect on some of what happened in each year and weave in fresh interviews with: Hope Powell, Tara Proctor, Debbie Bampton, Sue Smith, Gill Coultard, Rachel Yankey, Marieanne Spacey, Julie Fleeting, Julie Foudy, Karen Carney, Eni Aluko, Kelly Smith, Jill Scott, Steph Houghton, Fara Williams, Dawn Scott, Vic Akers, Emma Hayes and several of the 2007 Quadruple winning Arsenal side. There's also Faye White, Alex Scott, Katie Chapman, Casey Stoney, Kim Little, Rachel Unitt, Mark Sampson, the Leeds cup win in 2010, the Lionesses of 2015, Man City and we (well, we're blaming Tony Leighton) pick our top 20 UK players from the past 20 years. And breathe…
A whopping 72 pages of women's football chat features in #SK34 and also some ace posters (inc. Toni Duggan & Alex Morgan), information, insight and a slice of randomness.
We lead with and interview with Manchester City and Scotland striker Jane Ross.
+ 
⚽ We take a look back at the recent #SheBelievesCup;  
⚽ Additionally there are interviews with Arsenal's Marta Corredera, Birmingham's Aoife Mannion, Sunderland's Lucy Staniforth, Bayern Munich's Lisa Evans;
⚽ A host of FAWPL fans tell us why they love their clubs, plus German GKing legend (and former FIFA Women's Player of the Year) Nadine Angerer tells us about her music tastes!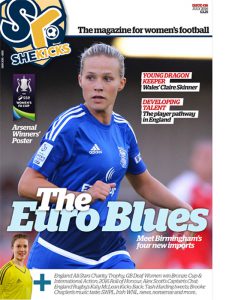 In #SK36 we have the Euro blues (wonder what has just happened)…
Well, more precisely we meet Birmingham's four new signings;
+ 
⚽ We also meet Wales' young keeper, some England U19 stars and Ellie Hilton who plays in an U18s boys' league and look at the new talent pathway in England;
⚽ There's interviews from the England All-stars charity match and we hear about the GB Deaf Women's team's medal success in Italy;
⚽ And how about this lot: Alex Scott discusses her Arsenal captaincy, Brooke Chaplen reveals her musical hits, Tash Harding tweets back, England Rugby star Katy McLean Kicks Back, Keith Boanas talks about coaching;
⚽ All that plus our 2016 Roll of Honour, Scottish WPL & Women's Irish League updates, Kingstonians, Stacey Little, Ashlee Hincks, Chloe Arthur ANNNND there's an Arsenal, a Brighton and a Jill Scott poster and the usual news and reviews and a bit of silliness.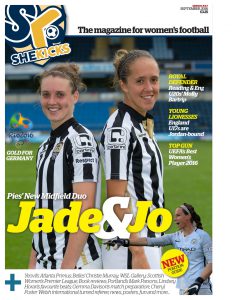 At 68 pages of full colour loveliness, #SK37 is another celebration of women's football.
It sees the launch of our new 'Position by Position' guide, starting with Man City & England no.1 Karen Bardsley talking us through what her main roles and responsibilities are as a golkeeper.
+ 
⚽ It also includes interviews with Notts County's Jade Moore and Jo Potter;
⚽ We speak with Reading defender Molly Bartrip and UEFA Top Gun Ada Hegerberg of Lyon and Norway, as well as England U19 & Chelsea forward Alessia Russo;
⚽ There's a great chat with Yeovil's Atlanta Primus, there's Rio 2016 reaction,Toni Duggan, Christie Murray and Glasgow City's Erin Cuthbert in our Scottish section;
⚽ Learn about the recovery from illness of former Rep. of Ireland U19 captain Chloe Mustaki, there's pieces on Swindon Town & Guiseley and Richmond Park FC;
⚽ Plus there's captain's chat with Birmingham's Emily Westwood & Kerys Harrop, match prep with Gemma Davison, as well interviews with Portland's coach Mark Parsons and USA midfielder Lindsey Horan.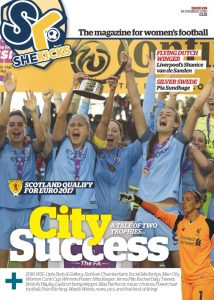 #SK38 is 56 pages of purely women's football coverage:⚽ 
England and of course Scotland have qualified for EURO 2017, while Man City have won the WSL & Conti Cup. We salute each achievement.
+ 
⚽ Liverpool's Shanice van de Sanden is one of several Dutch internationals in the WSL, so we find out more;
⚽ Plus England/Houston Dash's Rachel Daly tweets us back;
⚽ Reading/Wales' Helen Ward continues her column; Pia Sundhage reveals her coaching thoughts, and Hibs keeper Jenna Fife chats about learning,
⚽ Siobhan Chamberlain talks social media,
⚽ Crewe & Spurs also feature, while Hayley Ladd discusses captaincy, Emma Coolen gets all shirty and there's soooooo many other bits and bobs to enjoy too.