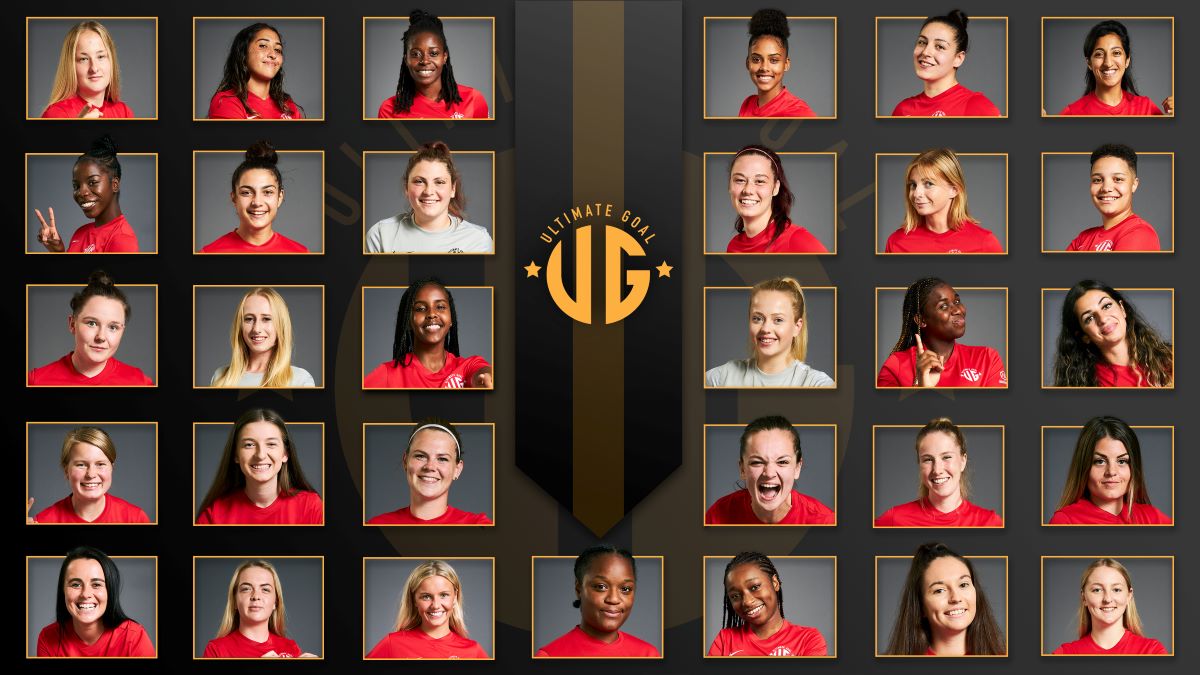 The names of the 31 women who have made the cut to train and compete on new reality competition series Ultimate Goal can today be confirmed.
Premiering on BT Sport in the UK and on Insight TV worldwide in late 2020, Ultimate Goal will capture the journey of these 31 women as they compete for the chance to take part in a one-off match in front of scouts from women's teams around the world. Eniola Aluko will manage the squad alongside Rachel Brown Finnis, with twins Rosie and Mollie Kmita completing the lineup of mentors.
The diverse squad includes female footballers from age 18 to 28 and from a variety of backgrounds. A panel of experts narrowed down the qualifiers from an open call via social media. All of the selected players went through a quarantine period prior to being tested and are restricted to the filming site for the duration of the production for the safety of the entire cast and crew.
From the 31 women, a team of 16 will be chosen by Eniola and Rachel to prepare for a trial match against a top women's team, which will be attended by scouts from professional teams from around the world.
"I am delighted to be hosting Ultimate Goal to give an opportunity and window for female players from around the world to show their footballing talent and potential," said Eniola Aluka. "The women's game is fast growing with so much talent available not always with the avenues or that pathway for that talent to be found. It is great to be part of a show that showcases that talent in an elite football environment like St George's Park."
The series forms part of BT's commitment, as part of its long-term partnerships with each of the four UK "Home Nations" Football Associations, to inspire a new generation of girls and women to participate in football, on and off the pitch. BT's partnership with the associations, launched in February, uses technology, innovation and digital skills to help change the lives of millions of players, coaches and fans. BT Sport has been broadcasting women's football since its launch in 2013.
The selected 31 players include (in alphabetical order):
Ellie Bohannan, 22. From the UK. 2018 Development League and Cup winner, former England U 15 International and former Everton U 17 player.
Tasia Brough, 18. From the UK. A former Man City player, currently at Stoke City.
Selin Buyukgiray, 23. From the UK. Former Brentford FC academy player who scored 42 goals in 24 matches. Father was professional footballer in Turkey.
Dayna Chong, 24. From the UK. Played for Milwall, Tottenham and West Ham United. Combines playing football with work as a care assistant in residential home for adults with learning difficulties.
Emma Coolen, 26. From Holland. Emma went from rebellious teen to top-flight footballer.
Alice Curr, 22. From the UK. Trains 6 to 7 days a week while also coaching. Fulham FC player.
Amy-Rose Dodds, 20. From the UK. Studying coaching and plays for Hashtag Utd.
Maria Farrugia, 19. Malta international. Top scorer for Sunderland College.
Olivia Fox, 21. From the UK. Currently a Sports Dual Career Scholar at the University of Derby, playing for Derby County Women.
Ruth Fox, 21. From the UK. Plays for St Ives town. Published a book in 2018 about mental health and football.
Olivia Gunn, 19. Lives in France. Trains with the AFC Sudbury Academy.
Ronnell Humes, 21. From the UK. Clinical finisher in front of goal. Works for Tottenham Foundation coaching children 6-15 years old.
Falhat Hussein, 19. Born in the Netherlands. Not allowed to play football when younger but has broken down stereotypes by playing for both Charlton and QPR.
Shardonna'e Kekere-Ekun, 18. From London. Grew up shielded from gang violence by her grandmother and uncles. Currently plays for Charlton Athletic.
Haley Kern, 22. Born in the US, currently lives in Scotland, plays for Forfar Farmington Ladies. Her College team became 2017 Northwest Athletic Conference Champions.
Samaira Khan, 28. From the UK. Played at Wesleyan College in the US. Currently playing for Cambridge United.
Sue Kumaning, 22. From the UK. Played for multiple clubs, including QPR, Arsenal and Barnet.
Emily Mackler, 19. From the UK. Represented Maccabi GB at the 2019 European Maccabi Games in Budapest.
Tyra Mills, 20. From the UK. In foster care growing up, football was her outlet during times of hardship. Played in the 2018 Homeless World Cup in Mexico.
Olivia Moore, 19. From South East London. Involved in the "Rising Ballers" academy, has done footballing shoots for Lucozade and Nike.
Georgie Morton, 20. From Colchester. FA Youth Cup Winner. Former Arsenal, Tottenham and Ipswich Town player.
Hayley Nolan, 23. From Ireland. Played in the US for 5 years and in the European Championships (2014).
Ellie Paris, 25. From Bromley, Kent. Crystal Palace player. Chosen as Sports Ambassador on football tour to Beijing, China.
Harriet Pavlou, 28. From the UK. Former England Junior turned Freestyle Football star who now boasts 4.9 million TikTok followers. Captained England's 5 a side team and holds a fastest dribbling skills female record.
Holly Rogers, 20. From the UK. Covid-19 put a hold on her trials at England University this year.
Rio Rosenberg, 18. From the UK. Recently signed for Crystal Palace development team.
Evita Schippers, 24. From Holland. Recently graduated from the FIFA Master.
Erin Smith, 18. From the UK. Currently at West Bromwich Albion. Also a Miss England Finalist (2020), frontline care nurse during Covid-19 pandemic and Ambassador for WASUP charity.
Georgia Stevens, 20. From the UK. Got her first pro contract at Sheffield United at 18. Has played for Liverpool and Everton.
Amber Taylor, 19. From the UK. Recently signed for Watford FC.
Alex White, 20. From the UK. Currently plays for AFC Wimbledon and represented England in Homeless World Cup. Works in Kings College Hospital during Covid-19 pandemic.
PepsiCo signs five-year deal to sponsor UEFA Women's football