Oughtibridge War Memorial face their toughest opposition for a number of years when hosting Nottingham Forest in the Vitality Women's FA Cup.
Currently third-bottom of the East Midlands League Premier Division, Oughtibridge had already beaten York RI 2-1  ahead of October's defeat, at the second time of asking, of Nottingham Trent, 7-1 at home.
Oughtibridge are currently on the best run they've had in the competition, having made the Third Qualifying Round back in the 2015/16 season.
Regularly opposing Nottinghamshire-based clubs, they've already played Mansfield Town (won 1-0) and Notts County (lost 1-3), in consecutive outings in the EMWRFL Premier this season, it has afforded Darren Stansall, Oughtibridge manager, some thought of the challenge ahead.
However, an 8-1 win against another Notts club, EMWRFL North side, SJR Worksop, in the League Cup, last time
out, was probably not ideal.
"We should have scored more against them (Worksop) really, and dominated the game," said Stansall, who's side finished fifth last season.
"We did give five of our U18s a start though as we're breeding some good, young talent here.
"Forest though, they have a lot more quality there, that and strength in depth, are dangerous in attack.
"Plus, we only train for an hour-and-a-half, once a week, so we'll have to try and stifle them as much as possible.
"We know the challenge ahead, but we do have confidence going into the game and, although it's our biggest game in years, we have nothing to lose."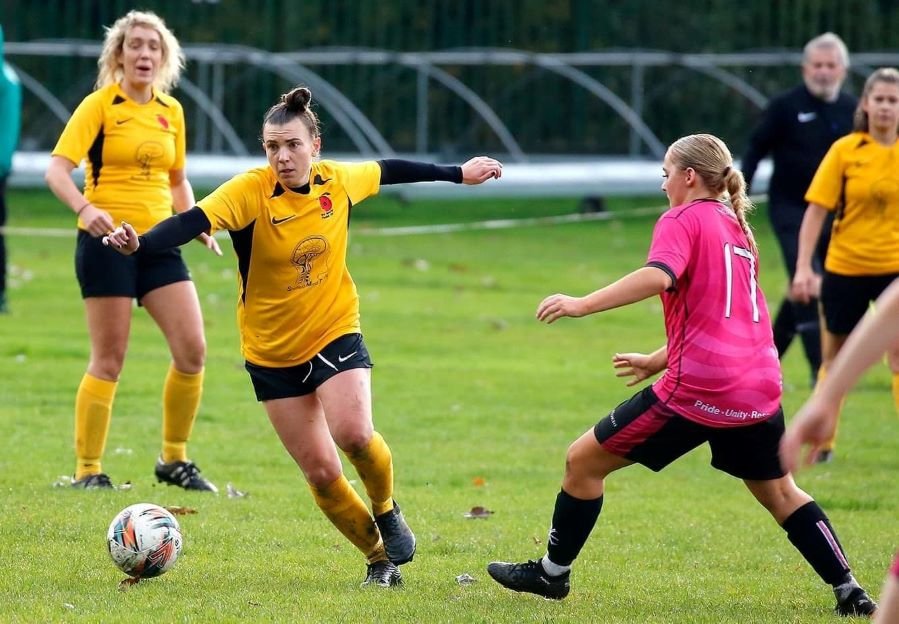 Seen to be perhaps punching above their weight, the Sheffield-based village side, who play at the War Memorial Sports Ground (gifted to them in 1921 as a memorial for those lost in World War I), have been seen to compete well against the like of more established sides in Mansfield and Notts County, Chesterfield and Lincoln.
They'll need all of that, and more, and in abundance, when Nottingham Forest, second in the FA WNL North come to town at the weekend and, with a Remembrance Sunday service prior, emotions will be running high.
"We're still in the County, and League Cup, so we'll try and win what we can," added Stansall.
"This though, it's a free-hit in a way, and all of the concentration, the focus, is on Forest.
"We've put some extra training in so we can at least try and make it uncomfortable, and competitive, for them.
"But, financially at least, the FA Cup has secured the club, and the players, this season, so, a win-win really."
Although having a talented, yet teenage shot-stopper, in Molly Hutchinson, Stansall and his coaching team are also able to call upon experienced players in captain, Kathryn Mudge, as well as the likes of Laura Watton and Mollie Kenyon.
"When we're at full strength, we can be a match for anyone really," insisted Stansall.
"Our 'keeper, Molly [Hutchinson] is really excited and looking forward so much to the game, and we've got some experience in the squad.
"Captain, Kathryn Mudge, is a long-serving player, a good, calming influence on the players, and a good talker, whilst [Laura] Watton and [Millie] Kenyon have also got experience, which we'll need to call upon."
Oughtibridge War Memorial Women welcome FA Women's National League side, Nottingham Forest Women, to the War Memorial Sports Ground, Sheffield, this Sunday, 13 November, kick-off 13:00 (ND – there will be a remembrance service from 11:30 at the ground, prior to kick-off).