Issue #77(FEB/MAR23) Digital
£1.50
Description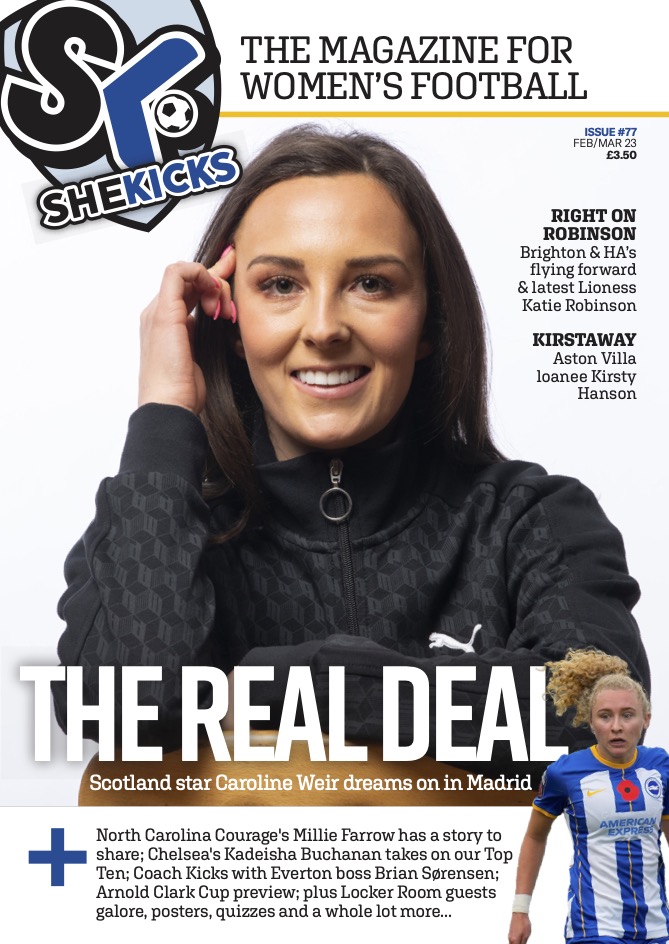 Issue 77 Out Now!
Another groundbreaking women's footie year is underway, so it's time for our first new issue of 2023! SK77 is a fun-filled, full-colour smasher. Here's a look at just some of what's in store:
– Real Madrid and Scotland star Caroline Weir joins us from Spain for an in-depth chat
– Aston Villa's on-loan Manchester United forward Kirsty Hanson
– One-on-one with new England international, Brighton & Hove Albion's bright, young talent Katie Robinson
– Chelsea and Canada defender Kadeisha Buchanan takes on our Top Ten/Quick Kicks
 – Manchester City and Spain's Leila Ouahabi gets Game Ready
– North Carolina Courage's English forward Millie Farrow
– Behind the scenes with Everton boss Brian Sørensen
Plus…more guest appearances from players in the WSL, Championship and SWPL, news and action round-ups, galleries, posters, quizzes and more!
Alternatively take out an Annual Subscription for only £25.
Click HERE for Annual Subscription details.
Bought or read She Kicks before? You can preview the first 12 pages of #SK77 to get a taste for the mag, by taking a look at the digital issue here.
Don't forget to follow us on Facebook, Instagram and Twitter.