Earlier this week, outgoing Manchester City Women's boss Nick Cushing talked to BBC Radio Manchester about his time with the team, ahead of his final two games (both v Arsenal) before moving to New York City FC (where he will take up the assistant coach role to Ronny Deila, working with the men's MLS side). 
This is a transcript record of some of what he had to say…
The big thing I am proud of is how our football club has played a huge part in raising awareness and developing the women's game and getting it to where it is now. I was at the boys' academy and I'd done eight seasons there. I worked with some people who were incredible and helped me to develop as a coach.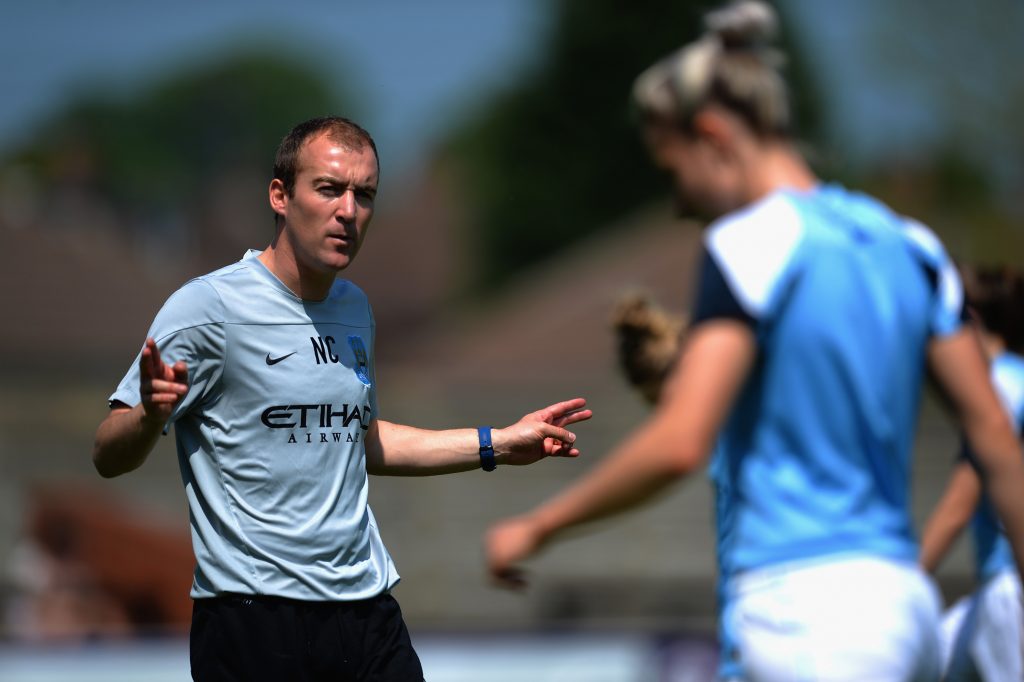 I look back at it as initially a real challenge for me. I trust in the people at the football club to push, develop and challenge me as a coach and in 2014 I moved across to the women's first team because I wanted to take a Manchester City team and develop it into a winning team.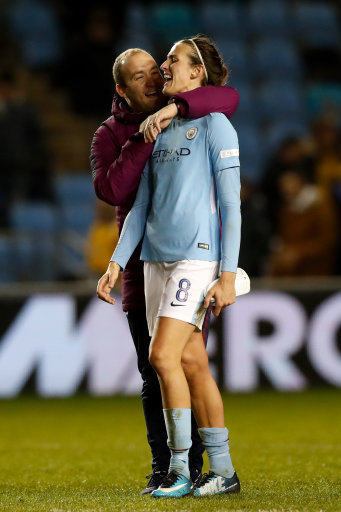 The relationships I've built with players and the staff and the memories that we've had, I've led a team out at Wembley twice and I've won three league cups and we won a league undefeated… and we've only been a team for six seasons. I look back at it and I'm proud and I'm proud to be part of this football club and I'm looking forward to the next stage of the journey.
We had an amateur women's team but they weren't under the football club's umbrella. The club wanted a women's team and saw value in it. They wanted it to be a major arm of the football group. When they brought Manchester City Ladies in house and turned it into Manchester City Women and rebranded the whole team, they wanted somebody from the football club who had been there and learned the Manchester City way and ingrained in the philosophy of the academy and football club.
FACTFILE:
NICK CUSHING
DOB: 9 November 1984
Place of Birth: Chester
Position: Manager
Current Club: Manchester City Women (He was appointed in Nov 2013 and will leave to join New York City as assistant coach after 2/2/2020)
Manchester City Women Honours: FA WSL 2016; FA Women's Cup 2016–17, 2018–19; FA WSL Cup 2014, 2016, 2018–19
Individual Honours: FA WSL Manager of the Year 2016


I don't recall them ever telling me we had to be a winning team at the start. I never felt under pressure, I felt supported and have been throughout the six years I've been there and it's interesting because now with the development of New York City being within our football group, I've almost got the same remit there.
This is a special club. I've worked here now 15 seasons and the people of Manchester that come and support our football club have been incredibly generous to the women's team in coming in and bringing their support. We're proud that we've given them the opportunity to see us win trophies and play at Wembley.
The first league cup win [is my favourite]. We probably weren't ready to win a trophy. We definitely didn't have the best players in the league but we had a lot of spirit and support from Manchester City fans and at the club.
I also look back on 2017 and leading the team out at Wembley and Steph Houghton our captain led the team out with my son Harry.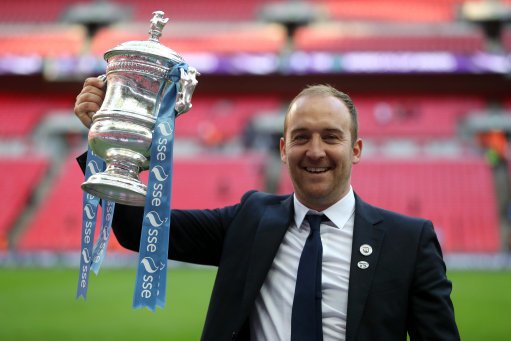 If we beat Arsenal at home in February then it puts us top of the league by three points so it's a really important period to give us a spring board to be a success again.
I had a full option to stay with the women's team and I could have finished the season and continued my contract for another 18 months and we would have had discussions about a new contract. We have discussions a lot and what we do well at Manchester City is we nurture talent whether coaches or players and I've had persistent conversations over the past three seasons since I signed my last contract about where my development is and the development of the women's team into winning a Champions League and winning more domestic titles.
New York City is at a point now where they've had five seasons in the play-offs now and we want to go to the next step. With Ronny as the coach and myself as the assistant and the support staff around the team, we can really push it on.
It's two-fold. It'll give the women's team an opportunity to reinvigorate with somebody new with a new voice and hopefully go on and win a Champions League but also give New York City the chance to go the next step. I'm proud to be somebody who can go to the other teams in the group and help them be successful.
I can sit here and say I wanted to win a Champions League and more league titles but what we started in 2014 was bigger than any individual trophy. We wanted to play a huge part in developing the women's game. I can say with confidence that we pushed every other team. When we came in we were by far the most professional team in the league. We were the first team to give professional contracts out. The appearance of our players, the professionalism of their behaviour, the intensity of our game, the tactical understanding of our players. Not just because of myself but because of the resources and the knowledge and experience we have, we really pushed the women's game on.
People say the Arsenals and the Chelseas of the world have caught us up but that's why we're making this change now. Also, I don't define the women's team, there will be someone else who will come in and add more value with better or different strengths. The staff who are there are incredible. The players are a really good group and hopefully in the near future we can add to that whether it's staff or players.
It's a new chapter for New York and a new chapter for me and I'm excited about it. I'm moving in a week or so and taking my whole family over there.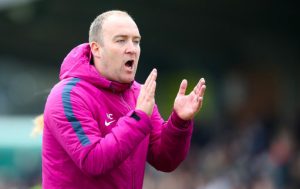 Having more Premier League teams having women's teams has helped because of fanbases, resources they have and the finances. We've been able to offer professional contracts to players and when you make players professional, you get the opportunity to improve their physical and technical ability and tactical understanding. The product on the pitch has become better which makes fans want to come in and watch more. I definitely think that has been the biggest change. What has come from that is more television interest, more brands and companies have wanted to invest and there's more marketing.
I'll feel happy if we win [against Arsenal at full-time]. I'll be hugely disappointed if we don't. I'll feel emotional because I've spent six years here.
One thing I'm proud of is, that the England team is made up of 70% of our players: in six years we've had 13 senior England debuts, two Scottish senior debuts, we've had two PFA Player of the Year, two PFA Young Players of the Year, we've had a lot of success away from just winning trophies because of the way we've worked and I'm proud of that and I've built some great relationships with people whether they're players or staff and I'll miss that for sure.
And could he name one player that made him proud?
Not just one player… Steph Houghton encompasses every value that Manchester City has whether that's hard work, aggression, ability and passion. And Keira Walsh being a Manchester City fan and her going on to be one of the best players in the women's game has been a proud moment for me.