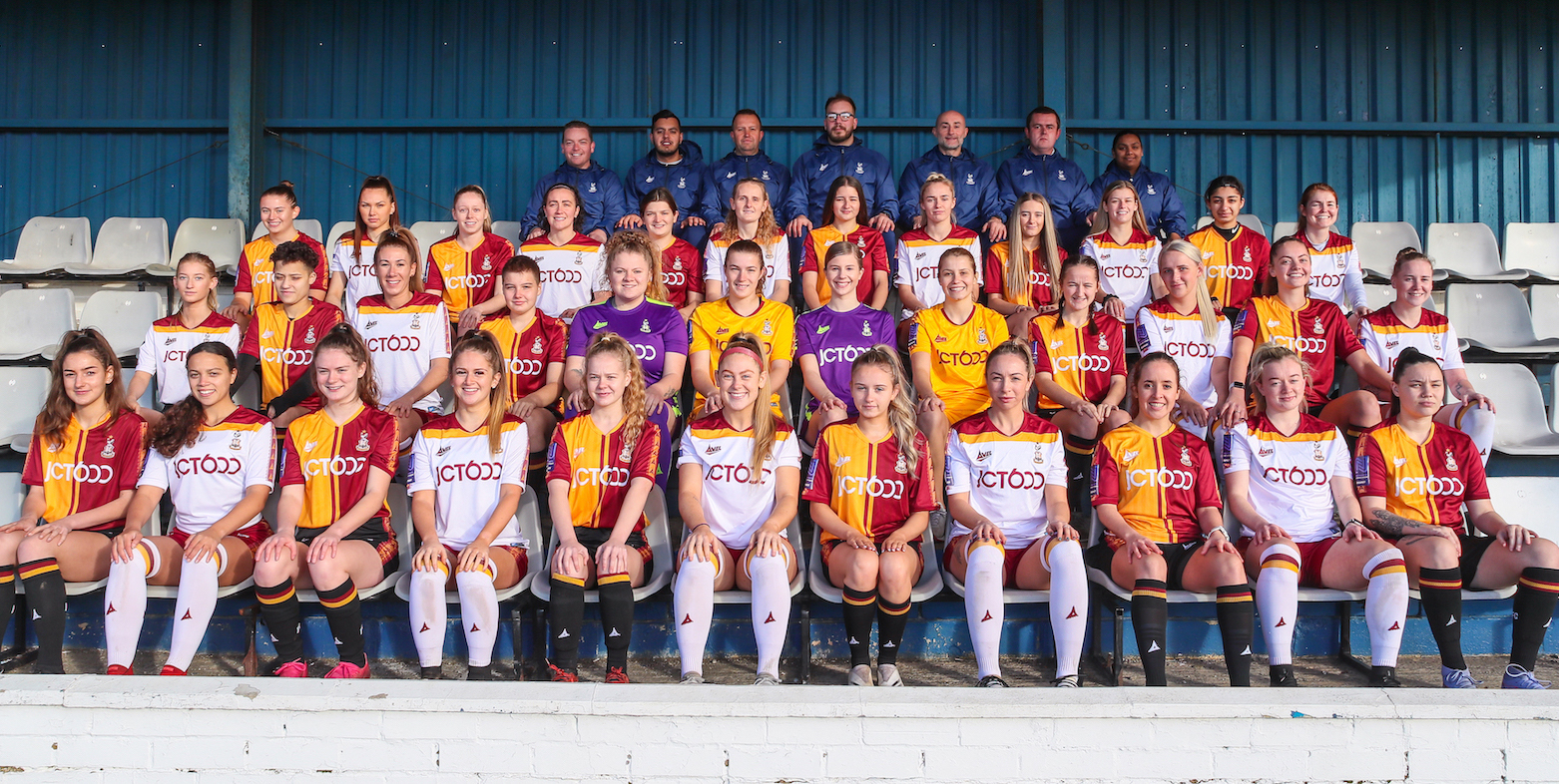 Bradford City Women are on the up in FAWNL Division 1 North, with a new stadium, signings and partnerships.
What else can we expect from the Bantams' Ladies? Emmie Penkett reports.
The 2018-19 season left a sour taste in the mouth for all at Bradford City Women. The West Yorkshire side crashed out of the Northern Premier Division losing all 24 of their matches and suffering a goal difference of -128.
However, the winds of change are sweeping in and the Bantam Ladies are looking better than ever in Division One North. They are eager to defy the odds and want to eventually become the front runners in the league.
The club has moved from one recent positive step to another from playing at Valley Parade – Bradford City men's ground – to moving to their new home; Horsfall Community Stadium. The new venue is a massive upgrade for the club, boasting a 5G AstroTurf pitch, state of the art facilities and 3,500 capacity.
Club chairman Qasim Akhtar was delighted to share the news: "Horsfall is a historic ground that in recent years has undergone great development to become one of the primary facilities in the region. I'm looking forward to setting up a base here, creating a following here, and commencing this new chapter in the club's progression."
The club has also taken its team on the field in the right direction too. The Bantams currently sit in seventh place with 21 points. But with games in hand on some and a decent goal difference of -2, they are looking to rise up the table and test their rivals. The side has also welcomed some great new signings such as defender Chynna Harris and forwards Emma Elliot and Rebekah McFadden too.
It wasn't the most auspicious of openings to the season as the team had a wobbly start, losing to Chorley, Durham Cestria and FC United of Manchester but they soon recovered, beating Chester-le-Street 2-1 at home. The Bantams then went on to a decent run in cup competitions, making it to the semi-finals of the West Riding Cup and the second round of the FA Cup, and recent league form has been eye-catching too. They held bitter rivals Leeds United in a 3-3 draw, toppled Alnwick Town in a 5-1 victory and beat Stockport County 3-2 with an 89th minute free kick. The Stockport win meant Bradford had been unbeaten for five league games; an impressive achievement for the club.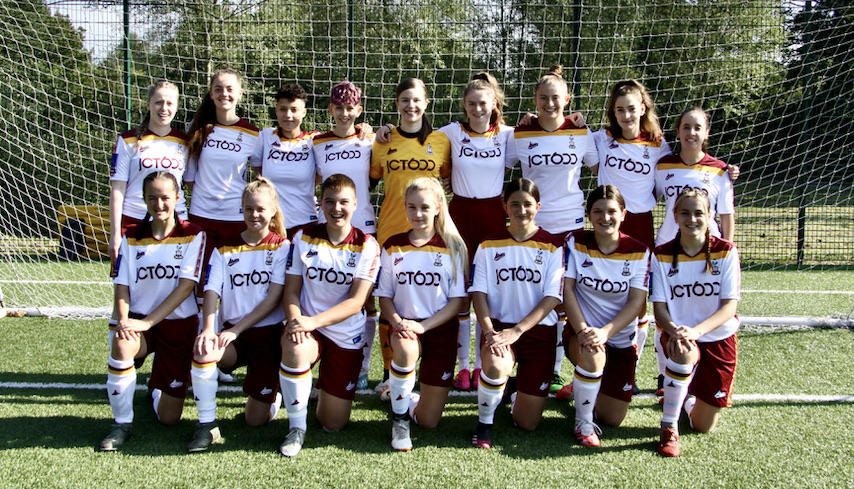 The academy is also building in strength and Bradford boasts a successful junior set-up, with teams ranging from Under-10s up to the Under-23s. Lead by Valeria Martin and Katie Breckin, the U-23s saw recent success against Hull City LFC Reserves, maganing to bag a five goals for a 5-0 victory. Many of Bradford's U-16's have been making their debuts in the U-23 squad, and some of the players such as Hannah Markey, Crystal Knapton and Jessica Hayes have received some game time with the first team.
This positive turnaround would not have been possible without the input of manager Chris Hames.
Hames has made his mark on the club and has helped steer them from the lowest of lows, to some of the highlights of their season. He has offered a target for his team to aim for and expects them to reach it: "This is my first full season with the club as Covid affected the last two. We've also been struck by a lack of consistent games. The team have seen the benefits of when we play week-in-week-out and now, we're looking for results.
"We've got nine games to go, if we can finish strongly now, we'll have a good push into pre-season."
Hames is particularly excited for the opportunities Horsfall Community Stadium will bring the club. "Moving to Horsfall Stadium is a massive step up for the club and with it, we're hoping to attract some new fans."
On the pitch, captain Katy Woodcock is also pleased with the results. As a formidable defender, she's also had her fair share of goals, scoring two impressive headers in their first match at Horsfall against Alnwick Town.
"I would describe our season so far as a progressive season for everyone at the club. We've made some key changes that have had significant impact on the teams mental and physical performance. The team have such a positive and enthusiastic mindset now."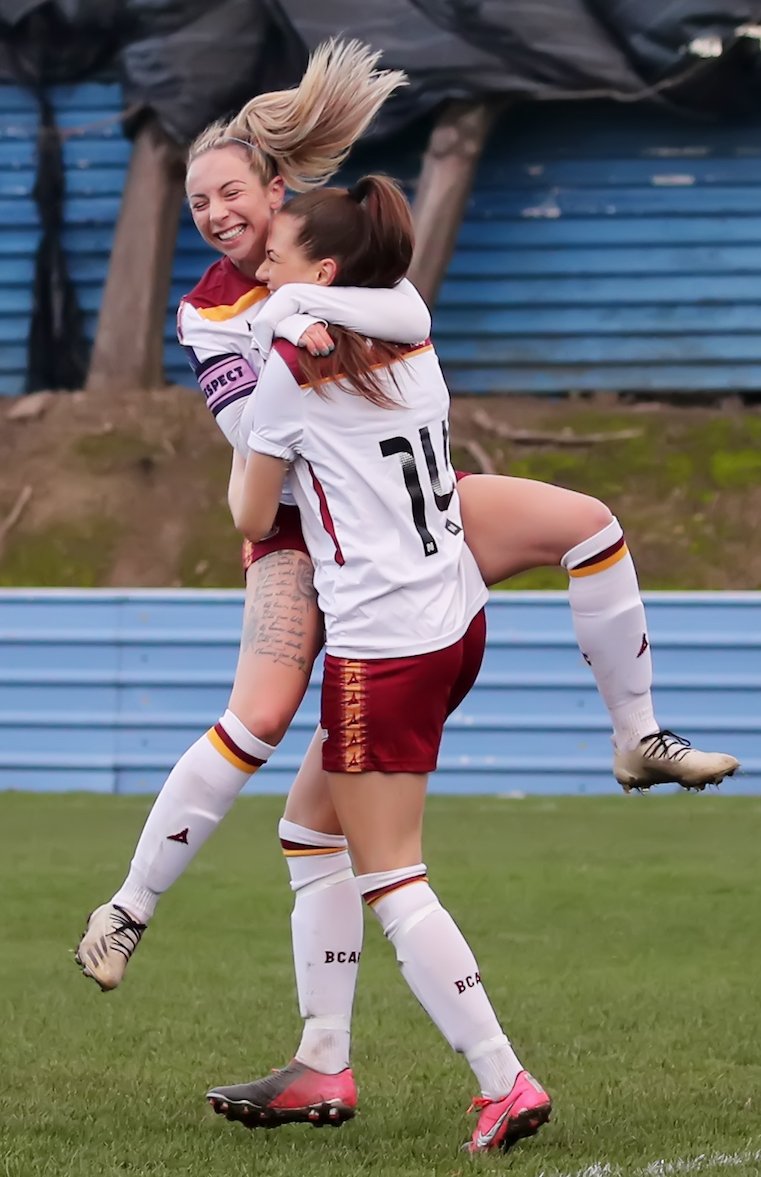 A recent memory for Woodcock was her victory over Leeds United at Valley Parade in front of roaring crowd of 540 fans. In the first half her teammate Sophie Hawkins made a daring run to goal before smashing the ball into the net, sealing the victory 1-0. For Woodcock, this was a massive achievement. "The win came at a time where we weren't preforming as well as we should have been- which in turn made the experience so much more important for us. Our last games in the league are critical and I back my team 100% going into every game."
With now just six games to go, Bradford are determined to avoid the drop-zone and are currently aiming to finish the season mid-table. They are more than ready to take on the challenges of next season to better themselves, and the historic club.
🚀| WHAT A COMEBACK!!#BCAFCWomen #FAWNL https://t.co/29a58eVwkB

— Bradford City AFC Women (@bcafc_women) March 13, 2022