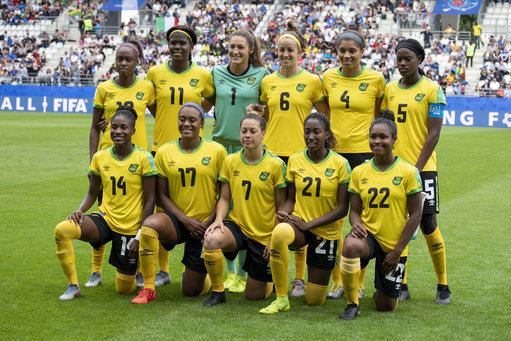 Dreams that came true over the summer, seem to have soured for the Jamaican Women's National Team, as current captain SASHANA CAMPBELL explains to Sophie Lawson.
In October of 2018, the Reggae Girlz (the national women's team of Jamaica) did the unexpected and qualified for the 2019 World Cup as the third-placed team at the CONCACAF Women's Championship. A bruising defeat to the USA in the semi-final did little to halt the team and although they had to do it the hard way, the Reggae Girlz came out on top in the third-place play-off after a shootout against Panama, earning their place in France this summer as the first ever women's team from the Caribbean to qualify for a World Cup.
Evocative of the Reggae Boyz' triumph in reaching their first ever finals at the 1998 tournament also held in France, the mood around the Jamaican camp was optimistic as they readied themselves for the sternest of tests in Grenoble and Reims. By the time the team reached France, star-striker Khadija "Bunny" Shaw – who'd been hotly tipped to be a breakout performer at the tournament – was carrying a knock and the entire team seemed to struggle with the injury. Though the pressure and realities of the tournament hit the Reggae Girlz hard and they failed to claim a single point in three matches, the team of 23 still managed to capture the imagination of the public, from Montego Bay to Middlesbrough. 
However, three months on from the start of the tournament this summer, the Reggae Girlz are sadly locked in a dispute with the Jamaican Football Federation over unpaid wages, the team effectively on strike ahead of their crucial 2020 Olympic qualifiers, next month. 
To get a little more insight into what's been going on and to look back at the highs and lows of a heady summer in France, SheKicks spoke to SASHANA CAMPBELL, the Reggae Girlz' ultimate utility woman, who has been promoted to captain in the wake of an injury to stalwart defender Konya Plummer.
Pay dispute
Following their successful qualification for the World Cup, the Reggae Girlz and JFF sat down and agreed terms, with those within the team eligible to do so, each signing a contract with their federation. Campbell explains:
"All the players who went to World Cup, except those who are in college and have the NCAA rules against them, signed a contract in May that we would be getting paid monthly. The contract that we signed says they are supposed to pay us monthly (June, July and August) on the 14th and the rest of the payment from January to May they were supposed to give us in a lump sum, which they didn't."
Giving the JFF the benefit of the doubt, the team were reluctant to make a stand over the Pan-American Games in Peru as the squad consisted a lot of new and young faces. Campbell continues:
"June rolled by and then July and we were like, 'We're going to give them more time'; we sent them letters and stuff telling them that their communication with us hadn't been good and they didn't say anything. 
"When we decided that we were going to do something in Peru we said that since we had a bunch of new players, let's not jeopardise their chance of playing internationally, so we didn't strike then. We gave them as much time… they said they were going to talk to us on August 12th: they didn't."
Not one of the richest federations in world football, the excuse from the JFF has been that they're waiting on money from FIFA to pay the players but for those waiting on overdue payments, that's not good enough:
"Then they were telling us that they had to wait on money from FIFA… our thing is, we shouldn't be waiting on money from FIFA to get paid, if you sign a contract saying you're going to pay your workers, you must know where that money is coming from. So, them telling us that we have to wait for FIFA to give us money was just wrong because we didn't sign a contract that said we're going to get paid whenever JFF got money from FIFA.
"Their lack of communication just made it worse by not explaining to us. The week when our contract was going to end they say that they're going to give us half the money so that we say we're going to play the Olympic qualifiers. So they gave us half, thinking that was okay, but we never signed for half, we signed for 100%.  So we told them we aren't going to play until we get everything."
Although the federation has pledged to come good and settle their account with the team, Campbell and her colleagues are understandably guarded: 
"Now we have camp at the end of this month and they're saying we're going to get the next half the day before the camp, but we think this is another stunt they're trying to pull off. If they can pay us the day before the camp, why can't they pay us now? Where's the money coming from? And we still need to talk to them about a new contract if we're going to play in the Olympic qualifiers."
Having reached out to both FIFA and CONCACAF about the ongoing dispute, the Reggae Girlz are still waiting for guidance although they are in contact with both main benefactor, Cedella Marley, as well as a lawyer who is handling the case.
"We've sent letters to FIFA and CONCACAF to see what we can do and about the payment JFF is waiting on. We know JFF don't have money because they don't spend wisely but we think we are being sabotaged because if it was the guys they'd find the money somewhere to pay them because the guys played in the CONCACAF Nations Cup and they have to be paid so where is that money coming from?"
From going on a four-day celebration tour that culminated in dinner with the Jamaican Prime Minister after their historic qualification, Campbell is happy to report that the team has the support of the country as well as the sport minister, the Hon. Olivia Grange:
"We haven't heard from the PM, but we've heard from the sport minister. She has sent us messages that she's behind us and she's trying her best to help us get what we deserve, so I think people are still behind us, thinking that we should get paid. So far, we have support, we just need the JFF to change their way of doing stuff when it comes to the Reggae Girlz." 

FACT FILE
Name: Sashana Campbell
Date of birth: 2 March 1991
Place of birth: Christiana, Jamaica
Position: Defender/midfielder/forward
Current club: Maccabi Kishronot Hadera
Former clubs: Reno, Christiana Strikers, Los Perfectos, Grindavík
Did you know: Sashana's nickname is Pete and if she was a fruit, she'd be a peach!
A look back
Despite the high hopes many had for the team going into the World Cup, the occasion seemed to be too much for the squad, the level more than the Reggae Girlz had expected as Campbell picks up the thread.
"It sort of hit us by surprise, we went up against teams that have been playing a lot of practice games against other World Cup teams… much faster teams and stuff so when we got to the World Cup, especially going up against Brazil… The atmosphere was amazing but we were somewhat nervous for that game and it went on for the second and third games." 
The first match the defender started – Jamaica's second group game against Italy in Reims – was a blur that got away from the young team before they knew what had hit them.
"The Italy game; I'm not really sure what happened, we just shut down right after that penalty, that's what threw us off our game and from then on we just kept scrambling. I don't think Italy were four goals better than us but mentally they were stronger. The Australia game we came out better but a few mistakes against teams like that and they're going to capitalise – our mistakes were like gifts for them."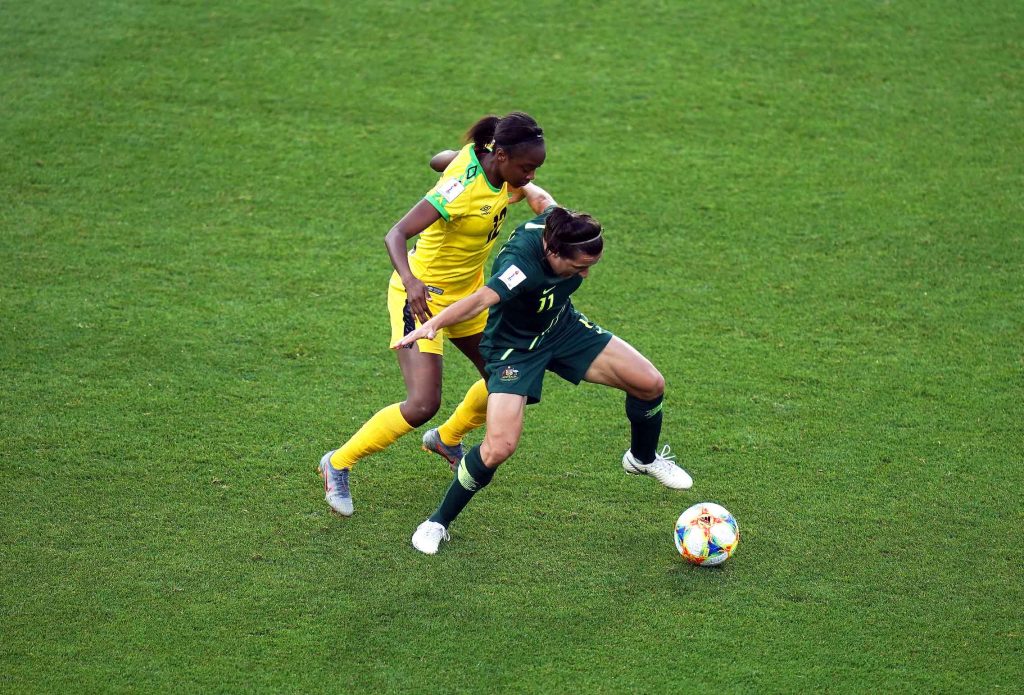 Like most players who've competed at, and been knocked out of a World Cup, the tournament was filled with bittersweet memories and teachable moments.
"We had great moments during that [Australia] game, we got a goal and had great opportunities but it took us too long to get into the groove and move on, but it was a really good experience, the atmosphere was great, the support was amazing. And now we have to build on that and I hope the coaches and the federation, especially going into the next qualifiers… I hope we get more training camps and practice games against bigger teams because now we know what it takes to come up against bigger teams."
In a group with two other teams known for playing in similar colours, the crowds at Group C matches were a muddle of green and yellow, Jamaicans mixing with Brazilians, mixing with Australians. 
"How big the Brazil game was – the crowd and the support, it was like a mixture – we got support from Brazilians as well as the Jamaicans in the crowd. When it comes to football, Jamaica is like Brazil; we love like the Brazilian style of play and I think the bond through that game grew on the field and in the crowd… you couldn't really tell who was supporting who because of the blend of all the yellow and green."
Although the Reggae Girlz didn't manage to pick up a point during the group phase, they did at least score a World Cup goal in their final game. It was a moment that the team could feel coming, Havana Solaun's second half strike one of the sweetest conciliations for the Caribbean nation.
"From the warm-up we really felt like our play was going to get better or be better throughout that game and I really think we did play well. We did have a few mistakes but we really needed a goal and I think that was the most amazing time for all of us especially Havana."
Suffering the same fate as the Reggae Boyz 17 years before them in France, the Girlz failed to make it out of the group but the group refused to be down, the scale of what they had done something that didn't escape them. 
"At first, as a player, representing your country… no one wants to lose especially in such a big tournament. We were down for a few moments but then we reflected on the good things like how we got the entire country and Jamaicans around the world to rally with us, and the support was amazing even though we got knocked out and we went down with such score lines. I don't think the tournament was terrible and a lot of supporters still thought we did amazing in their eyes even though we lost all the games and got only one goal. But we have to take away that we went up against the number six (Australia), 10 (Brazil) and 15 (Italy) ranked teams in the world and to have all that support from our friends and familiar… we really did something amazing throughout the World Cup even though we didn't advance we grained experience and exposure and captured the hearts of many people around the world."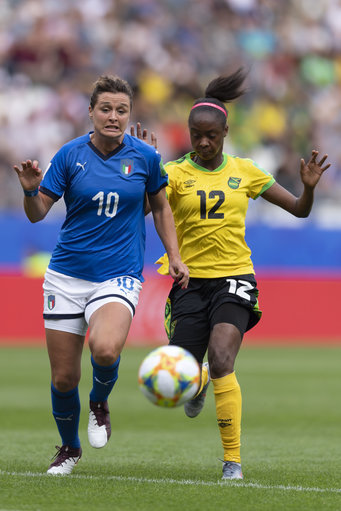 Nowhere without Cedella's support
The triumph of the Reggae Girlz and their unlikely qualification for the tournament this year wasn't just based on their location, CONCACAF being an unforgiving confederation for the lower-ranked teams, with just three automatic berths available. For World Cups not held in North America, the USA, Canada and Mexico invariably scoop all three, leaving a diminutive team to battle it out in an inter-continental playoff.
The World Cup qualification success meant much more for Jamaica – who had seen their women's outfit disbanded after an unsuccessful Olympic qualification tournament – the team being revived after a six-year hiatus by Cedella Marley, daughter of the legendary reggae star, Bob. Far more than just an investor, Marley has become the 12th Reggae Girl, her support (both in direct financial contributions and garnering further investment from other companies and sponsors) and backing of the team is something that runs deeper than many would expect.
A cheerleader and advocate, Campbell is sure that the team would struggle to exist as it does without the priceless help from Marley:
"I think there could be a team but I don't think it would be a team that would advance or make it to the World Cup. She has been a big engine in our team with the support she has given us, with funding and sponsors and motivation. She has played a huge part in the Reggae Girlz team and I don't think the set-up would have survived without her."
An ever-present, Marley is both sister and friend to all in the team, her warmth something unquantifiable that gives renewed strength to the sense of being a Reggae Girl and what that means:
"She motivates us, she gets into our locker room, training sessions, game days; she talks and she vibes with us… during the game she's in the stands and it doesn't matter the scoreline, she rallies with us. She reminds us of our friends and sometimes I wonder how old she is because she's always playing and jovial and saying stuff our age group would be saying."
With Marley in their corner, all is possible for the team and like the proverbial phoenix that rose in 2014 to shock the CONCACAF tournament in 2018, a dream of a second World Cup appearance in 2023 is still a very real ambition for the nation of three million.
"Our team that went to the World Cup this summer was a fairly young team and I think if we keep that group of players and just build on it… and grow with training camps and more competitive practice games I think we have a better chance of making it if we keep this team together and get it right from the get-go."
From sprints to centre back
A striker in her collegiate days, a centre-back for her club team, Maccabi Kishronot Hadera and a full-back or midfielder for the Reggae Girlz, there are few hats that Campbell hasn't worn on the pitch. Whilst she concedes that she flourished in attack during her younger days, because the level wasn't as high as in a professional environment, her dedication to her team is what allows for her unquestioned versatility. 
"I enjoy moving around, over the years I've gotten to play in defence more and for me I am comfortable wherever the coaches chose to put me or see fit where I can better help the team so it's not so much where I want to play but where I see I myself helping the team. 
"In college I enjoyed scoring goals because I was much faster and stuff than the college girls but now we're at a higher level so whenever I'm on the pitch, I'm just going to play my part. I play for Hadera and I'm a centre-back there and when I tell people I play in defence they're like,'You never play there!' and I say, 'You just haven't been watching me the last few years!'"
Not always a footballer, during her teen years Campbell excelled at track and field, the 28-year-old, much like many of her athletic compatriots, a brilliant sprinter. 
"I did track back in high school for a little time but just I loved football more but I think somewhere inside, track is still a huge part of me."