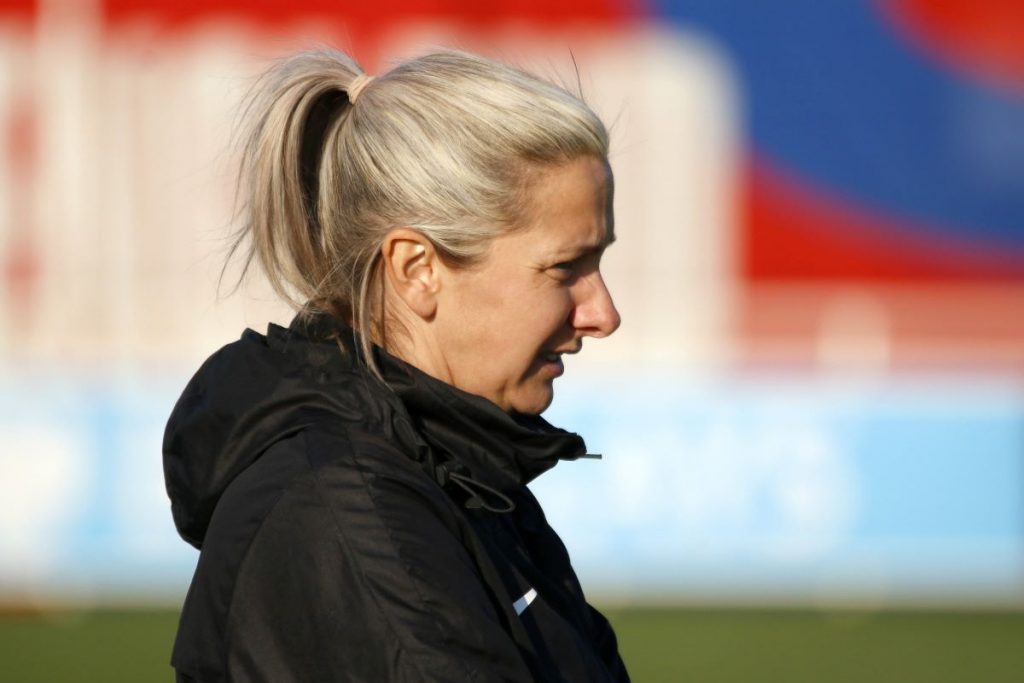 Aston Villa manager Carla Ward has credited support from her players as crucial in keeping her going, after last weekend's 6-0 home loss to Chelsea made it five league defeats to start the season.
Having replaced promoted Bristol City at the bottom of the Barclays WSL after that result, Villa travel to those opponents this Sunday (2pm kick-off) for what Ward described earlier this week as 'a must-win game.'
A hugely-welcome lift came with Wednesday evening's 5-0 Conti Cup win against the Villa boss's former team, Sheffield United, with last season's WSL Golden Boot winner Rachel Daly scoring a hat-trick.
"It was a tough moment after Chelsea; it was probably the toughest (in my managerial career)," Ward said to She Kicks in this morning's pre-match press conference. "But one thing I immediately did, despite the struggles, I immediately put a message to the staff reminding them of their quality, reminding them of what we need to do, stick together, dig in together and go again."
"Then got home…had a glass of wine! There was a couple of coaches that picked up the phone to me, and I probably spent a couple of hours on the phone and went to bed, but sometimes, talking to someone away from the environment helps.
"I woke up Sunday morning, and I think the best way to get my head back on to picking myself up was watch every single, possible WSL game. But yeah, that's just me: get back on the wagon as soon as possible.
"I'm not somebody that looks at the negatives, I'm very much 'glass half full,' even when we've just been beat 6-0. It's sometimes difficult, because naturally it is, we're human beings, but I am someone who tries to spin it as quickly as possible and get everyone motivated again."
Last season's 5th-place finishers are boosted by the return of midfielder Kenza Dali, who came off the bench against Sheffield United to make her first appearance of the season following an injury with France at the World Cup. Forward Simone Magill will, however, be unavailable after returning from international duty with Northern Ireland with a quad injury.
Defender/midfielder Lucy Parker also remains absent with the ankle issue that forced her withdrawal from the most recent England squad. Depending on the specific scoreline, Villa could move out of the relegation zone with victory on Sunday, to potentially kickstart a campaign that has so far fallen well below expectations for a team fancied by many in pre-season to close the gap on the WSL's leading sides.
England striker Rachel Daly had been vocal in her backing for Ward after the Chelsea game, and the former Sheffield United and Birmingham City manager cited such support from her squad as pivotal.
"If I'm being honest, it's what keeps you going." she said, responding to a question by FromTheSpot's Rhys Webb. "I think it's important, because I care a lot about people and the importance of the project."
"I'll be honest, I asked outright to some of the leaders in the group, 'Have I got the dressing room?' and the answer is '100 per cent, wholeheartedly.' Now, the players know that I'll give them everything, I'll give every ounce of everything I've got, and the one thing I pride myself on is treating the players right.
"In these moments where it does become tough, it's very, very, very easy to point the finger at the manager, but one thing through building those relationships with players, they then have your back as well as you have theirs, and sometimes that doesn't happen. That's something I'm immensely proud of, but I must admit, after the Chelsea game, getting some of the messages I did from the players was something that absolutely kept me going."