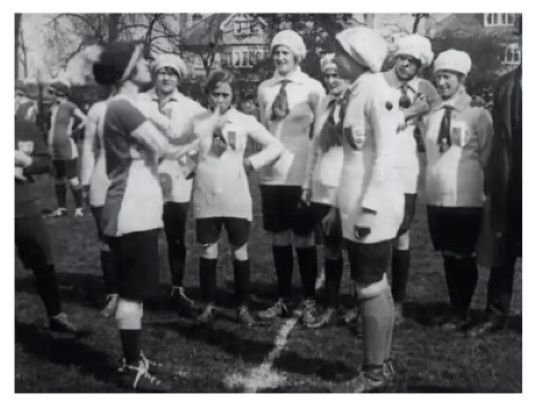 Footage from April 1918 shows the now-disbanded Sterling LFC take on Vickers Ladies of Dartford in Southend-on-Sea.
To mark 50 years since England Women played their first match (at Ravenscraig Stadium in Greenock, Scotland), Spiideo – a Swedish sports video solution at the forefront of bringing tech to women's sport globally by enabling organisations and rights-holders to automatically broadcast, record, and analyse data on live sporting events – has worked with Patrick Brennan, author of 'The Munitionettes: A History of Women's Football in North East England During the Great War', to identify and publicly reveal what is believed to be the earliest verified footage of a women's football match in the UK.
Recorded on Saturday 20 April 1918, the footage shows Sterling Ladies FC (based in Dagenham, Essex), nicknamed the 'The Invincibles' for their undefeated campaigns between 1917-1919, take on Vickers Ladies FC of Dartford (based in Dartford, Kent) in Chalkwell Park, Southend-on-Sea, Essex.
The silent footage from a 1918 newsreel, belonging to French film company Gaumont, was found in the archives of The National Library of Norway. Gaumont newsreels were typically used in domestic cinematic programming, but in cases of international appeal would be distributed abroad.
The 41-second footage shows the sides making their way onto the pitch, attended by large crowds of servicemen (many visibly recovering from wounds), before the male referee tosses a coin and kicks the ball to get the match underway. Throughout the clip, Sterling Ladies (sporting the darker two-tone kit) are bunkered in the opposition half, with the sides trading touches before Sterling Ladies score.
An article in British newspaper The Sportsman from Tuesday, 23 April 1918 confirms that the game took place, though makes no mention of filming.
It reads: "Played on behalf of the three war hospitals at Southend, the meeting of the undefeated teams, Sterling (Dagenham) and Vickers (Crayford and Dartford), attracting several thousand spectators to Chalkwell Park on Saturday. Both sides played hard to maintain their untarnished season record, and after an exciting game a draw of two goals each enabled them to do so. A feature of the game was the goalkeeping of Dunn for Vickers. The Dagenham team opened the scoring through A. Tennyson. Vickers drew level by means of an opponent putting through her own goal, shortly after which O. Wood gave the Kentish team the lead. Just before the interval Sterling got on terms again, Tennyson finding the net. In the second half, despite the determination of the rivals, all efforts to increase their scores were frustrated, the game ending as stated.
The teams
STERLING LADIES: G. Fairman; T. Peters and V. Foster: V. Hale, M. Reader and M. Billett; A. Segger. A Tennyson,
Maud Smith; A. Dixie (capt.) and A. Fairman.
VICKERS LADIES: E. Dunn; R. Barber and B. Mundy; K. Prescott, H. Holdes, and M. Potley; R. Colvin, W. Prescott, O. Wood, A. Falence, and M. Hocking (capt.)."
Lisa Berg, Sales Development Manager at Spiideo and Scout for the Mexican national women's team, comments:
"This footage marks the first technological leap forward in women's football. At Spiideo, our mission is the same as
seen here in 1918: to modernise the game and contribute to its popularity by bringing it to a wider audience. Almost 100 years after this first footage, we're still trying to bring the game of football to women around the world.
"I've been developing women's football on 5 different continents and all-too-often the pioneering achievements of
women are erased or forgotten from history. Even in 2022, I question why it is so difficult to find high quality
broadcasts of women's football. Access to women's football is crucial for it to grow and develop.
"In publicising this footage, we are anchoring the incredible history of women's football, from its grassroots origins at the end of the nineteenth century to its massive popularity and global appeal today. I joined the Spiideo team
because there is a gap in accessibility to women's sports and we have the mission to bring change. We provide our
streaming and analysis services to a number of women's leagues and teams across a wide range of sports, allowing
teams of all abilities to broadcast and analyse their games. As a fan of women's football, I want to see the world get
access to watching talents locally and globally. As a current scout for the Mexican female national teams, I know
first-hand the importance of video in identifying new talent – which some of the women from this footage clearly
have!"