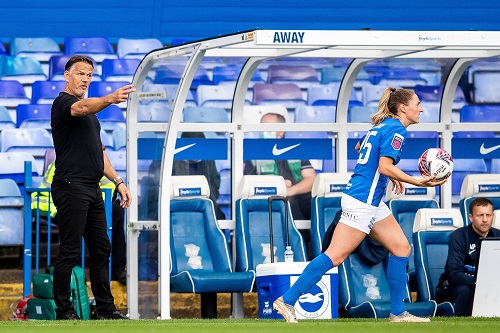 We look ahead to Saturday morning's kick-off between Everton and Birmingham City (11.30am KO, Walton Hall Park,  live on Sky Sports Premier):
Both sides are still without a point and Birmingham manager Scott Booth is realistic about the challenging task of bringing his new squad together to battle for results but he is also confident that they have plenty of quality and the mentality to match it and they will embrace the hard work head. Sometimes the games at this level can be 'daunting' but 'that's football'.
Here's some of what Scott Booth had to say ahead of their trip to Merseyside for a Saturday morning kickabout live on Sky…
On the international break offering a bit of time to reflect on the start to season and what were those reflections:
It's sometimes quite a good thing the international break, it gives you a time to go on and work on a lot of things intensely with the players that are still at the club. We didn't really have that many left this time, we've got quite a number that were away and the ones that did stay trained really hard and we worked on a lot of things and I think we were able to get both fitness up and some messages across.  So it's been it's been good. Obviously the players then come back from internationals and you don't have that long with them – we trained yesterday and we'll train again this morning and obviously that will all be about Everton.
On how the squad is looking in terms of fitness and availability:
I think realistically you're always going to pick up one or two knocks so you kind of factor that in but I'm hoping that we'll have a strong squad able to travel and to play.
On the tough start to the season, for both sides, and both will be looking for at least a point:
Yeah, from our perspective we are just looking to try and get points whenever we can – that's the mentality that we have. So far we have not managed to do that but we are a new team and it's pretty obvious that it takes some time for that to work but while we're taking that time we also need to get the points on the board as much as we can. I think this is an opportunity. Also, when you look at Everton, they've had a tough start to the season, it probably couldn't have been much tougher, so yeah they'll be looking at this game with eyes on points but so will we.
On whether the messaging or delivery is different to a team that is looking to start to get points a few games into the season compared to  working with a group of players that are looking for a 14th in a row  title (as Glasgow City were):
It kind of is in some ways and isn't in others. I think the ways that you work are just how you work and you adapt slightly to different situations and different players but I think you have to remain positive in the way that you that you give messages to players and to the team and I think that's no different. Of course, when you win most weeks then that makes things a lot easier to deal with players and situations. So, for me, it's also a learning curve. I try and adapt as much as I can to the situations but you know, ultimately, it's about putting a team on the pitch that is going to get points. We know the situation that we're in as a as a group, as a club, that being said, we still know we have got into these games and bring points in and fight for everything. We need to make sure that the mentality is not about winning every game, but it certainly is about getting everything that we can out of every game.
On not having players to work with during the international break but almost all that went away were part of one win or more and the lift that can give them and potentially the team:
Winning games gives players so much confidence and also that feelgood factor and we have to try and bring that into our mentality on matchday and have that confidence in the way that we play. I don't think that we have shown yet the real sort of belief and confidence within our actual play on the ball and I think we have to bring a bit more of that into our game.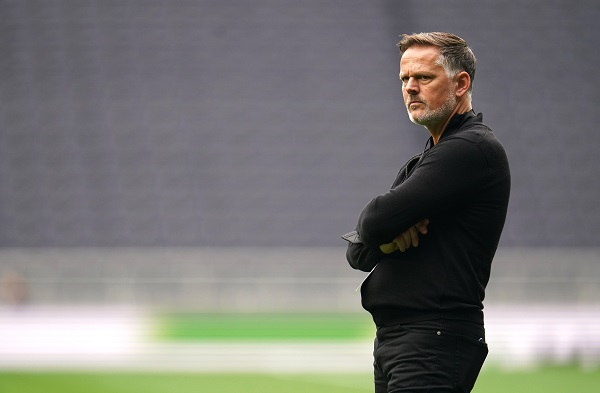 On one of the key messages ahead of Everton game being 'don't concede early':
The goals against Brighton came at terrible times for us. Just after the start and before the halftime, so we have to make sure that we're being vigilant with the way that we defend, try and cut down on individual errors, defend as a unit, but also being more of a threat and having more confidence to actually go and play and have the ball. So we've been working on that a lot. And we'll continue to do so.
On a big eight days with three big games [Everton, Chelsea in FA Cup QFs & Manchester United] coming up. Exciting?:
Yes but in all honesty a bit daunting as well, when you when you look at the fixtures coming up.  But that's just football and at this level, sometimes you're going to have really tough fixtures coming in thick and fast and that's something that we have to be able to deal with and, and learn from and get better. We'll look at those fixtures and do everything we can to take whatever we can out of them. We know they're going to be tough, but we'll go and enjoy them as well and face up to the challenge.
On the difficulty of preparing a team for an (unprecedented) 11:30am Saturday kick off, especially immediately following an international break:
I'm not gonna lie, it's not easy. We only got our players back in on Thursday it is the same for most of the clubs in the WSL that have a lot of international players. It's not ideal but it's the hand that you're dealt, and you've just to deal with it. Football players are adaptable. They want to play football, they want to play football matches, and I think they don't want to train quite as much. So this one is coming thick and fast, as will the games over the coming week – and they will enjoy that, they'll enjoy the fact that they are playing games. Everton are in the same boat, so there's no hiding place in football you just have to go and do your job and be as successful as you can be.
If somebody offered Birmingham a point before the Everton game, would he take it?
I don't think anyone's ever going to offer me a point, to be honest! [smiling] So I think we are just going to go into the game and work for whatever we can get. If that means it's a point then so be it, if it's three, even better.