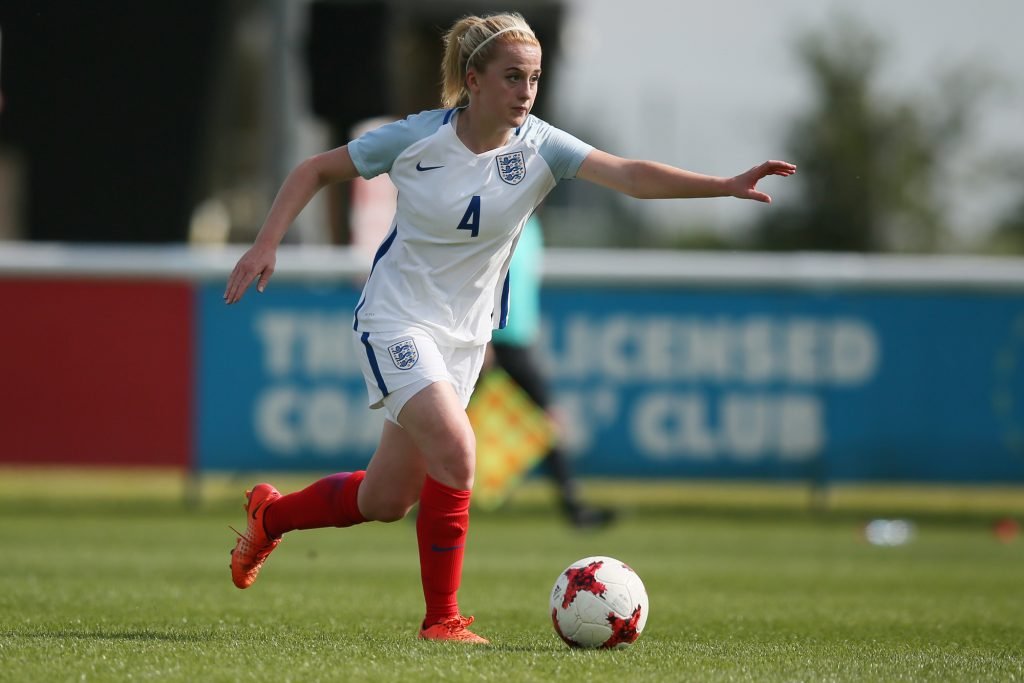 One of the points made by Head Coach Mo Marley on the day the England WU20 squad flew out to France, was that there were a number of players in this squad that people perhaps didn't know that much about and that were likely to surprise. Several of the group play their football out in the U.S. in the college game and of course already possessing undoubted ability, have been developing their game slightly 'under the radar', so to speak.
One of those U.S. based players is attacking midfielder Mollie Rouse from Stratford-upon-Avon. Having come through the successful Aston Villa Centre of Excellence and regularly impressed in the WSL2 with the senior side, Rouse has graduated through the England U15s, U17s and U19s sides and headed to Kentucky in the Autumn of 2017 to take up a scholarship (thanks to SRUSA) at the University of Louisville.
One thing you can absolutely guarantee from Mollie – which you've got to love – is that she will give everything on the field. That work ethic is something her family have helped instil, with the young Mollie being send out onto the field with the jokey warning: 'If you're not a Rottweiler you're not coming home.'
She was at home waiting, the day the group received the email to say whether they had made the squad for France or not: "We decided as a team that's how we wanted to find out [via email], so that we could process it, good or bad."
Who did she share the good news with first?
"Obviously I told my mum, she was there, then my dad when he came home. It was a dream come true. Family members are always the first people I tell because they're the ones that have been with me through it all. Everyone in the family was so happy and so proud."
Will they be in France to see their daughter at a World Cup themselves?
"Yeah my parents are coming out to watch, they're driving over and going to stay for the whole thing. It's always great to have them there, supporting you. Obviously going to university in America they can't watch that many games – although they can watch them online – being there is so much different.
"Being at a world cup…it'll be amazing to see them there. Although, my dad sometimes can't watch he gets so stressed about it. They tell me it's harder watching – they remind me of that all the time!"
Family can be so important in helping and supporting someone to get to the top in sports, and they're also often the ones that inspire (and enable) the path into sport to:
"How I got into football is down to my brother and my dad. My brother is two years older than me and my dad ran his team, so I joined in playing football through that. I started by picking up the balls at the end of practice, occasionally I'd fill in and then eventually I started training with them. Gradually I got into it with them, played a few games with the older boys and then dropped down to my own age group."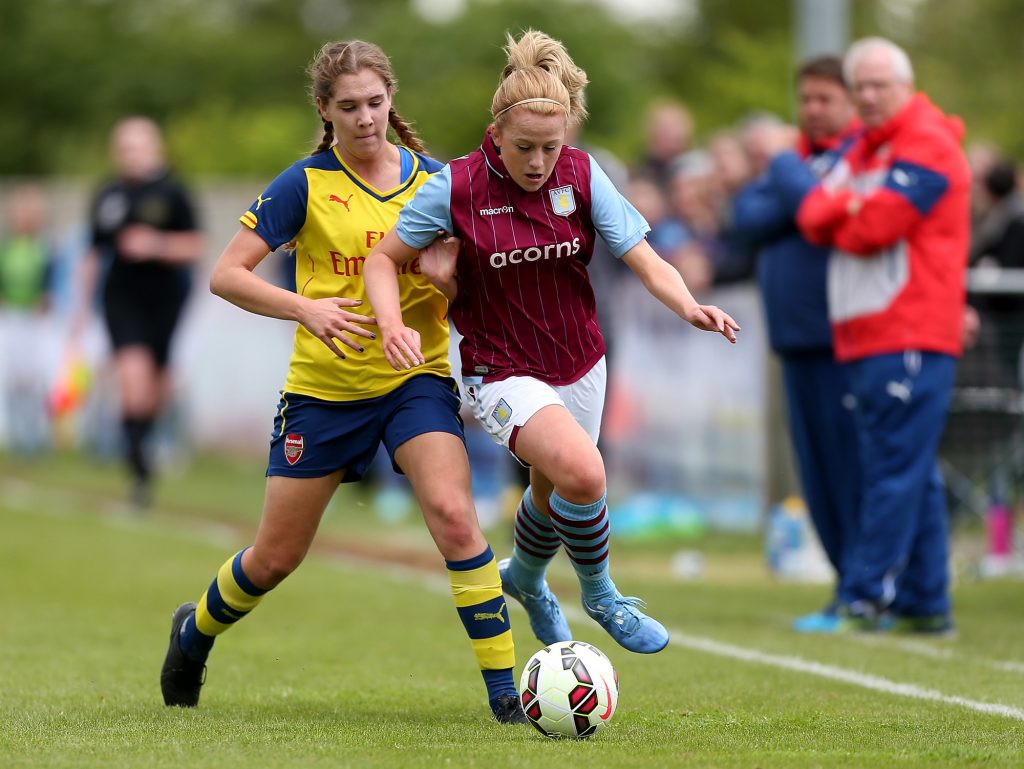 Sadly her brother can't make it to France (and nor can her beagle Maisy, who her grandad will look after, 'my dog loves my grandad, probably more than it loves me!'). In fairness, her brother has a good excuse, though he won't be permitted any excuses for missing the action.
"My brother is with the army, so he's working. He is going to try and watch on Eurosport. I told him if he doesn't watch it we're not brother and sister anymore! Ha ha. I might have to ask him questions on the game to check."
She's of course used to being away for long periods of time (not that that made it any easier to pack 'it was so hard, we got given leisure wear, which is unreal – which someone else will wash for me, I'm hoping – but it was so tough to pack) and as excited as the next player – there's a real buzz about the room as the players ready themselves to walk over to the airport – but what is she looking forward to the most?
"Honestly, it's hard to say because I've never been to a world cup before so in a way I don't know what to expect about how it's run or how it's going to be but I'm just looking forward to a life experience. It's such a good thing to experience at a young age."
Though some things always stands out, certainly on match days:
 
"Wearing the England kit, it's an honour to put the shirt on. It's real. It's not like you've bought it in the store.
"And I love the bit before the game. The changing room vibe, got the music on, everyone's together, chants and then walking out and the national anthem is great. Then obviously if you have a great game, you can't beat it, it's amazing."
It's finally game day!! We play North Korea in the first game of our World Cup campaign? watch on Eurosport player 3:30pm UK or Fox sport 1 10:30am US! #getloud #Lionesses ⚽️⚽️⚽️ pic.twitter.com/XWcJkDwThO

— mollie rouse (@RouseMollie) August 5, 2018
If Mollie gets the nod to play today or in the upcoming games, what can we expect, who inspires her now and where does that inner desire to graft come from?
"It's Kevin de Bruyne because I think he's a workhorse, so I aspire to be like him. He's technically gifted but also works hard. That's really what I look for in a player.
"When I was younger my parents used to say to me, 'As long as you work hard in a game then you can't be disappointed.' People are going to have bad games but work hard and you'll get there.
"They used to make a joke like, 'If you're not a Rottweiler you're not coming home.' So I'd run round, get stuck in…working hard is the first thing, it's the one thing you can control, and if you're working hard you're less likely to have a bad game."
So, the message from her proud parents Anthony and Nita has always been to 'work hard', what about from her coaches and teammates at the Cardinals, back in the U.S.?
"I've got loads of good luck messages from them all. They said 'be yourself and enjoy it'. It's important to enjoy it."