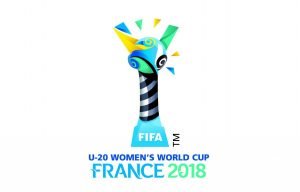 Yesterday we shared our interview with #YoungLionesses coach Mo Marley from Issue 48, which was from a conversation we had in mid-June. On the day the squad flew out to France, a handful of us had a sit-down catch-up with Mo at a hotel next to East Midlands Airport, where we were able to get an update on some of her thoughts and feelings and observations about the team's progress, ahead of the big kick-off.
It's clear she is very proud of the growth and maturity of the squad and the way they have often led the process they have gone on over the past 10 or so months and the hard work put in over the past 7-8 weeks. England start their World Cup Campaign tomorrow against 2016 U17 & U20 World Champions North Korea.
Here's what the vastly experienced coach had to say...
SK: What's your overriding emotion, with the big kick-off just over a week away?
MM: It's really exciting. We've been together for four camps over the summer since the WSL season finished and you can just feel the momentum and the buzz. It's really hard to describe it, the shift from not having a lot of contact time with them before that and then coming together repeatedly in a concentrated period.
It's a happy camp, you can sense the energy levels. We did some team-building down in Lympstone with the Royal Marines and I think that was a significant turning point, the timing of it was perfect.
SK: Did you get 'stuck in' with Royal Marines' activities too?
MM: Well, I'm a lot older – probably older than a lot of their [the players'] mums – so I did as much as I physically could. I didn't run as much as some of the others, I walked the course in some parts of it but there's one point that's a telling point (the underwater one, let's say) where you're either in or you're out and everyone did it, 100%, including all players and staff.
Not one person complained the whole time we were there. It was tough and there are elements that you would probably choose not to do, if you had a choice but they understood the purpose and objective of what we were trying to achieve, everybody accepted it was non-negotiable. The team drove the team.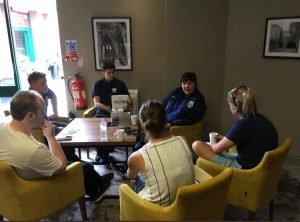 SK: It's always difficult to narrow down a larger squad to a final tournament squad, how difficult was it this time?
MM: It's been really difficult and quite a few have missed out due to injury, players who have contributed significantly to the tournament build-up and one or two have dropped out for different reasons, so some decisions were made a little easier because of that… but it's hard when you're having to tell young players that have given everything for the past three to four years, when it's kind of taken away from them. It's so hard for them to understand and accept that, but it's also better than not being selected at all.
SK: This will be your fourth U20 Women's World Cup as Head Coach, will that experience help?
MM: I've got experience of working with teams across European Championships but actually if you look back across the history: we went to the world cup in 2008, then we went in 2010, then we went in 2014, there's a big gap in-between that. Even as a coach you miss out on the trends. So, yes you can observe videos and pick up on the latest standards but I think you can't replace actually being there. Whether you do well in the tournament or not, as a coach, you're there, you're live, you're feeling and being where the players are developing.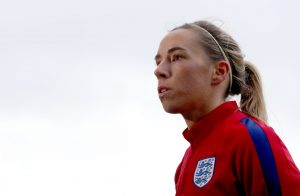 So, four world cups sounds a lot but we haven't had that continuity from one tournament to the next and then you're starting – because of the age bands – with a new group, you're sharing all of your experiences and messages again.
My message with younger kids is that they have to go through it themselves, you can't tell them 'don't do this, don't do that' or you spend 24-7 telling them what not to do rather than letting them express themselves and learn and take the information on board.
We've got six players in this group that have been to a world cup before (Jordan in 2016) and that's not a lot. And that was at U17s level and the difference between an U17 World Cup and an U20s World Cup is significant. We had Jordan Nobbs come in to speak to the players and she'd been to the U17 WWC in 2008 in New Zealand an then played in the U20s tournament. She said she'd been on the pitch five minutes and she thought and felt, 'Oh my god, what's just happened?' She shared that and it was brilliant, she had got to a semi-final at the U17 World Cup but making the step up pretty soon after that was a complete culture shock for her.
SK: Will the experience of those six players and how well some of them, like Georgia Stanway for example, played in Jordan, be important?
MM: The experience of being in a world cup and playing against non-European teams is definitely going to help prepare anybody for sure. Georgia is one of the players that have played in a World Cup and they've played against the likes of North Korea and Brazil at U17s however, the North Korean team looks like a completely different team with different players team at U20s. So, for all of the experience of you being there, you're actually then playing against different players.
People assume that because a team did well there [two years ago], they should do well again but that's actually like saying that because you do well in the reserves, week in and week out, you should do well in the first team. There are different stages and transitions that come with the step up. The classic example is, we've [England] done exceptionally well in Europe in the past and then we've gone to a World Cup and we haven't.
There's often a number of factors in that, like the programme, the league, the timing, young players playing multiple tournaments in a short time… We won the Euros in 2009 and then underachieved in 2010, for a number of reasons, but that's the difference between an U19s Euros and an U20s World Cup.
SK: Many in your squad have good experience in the FA WSL over the past season or two, that must be a positive?
MM: Yes, definitely but also they are the young players in those squads. At their clubs they're not expected to lead, when you then transfer back to your own age group, everyone around you expects you to step up and lead and that's a different role. At your club everyone is around you helping you and then you go from that straight to a world cup and you might be one of the youngest in the group but the expectation from everybody around is for you to deliver.
With young players, learning game, you can't predict performance. That's where we as coaches trust those players. In a league programme you get the whole season to practice it but in a world cup you get three games to get out of the group stages: completely different expectations and a completely different environment for those players to transition quickly into.
The aim of the four-camp programme was to prepare them for that: making them uncomfortable, having to take responsibility and lead, knowing what it takes when you have to get results, they probably aren't expected to do that yet at their clubs.
SK: You've talked about the team needing to produce the form and performances you have seen over the past year or so in friendly tournaments, on the big stage, when it counts. Are they ready to do that, do you think?
MM: From what I've witnessed, the team that we are now, compared to the team we were twelve months ago is in complete contrast. Of course we've always had ability but when I talk about those core values of leadership, togetherness and knowing what it takes at the next level, the Euros was a challenging experience for them, they came away disappointed as a group, they know they've got another opportunity. We're not deluded, we've got a second chance, we're accepting that.We don't feel we achieved what we could have done at the Euros but from that the way the players have responded is inspiring as a coach. And to see the change, in such a short period of time, and they've led that, it's great to see.
SK: Can you tap into the 'feel good' factor left over by the men's performances at the World Cup?
MM: As soon as you put the shirt on, wear that badge, you hope that everyone's right behind you. It's important for the girls. We were fortunate that a few days after they got back from Russia, Gareth [Southgate] came in while we were at St. George's and presented the girls with their caps from last year. He spent 20 minutes or so asking and answering questions, so to have that experience shared was brilliant. The lads did a brilliant job, they left the shirt in a better place and that's what we want to do. If we can get anywhere near to how well they've done, we'll have done brilliantly. We're shooting for the stars. We want to be good as we possibly can be, we don't know what that is yet but we're here to give a good account of ourselves.
If you win the league, you then think yes, we want to do that again but we don't have a benchmark. Obviously we want to play well and win every game, realistically (and I think any team in our group will say the same) we will have done brilliantly to get out of the group because of the quality of the teams in the group stages. And that's stage one. Hopefully we will give a really good account of ourselves in the opening game, it's a tough one, we'll have a better reflection of where we're at and then we'll take each game as it comes and do what we've done all year.