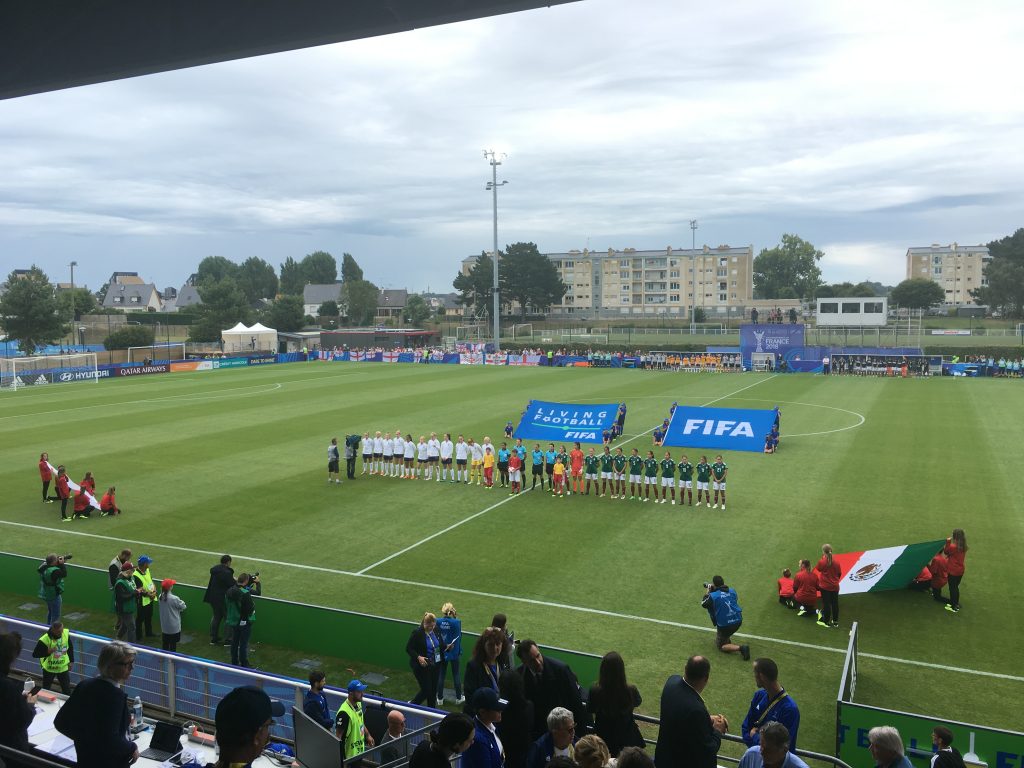 In Brittany we follow! / The girls in red and white! / We are mighty England! / And we are dynamite! / Allez allez allez! / Allez allez allez!
Dynamite, eh? Boom. It's a funny old game, apparently, and one of two halves, someone once said. That someone has obviously listened to one of Mo Marley's half time team talks. Whatever was said in that portacabin dressing room during those fifteen minutes she sent a completely different bunch of players out for that second half today as for the first!
Back to St Malo once again then for my penultimate day of action at the Under-20s Women's World Cup and it was the best kind of match days – a Young Lionesses match day. A quick check-in to what would be my final hotel of the trip – on the seafront don't you know, very nice indeed – before the now familiar walk down to Stade Marville for the afternoon's entertainment.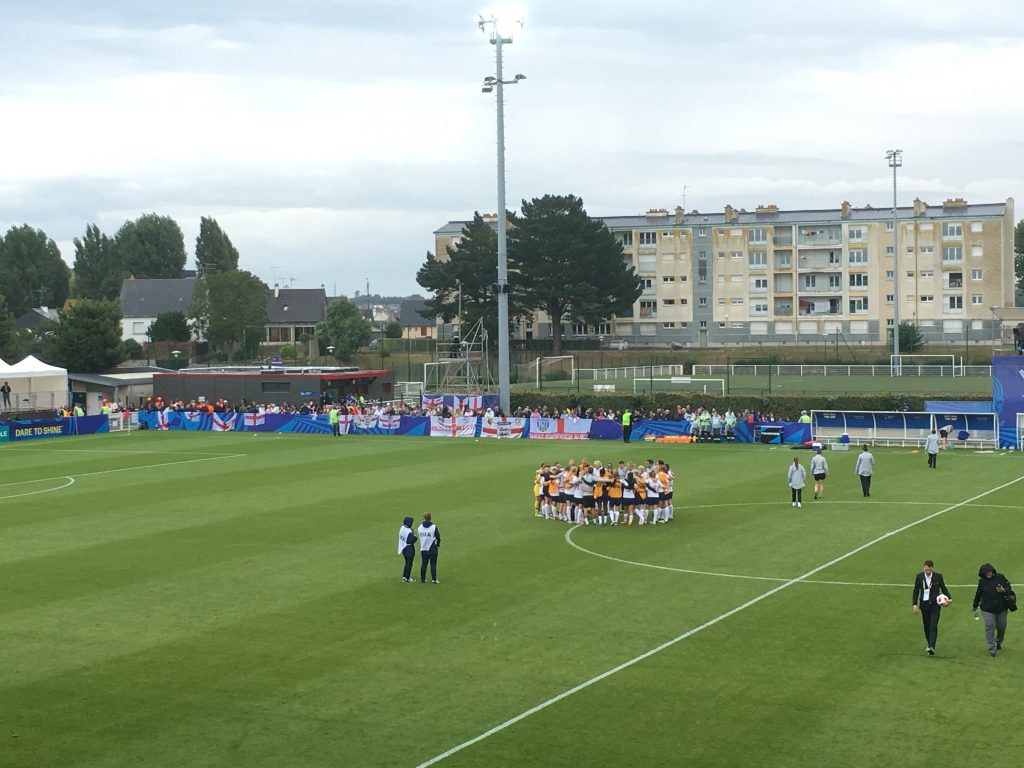 Having been on the standing side of the ground for the last two games I'd opted for the main stand this time assuming this would be where most of the England fans would be, but to my disappointment on entering the ground I saw a full touchline of England flags on the opposite side to me. No movement about within the stadium of course, not even from seating to the cheaper standing area, but luckily I found a group of England fans tucked away at the back of the stand also lamenting the fact we'd be in two separate groups for today's game. At least I thought I had. I was stopped by a steward demanding to see my ticket as I started to climb the stairs to my fellow fans. Apparently I was climbing the wrong staircase so was pushed, literally, towards the next one along. Which I duly climbed and walked along an empty row to where I was heading initially. Back to what I was saying about over-zealous stewarding the other day. Wonder what the French is for jobsworth…?
Warm-ups done, teams in, teams out, national anthem belted out, pre-match huddle, off we go. Unfortunately it wasn't just the different venue and drizzly weather that felt a world away from seven days ago in Dinan against North Korea, the performance just wasn't there and we went in one nil down. Not just that but with the Mexican fans' songs from the other end of the stand ringing in our ears.
In my head I'd like to think that Mo did a Mike Bassett at half time, not the expletive laden rant but just stood there and said over again "We're better than the Mexicans". In truth it was probably nothing like that but what she actually said is definitely one for the Derby Uni folks to ask in their next media time at training.
Having watched that first 45 minutes I decided it was time for an over-priced and I'm fairly sure non-alcoholic beer. As the players came out for the second half Georgia Allen turned to us and lifted her arms. It was time to #GETLOUD!
I'm not sure what they put in the beer over here in France but it must be strong stuff because what happened over the next 35 or so minutes surely can't have been real. Apparently it was very real though, an absolutely sensational performance from the Young Lionesses and to be honest it really could have been more. Unbelievable Jeff.
It was hard not to feel sorry for the Mexicans as they walked off, many in tears, at full time but equally it was impossible not to get completely caught up in the euphoria of what England had just done. Brief hugs for players and families pitchside before the latter headed outside to wait for the former by the bus.

Had I gone out with them I wouldn't have got back in for the day's second game so instead went to do some shopping and thanks to FIFA's unique currency system – pre-bought "jetons" (or tokens) – managed to pay three jetons (seemed fine in my head), equivalent of €9 for a tournament keyring without really thinking about it. NINE SODDING EUROS for a blimmin keyring! Good job we'd won.
Given it was a sellout and the stadium was filling up fast with French fans I took my actual seat for the day's second game, which luckily was on the back row meaning I had a great view of the celebrations happening outside the ground with the players and families by the team bus. Dancing, singing, pictures – a really special way for them to celebrate a really special win. Eventually the England coach drove out of view with police motorcycle escort just as the two teams emerged for the next match.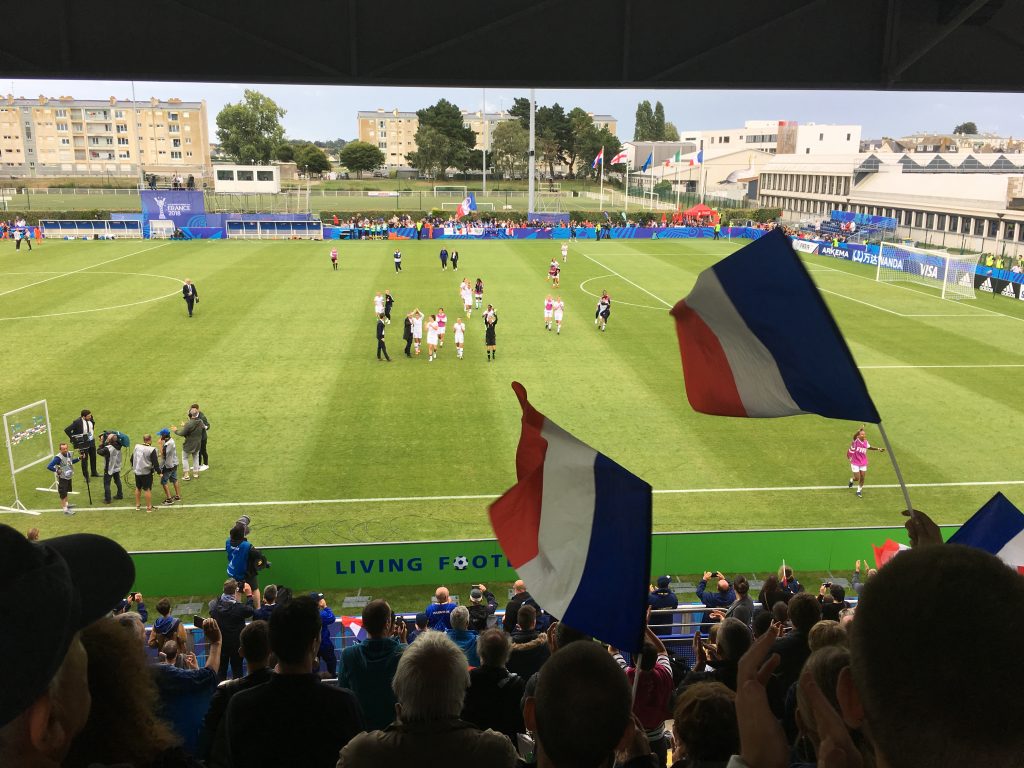 The French were in fine voice as La Marseillaise rung around the stadium. What an anthem it is as well, especially in that setting. The French fans were in dreamland by half time thanks to a very impressive Amelie Delabre hat-trick, which I understand from Rich Laverty relegated Lauren Hemp to the third youngest hat-trick scorer at an Under-20s Women's World Cup about as quickly as she scored it.
At the end of the stand quite a commotion turned out to be Camille Abily patiently taking pictures and signing autographs for what seemed like pretty much the entire crowd.
Not quite the same second half but the French added a fourth to their tally (it's good but it's not six is it) meaning the faithful left happy with their free Tricolores waving. As did I, happy that is, for it had been a most memorable day. About as good as they come watching football in fact.
Alas my time in France is almost at an end though. Two final games tomorrow back in Dinan so I'll save my thoughts on experiences of the tournament as a whole and on following our Young Lionesses for my final blog.
Until then. Marley, you're the one.