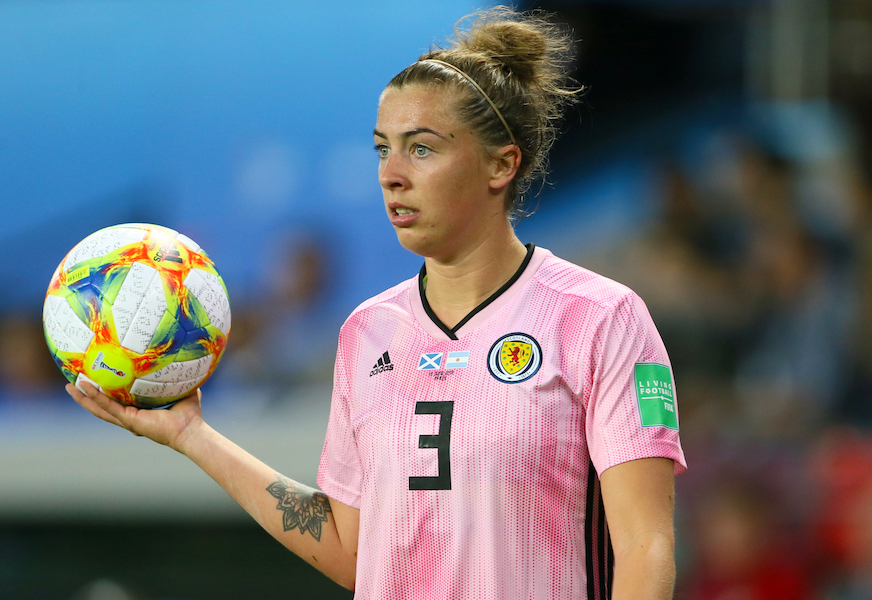 There is an infectious enthusiasm in Nicola Docherty's voice as she reflects on her memories of the World Cup in 2019.
'I still get goose bumps speaking about it,' says the 28-year-old Rangers and Scotland defender. 'People ask me about it, and honestly, I still cannot believe that I went to a World Cup.'
Docherty was part of the Scotland squad that came frustratingly close to progressing to the last sixteen at the tournament, racing into a three-goal lead against Argentina in their final group match, only to agonisingly concede three times in the closing stages. 'That last fifteen minutes was just madness,' reflects Docherty. 'For a long time, I couldn't even watch the game afterwards because I was just so heartbroken.'
The story of that dramatic night and Scotland's journey to their first ever World Cup is told in a new book by Steven Lawther. "Arrival – How Scotland's Women Took Their Place on the World Stage and inspired a Generation." It is a fascinating insight into how the Scotland side was transformed under Anna Signuel and Shelley Kerr and the hurdles that previous generations faced in attempting to qualify for a major tournament.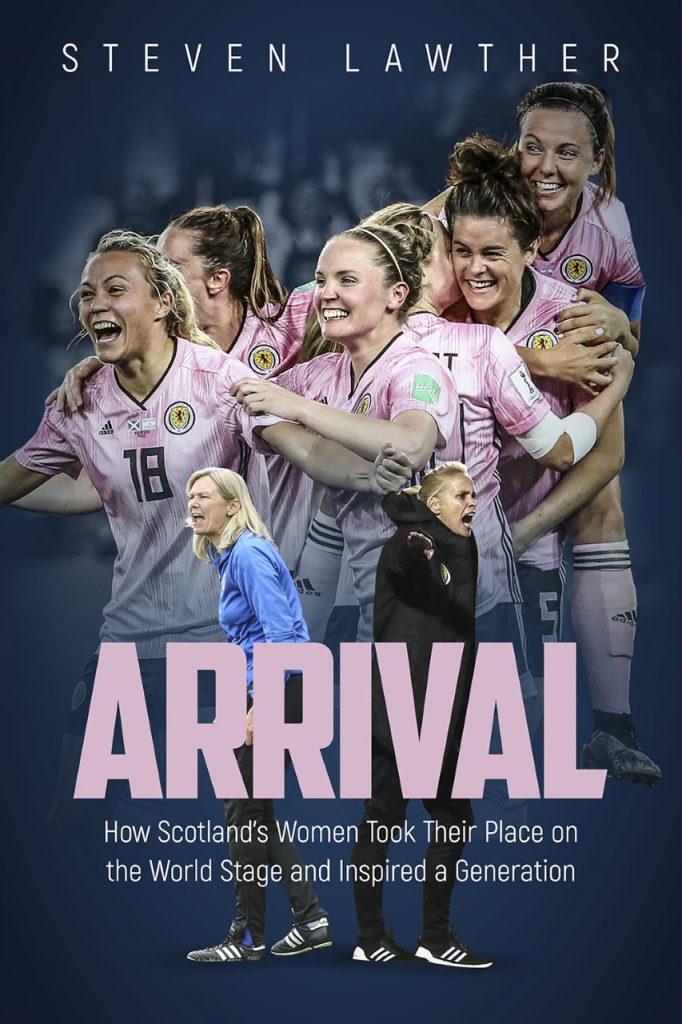 Docherty was interviewed for the book and her contribution reveals just what selection meant to the passionate Scot. 'I just burst out crying,' says the likeable defender. 'It was so overwhelming. I can't actually describe how it felt to be told that you were going to a World Cup. To say that I was part of the first squad that ever went to the World Cup was unbelievable and is something I will never ever forget.'
Her inclusion in the squad made up for missing out Scotland's first experience of a major tournament at the 2017 European Championships in the Netherlands. 'To watch that tournament at home on TV was bittersweet,' explains the Scotland defender. 'I was obviously proud of the girls representing our country at a major tournament, but of course I wanted to be there. It made me stronger because I thought, "Right. I am going to work even harder for the next campaign."'
Her chance would come after Scotland had qualified for the World Cup. Docherty had not featured in the qualifying matches but fought her way into contention with strong performances in the warm-up games as Shelley Kerr explored a number of defensive options. The surprise at her late inclusion still lingers. 'I was a wee bit shocked actually,' laughs Docherty. 'To be back in the squad after quite a bit of time out. It was a chance that I wasn't going to let slip away. I will always be thankful for Shelley bringing me back into the squad because I thought I was out of the mix.'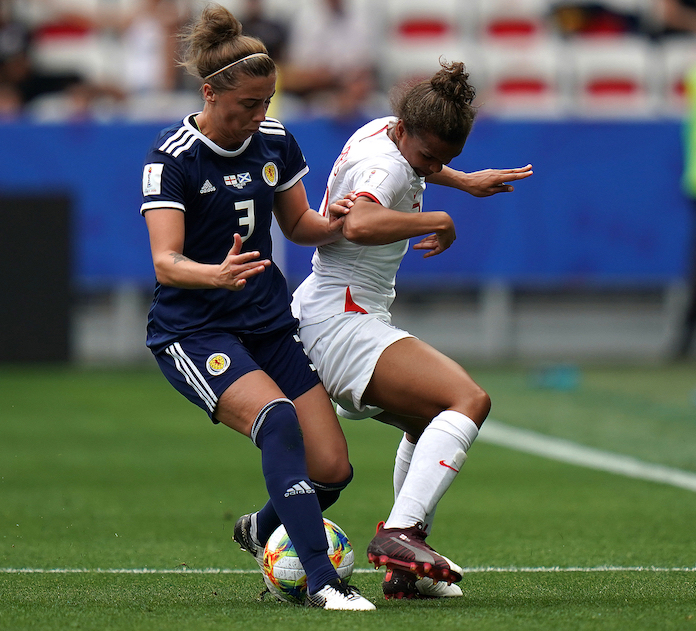 Docherty played in the opening match against England facing the skill and pace of Nikita Parris and Lucy Bronze, arguably two of their strongest players. 'It was difficult,' reflects Docherty. 'Their right-hand side was just brilliant. They were so skilful. To play against that kind of talent was amazing, but for me it was really challenging.'
She was unfortunate to concede a first-half penalty against the English when a Fran Kirby cross glanced her arm. 'The game was just going so fast,' recounts the Scotland defender.  'I have kind of not even felt it hit my hand. It didn't even cross my mind that I had hand-balled it at that point, but as soon as the referee blew the whistle I was, "Aww, I think that was me."'
Docherty is now philosophical about the incident. 'These things happen,' she says. 'You have just got to take it on the chin.'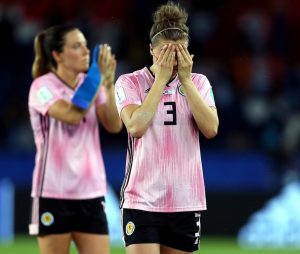 She would also feature in the final match against Argentina, experiencing the agony of that final 15 minutes in the Parc des Princes, yet at the final whistle was able to reflect on what she and her teammates had achieved. 'I felt an unbelievable heartbreak,' reflects Nicola Docherty. 'But at the same time when I was looking at all the other girls in the dressing room upset, I couldn't help but feel a sense of pride as well. I was thinking, "We just got to a World Cup. Yes, it is absolutely heart breaking but I am still so proud of everyone. I couldn't help but feel proud of all my teammates and all the staff that had come together to get us to this World Cup.'
That achievement is celebrated in the publication of 'Arrival', an affectionate tribute to an incredibly successful era in the history of the Scotland team. The book's author, Steven Lawther is a passionate fan of the team having travelled to both the European Championship and the World Cup to support the squad. 'The Scotland squad has given us some fantastic experiences as a family,' says Lawther. 'Seeing our country at two major tournaments has been a huge privilege and I wanted to capture their incredible story.'
Lawther interviewed a range of Scotland players past and present, including former Scotland legends such as Pauline Hamill, Julie Fleeting and Ifeoma Dieke. 'The book reflects the journey that women's football and the team has been on over the last forty years and the challenges and significant obstacles the team has faced to get where they are today.'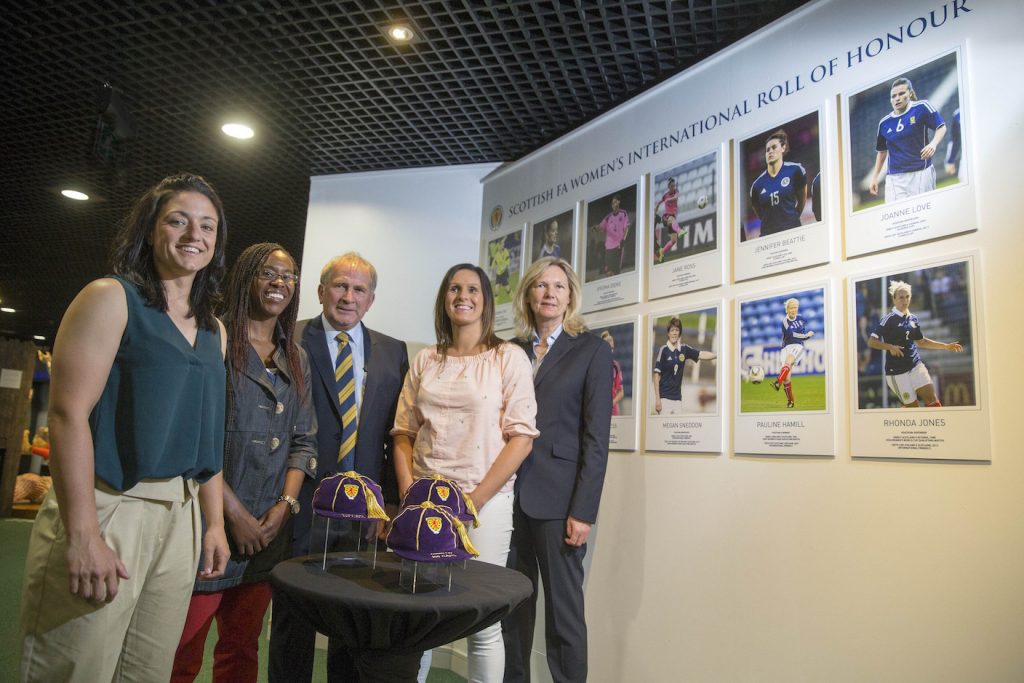 The author is especially proud of the fact that every single voice included in his book is female. 'I wanted to tell the story of what the team had achieved in their words,' explains Lawther. 'I was extremely fortunate that many of the players and former managers like Anna Signuel and Shelley Kerr were incredibly generous with their time and I was able to capture the personal experiences, reflections and emotions of their journey.'
The book, published by Pitch Publishing, also includes a selection of fantastic photos from the Scottish FA's World Cup archive and a special Haiku for the team written by poet Carly Brown. With the departure of Shelley Kerr, the publication of Arrival and the capture of such a glorious period is timely. Hopefully it will not be too long before the Scotland squad start writing another chapter in their impressive history.

'Arrival – How Scotland's Women Took Their Place on the World Stage and inspired a Generation' by Steven Lawther is published by Pitch Publishing and is out on 15th March 2021. 
More info/to buy ➡️: https://www.pitchpublishing.co.uk/shop/arrival