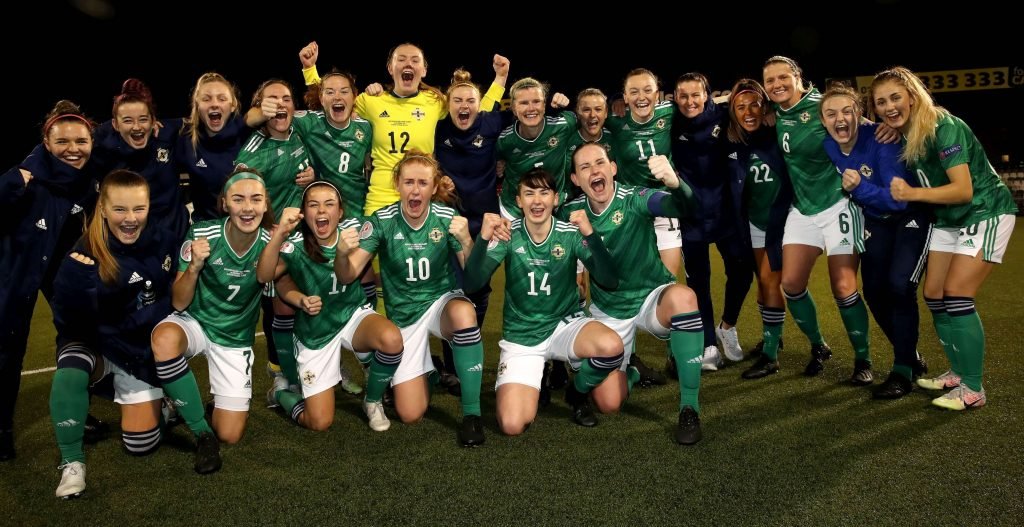 Kenny Shiels' history-making Northern Ireland team came together last Monday as they step up preparations for their Euro 2022 play-off in April. They will discover their opponents for that two-legged tie on 8th March, as they look to qualify for their first ever major finals. 
Before that however, they face England at St. George's Park and despite their squad being somewhat depleted by both injuries and players' work-commitments*, this spirited bunch are 'buzzing' to take on the challenge of coming up against 'one of the best teams in the world'. It's an opportunity to bring in younger players, to make further progress as a group and to continue to make a nation proud.
Ahead of travelling across for the game, 35-year-old #GAWA midfielder and captain Marissa Callaghan (61 caps) kindly took some time to speak with the media, who had virtually gathered from both sides of the Irish Sea. 
*Some of the players unavailable include strikers and sisters Kirsty McGuinness and Caitlin McGuinness, Rangers Women's Demi Vance and Megan Bell, as well as Glentoran's Emma McMaster and Caragh Hamilton.
Here's a flavour of some of what the Northern Ireland skipper had to say…
On the mood in the squad:
Our last camp was in late November/early December, so it's great to have the squad together and catch up with the girls.
On the prospect of playing England at St. George's Park:
It was a few months back, when Kenny actually told us it was happening in training, and the girls were very excited. They're one of the best teams in the world and it's going to be a massive challenge but it's really exciting. Especially for a lot of the younger girls, like young Ella [Haughey] who is only 16. She looks up to Lucy Bronze – she is her idol – so we are really looking forward to it.
We sit at home watching these players play, on the FA Player, on a weekly basis and we have some players in the squad who play against those players. We have obviously been chatting about different players, we watch them on TV but it's nothing like coming up against them. We know there's a lot of the Manchester City team in the squad and we know how well they're doing and the likes of Chelsea. These are top teams in a top league. We know how tough it's going to be.
And, to go over to SGP and experience staying there and the pitches and playing against some of the best in the world is really exciting too.
"We are going to learn from this game, no matter what happens, we are going to learn in every single way. It's a perfect game to get us ready for the big game in April."
On this game being ideal preparation for the up-and-coming play-offs:
The play-offs are the target, so what better way to prepare than to play one of the best teams? We could get the likes of Switzerland in the play-offs and we need to be prepared for those games. We are going to learn from this game, no matter what happens, we are going to learn in every single way. It's a perfect game to get us ready for the big game in April.
This is what Kenny's been about since he came in – his big thing is getting these young girls in and experience with the team. We're excited for them because they're at the beginning of their journey and there's a lot of us coming towards the end and we're just sort of helping them be the best they can be so in the future they will wear the green shirt and hopefully get a lot of caps.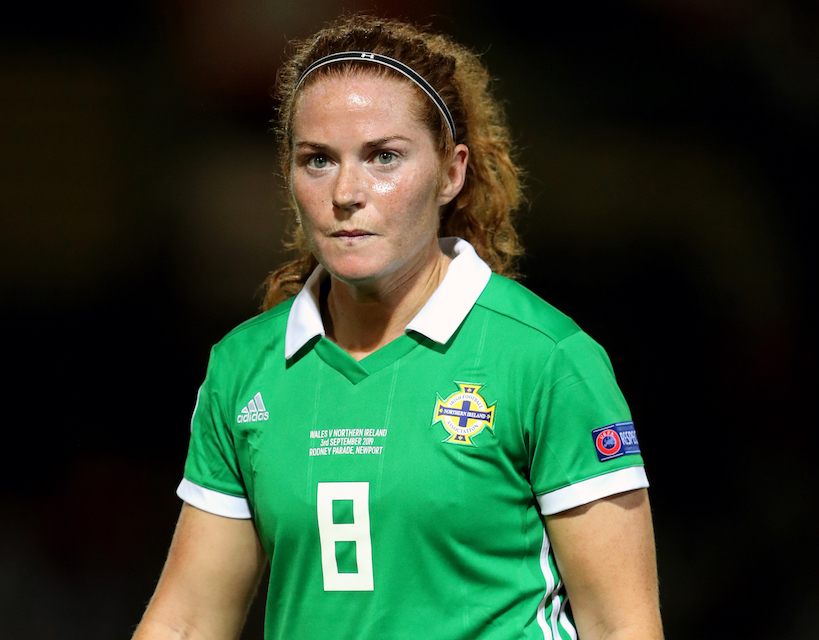 On how the 'home-based' players have been working hard, without league games to compete in:
We're lucky enough we have a really good set-up at home. As we're down as an elite sport we get to train together [as a squad]. At one point we were in four times a week training on the pitch and then we have the S&C, so two gym sessions a week. So, we could say we've been training almost on a full-time basis, a lot of us. So it's been brilliant to get that amount of time with the coaches and with the players.
Shiels has said that the #GAWA's historic Euros campaign so far, has been all about bravery and a 'let's go and get at them' attitude. Should we expect the same on Tuesday:
Absolutely. We're not going to change our style. Since Kenny came in he's been very much about ball retention and playing out form the back and enjoying the game and being good on the ball.
Although England are a top, top, team and we know we'll be defending a lot too, so we're working on both, us retaining the ball and seeing how we can stop them. I know we'll definitely be prepared, have our game plan and hopefully it works out.
Yeah [the spirit in the squad] is really massive. He's brought out the best in everyone and we have a brilliant camp. We're so lucky in terms of how close we are and even the young ones coming in, the likes of Maddy [Harvey-Clifford, GK] and Ella, they're just part of the squad, there's no awkwardness.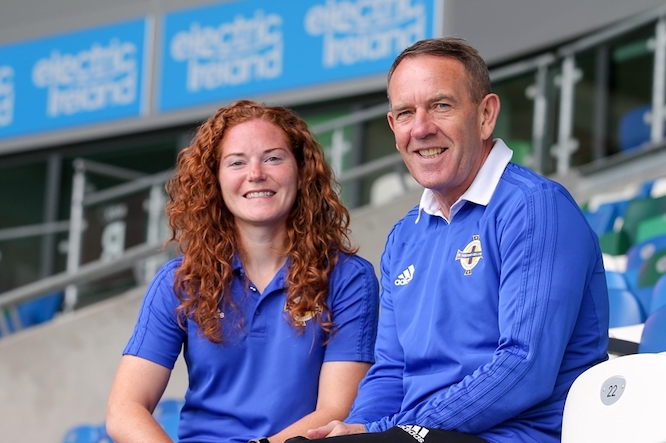 On this being an opportunity to show the rest of the UK the talent of players in the Danske Women's Premier League:
That's the thing. The FA are obviously working hard and trying to give us the best league possible and we have really good players here and a really good pathway, in terms of our excellence programme. We have really good coaches and the clubs are stepping up at senior level and in their youth academies too. There are fantastic things happening.
Especially with the likes of sponsors Electric Ireland, who came on board in the last couple of years, the awareness around the game has been brilliant and they've helped create role models for these young girls.
It's all gelled together, with the senior team now doing well, made history and made the play-offs – it's just a brilliant time to be involved. I just really hope, come Tuesday, that we get a good result and make the nation proud. 
MATCH INFO:
Tues, 23 February 2021
England vs 

Northern Ireland (12.30pm KO, 

St. George's Park)
Live on BBC iPlayer and Red Button