Our junior reporter Iris Fine (read all about her in 'Born Kicking in Issue 54) lives in Brussels and she's sending us write-ups from games the she and her mum and dad attend…
Spain 3-1 South Africa
8th June, WWC group B, Stade Océane, Le Havre
by Iris Fine
At the first game of the world cup to be held at Stade Océane in Le Havre, Spain beat South Africa 3-1 in a hard and physical game. It was South Africa's first game in a women's World Cup and as they sang their national anthem, the look on their faces made you certain they were up for the challenge. In the first half, Spain played possession football but they were hesitant and took too many touches near the South African goal. South Africa counter attacked several times, with long direct balls to their forwards Fulutulidu and Kgatlana. In the 25th minute South Africa passed the ball behind the Spanish right back and their star player Kgatlana ran onto it. She played a quick one-to before curling an unstoppable shot into the top right corner. GOOALL!!!  The Spanish players looked shocked at going behind. The crowd went mad, especially the South African VIP box, who were singing and chanting all the way through the game.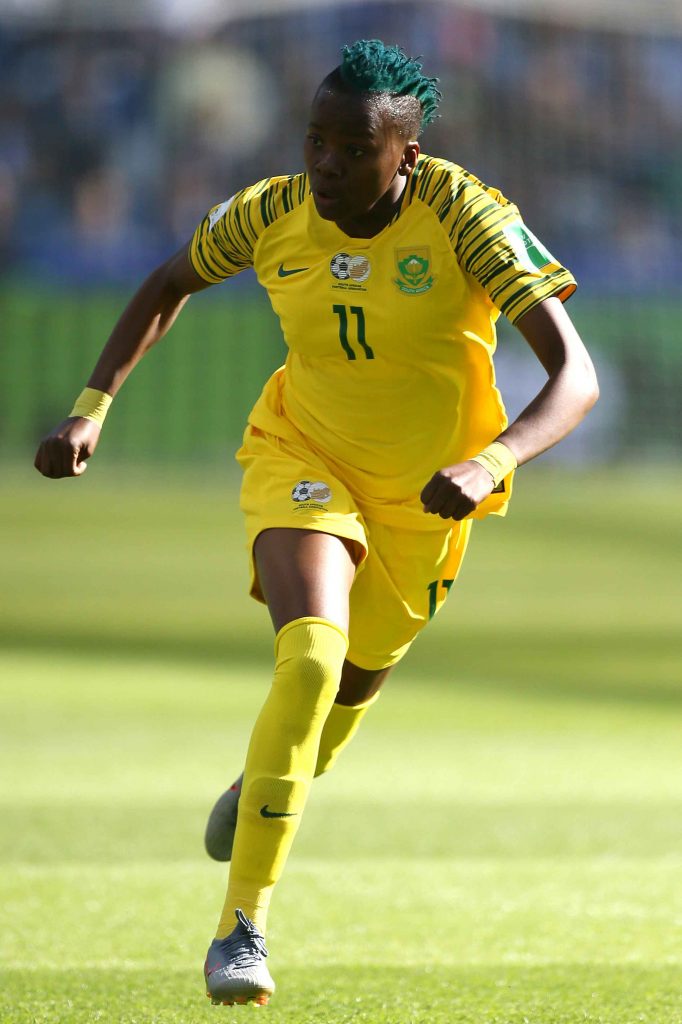 At the beginning of the second half Spain had a great chance to equalise. They hit the crossbar and the South African keeper saved the follow up. After that the Spanish team believed they could win. They played quicker passes, they were calmer in possession and started shooting more. In the 68th minute South Africa's captain van Wyck put her arm out blocking a cross. The referee gave a penalty straight away. Hermoso, the Spanish number 10, took the penalty. She struck it in the middle of the goal and scored the equaliser.
In the 73rd minute Spain thought they'd scored again. A long cross came into the box, the South African keeper tried to reach it but couldn't get her hands to it, and Torrecilla headed the ball it. But the referee's assistant called for offside, cutting the celebrations short. But it didn't matter for long, because just seven minutes later Spain won another penalty. The South African defender Vilakazi cleared the ball but followed through into substitute García's thigh. The referee gave the penalty after consulting VAR and a second yellow card for Vilakazi making her the first player to be sent off in this world cup. Hermoso stepped up again, a struck a beautiful penalty into the right side of the goal just past the keeper's diving left hand.
In the 88th minute Spain put the result beyond doubt. With South Africa pushing high up the pitch, Spain passed a long ball through to Lucía García who beat her defender and the goalkeeper before passing it into the goal.
The result leaves Spain top of the group and South Africa bottom.