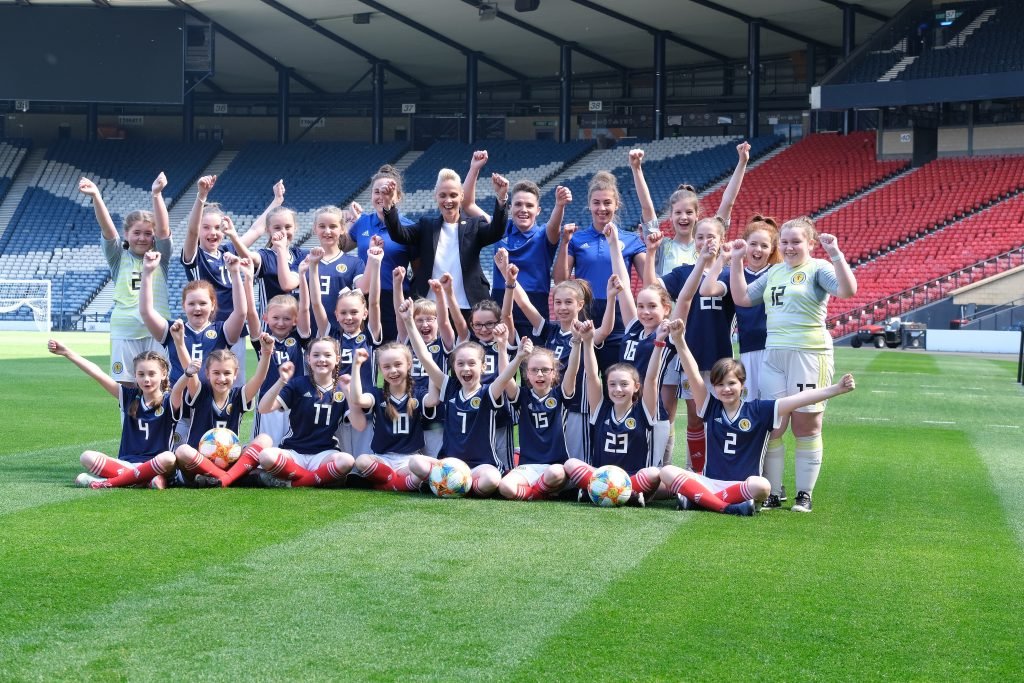 It was short, sweet and, some might say, blissfully celebrity-free, but the pride felt by Scotland at the achievements of Shelley Kerr's history-making players was writ large when her chosen Women's World Cup squad was revealed at Hampden Stadium in Glasgow reports CATHERINE ETOE.
Delivered by journalist Connie McLaughlin with the help of 23 schoolgirl footballers, each turning their back to reveal the name of one of Kerr's chosen players, the squad list was neatly and gradually revealed to a packed room and live social media audience in a 'big reveal' that culminated in a stirring video that simply and powerfully cast each player's name across their very own part of Scotland…
This is how the squad was reveleaed on Twitter:
The 23 players to represent Scotland at the 2019 @FIFAWWC have been revealed, as @Kerr5Shelley names her #SWNT squad.

➡️ Read more: https://t.co/wenMDRqLvB#OurGirlsOurGame pic.twitter.com/2xpk3Kd1OC

— Scotland National Team (@ScotlandNT) May 15, 2019
Goalkeepers
Lee Alexander (Glasgow City)
Jenna Fife (Hibernian)
Shannon Lynn (Vittsjö GIK)
Defenders
Chloe Arthur (Birmingham City)
Jennifer Beattie (Manchester City)
Rachel Corsie (Utah Royals)
Nicola Docherty (Glasgow City)
Sophie Howard (Reading)
Hayley Lauder (Glasgow City)
Joelle Murray (Hibernian)
Kirsty Smith (Manchester Utd)
Midfielders
Lizzie Arnot (Manchester Utd)
Leanne Crichton (Glasgow City)
Kim Little (Arsenal)
Jo Love (Glasgow City)
Christie Murray (Liverpool)
Caroline Weir (Manchester City)
Forwards
Fiona Brown (FC Rosengård)
Lana Clelland (Fiorentina)
Erin Cuthbert (Chelsea)
Claire Emslie (Manchester City)
Lisa Evans (Arsenal)
Jane Ross (West Ham United)
Then in walked head coach Kerr and three of Scotland and Glasgow City's finest, midfielder Jo Love, goalkeeper Lee Alexander and defender Nicola Docherty for a cosy, but brief chat on a couple of very comfy looking sofas.
There were no major surprises in the list of names that had just been unveiled, although defender Emma Mitchell, who so magnificently scored for Arsenal at the weekend after a long injury lay-off, was, of course, a notable absentee. But while Kerr admitted that it had been "tough" to whittle the squad down, the former Scotland captain clearly believes in her group.
All four spoke to the media at length afterwards, but for now, here's what they had to say…
Shelley Kerr on making her selection:
"It was so tough. Throughout the campaign and the last year and a half we've used 35 players so to narrow it down to 23 was really, really tough, tough decisions. But do you know what, it's all about the 23 players that have been selected. It's the first time the Scottish Women's National Team is going to the World Cup so, it's an honour, it's a privilege and their families should be really proud of their achievements."
On the squad's main strengths:
"There's many. Throughout the campaign we showed character in abundance, resilience, but I think the biggest thing was that we've got a talented group of players and that will stand us in good stead going to the World Cup."
On how far Scotland can go at the World Cup:
"There's no doubt that it's our first time but the target has already been set, we want to get out of the group stages. That's important for us, but do you know, the most important thing is that we embrace the occasion and we have an enjoyable tournament. Of course, it's more enjoyable if you win games so targets have been set, those targets will change depending on what happens but I have every confidence in this group of players to get us out of the group stages."
Midfielder Jo Love (191 caps) on when she heard about her selection:
"I got back from the gym yesterday and I was sitting quite innocently having my breakfast and watching Homes Under The Hammer and the phone lights up and it's Shelley and I'm like, do I answer it, do I not, I don't know what she's wanting to speak about. So I answered the phone to Shelley and it was so nice to have that personal touch and for Shelley to actually tell us that we were in the squad. Don't really know what she said after that because I was too busy crying down the phone. It was wonderful."
Goalkeeper Lee Alexander (16 caps) on whether she can allow herself to think about standing at the World Cup with the national anthem playing:
"I suppose now it starts sinking in a little bit more. When you get the phonecall you don't know how to react, you feel that apprehension, but it's just excitement for us all now to look forward to what's going to be an unbelievable championships. Obviously our first time there, we just want to make sure that we can do the country proud and put in the performances."
Defender Nicola Docherty (18 caps) on the forthcoming Jamaica friendly and the importance of getting a result and getting the fans behind them:
"Of course, it's going to be a huge honour to represent your country, playing at Hampden as well. We want all the fans to get behind us as well, it's the last game before we go away to the World Cup so yeah, it's really important and hopefully we can go and get the win."