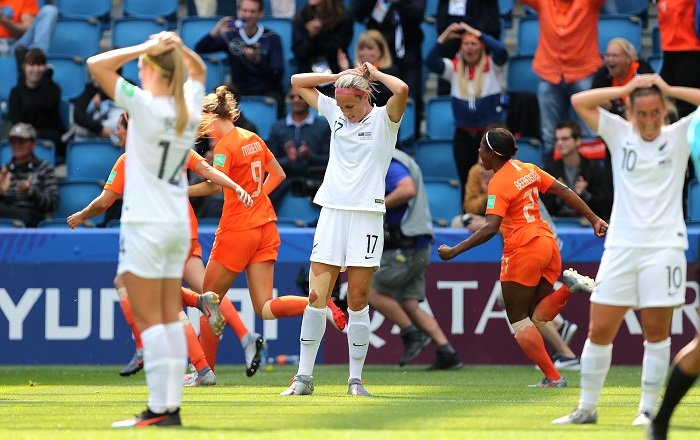 In a closely-contested encounter in Le Havre to complete Group E's opening fixtures, the Netherlands took the glory in dramatic fashion against New Zealand. Both sides had threatened over the course of the game, with New Zealand going closest in the first half as Everton's Olivia Chance struck the bar. What seemed certain to be a goalless draw, however, was decided in the 92nd minute, when new Arsenal signing Jill Roord headed home a Dutch winner.
It was a desperately cruel blow for Tom Sermanni's New Zealand, but the Football Ferns will take plenty of encouragement from their showing against the European champions. Here's what the Kiwis' Ria Percival and Hannah Wilkinson, plus the Netherlands' Jackie Groenen, had to say after the final whistle.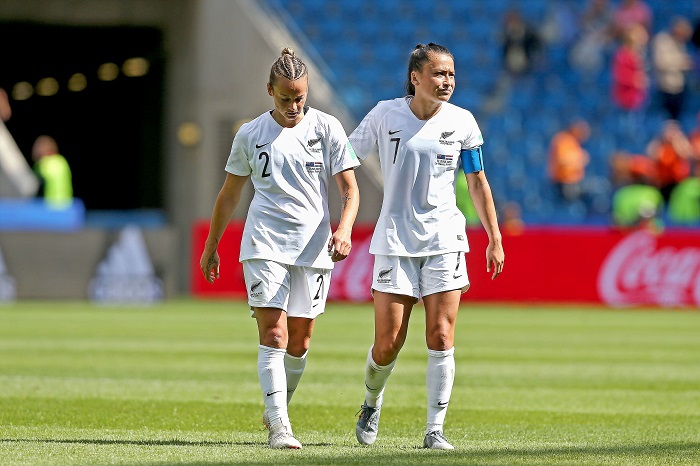 Ria Percival
On the overriding feeling after a strong performance but a stoppage-time loss:
I think we're all pretty disappointed, coming in with the mindset that we wanted to get either a win or a draw from this opening game of the tournament. We held them out for most of the game, until the last few minutes, so I think that was a bit of a blow for all of us.
On whether she feels the team is now starting to move up a level in how well it can compete with so-called stronger nations:
Yeah, definitely. We had a few big chances in the game today where we could have put it away early and been one up in the first half. We're getting the chances now, we're creating more as a team, and we're looking a bit stronger.
On how much she is trying to take in the wider experience and scale of this tournament, alongside being focused on the task in hand:
Yeah it's my fourth (World Cup) now. Every one I come to, I wanna win and get further, so for this one it's a real drive that we want to push forward and get out of the group and see how far we can actually go in this tournament, and prove that we are a strong team.
On the support for the team in France:
Yeah we've had a lot of support for every player, a lot of family and friends. I think it's our biggest fan support we've had from New Zealand, so it's a great turnout and it's gonna help us I think moving forward.
Jackie Groenen
On how she has approached it coming into this tournament – 'all business' or 'savour the occasion as well'?
It's just been full focus for the last couple of weeks, and we've been working very hard towards this game. It's good to have this one behind us, I think.
On any difference she notices about the mood or mentality around the team compared to the start of Euro 2017:
Well it's harder to play the opponents because they know what we do and they know our strengths, obviously. So it's hard when, like New Zealand today, they sit in very deep, and it's hard to find the spaces, but everyone's focused, everyone's fit.
On the level of expectation back in the Netherlands for this tournament:
It's still heightened because of the Euros, obviously, but I think also everyone knows that it's only our second World Cup. We're in it to obviously do as well as possible, but you can't say what's going to happen. I hope we can beat as many teams as we can.
On how she assesses the performance against New Zealand:
In the end, more good than bad, because we won the game. I think we weren't secure enough to play them down; our touch was a bit off, the passes were a bit off. That made it harder to break them down in the end, but we knew it was going to be this sort of game, because they sit in deep and you have to find the spaces. In the end, I'm just happy that we got the three points. The level of performance has to be better on Saturday (against Cameroon) and then we'll see.
On how much she is looking forward to the Cameroon game, with a huge Dutch crowd expected in Valenciennes (will she have friends and family there?):
Yeah, yeah, everyone's coming! Everyone's coming over – my friends, my family – and I think it's gonna be a big orange party!
Hannah Wilkinson
On how she assesses the game overall, having observed from the bench and then coming on in the second half:
I think we played stunningly well, even despite us not having the majority of the possession. I think we were really threatening and controlled the ball really well, and defended amazing. I think if one of those close, close chances had gone in – it's so unlucky that they didn't – it would have been a very different game.
On how she is feeling currently, as she continues her return from an ACL injury:
Yeah, good. Definitely 100 percent back to play, it's just managing my minutes really; I'm not quite a 90-minute player yet. That's why I'm kind of coming in as a substitute, as an impact player. It was a tough game to come into, right as we were kind of getting beaten down a little bit by the Netherlands. We were holding the fort a little bit there, but unfortunately one slipped through, so that's something that we definitely need to look at; what we need to improve, basically.
On how much she wants to soak in the whole tournament:
Absolutely. Especially because I almost wasn't here, to be honest, so I am very grateful to be here, and even more grateful to get to play and try and make an impact. I'm gonna have to look at what I need to do better to come in and make more of a difference. I think our team can take so many positives from that game, especially Rosie (White) and Greggy (Sarah Gregorius) had a fantastic game and they were so unlucky not scoring those chances. We've got two more games to make sure those kinds of chances go away. Moving forward, we're gonna do well, I think.
On her development from the 19-year-old who played (and scored) in the 2011 World Cup:
Yeah I think I've definitely matured a lot more. I've got a hell of a lot more experience, and experience playing professionally as well, and I think that goes a long way, especially with game intelligence. Unfortunately, I've had two major knee surgeries, so that's been a bump in the road, but at this point I think I'm getting back to how I physically used to be with every game that I play.
On how the mood has been in the camp so far:
It's been a great mood, a really good vibe amongst the team, and I think we're all very united. We had some drama last year that we had to kind of come through together and rebuild ourselves. We're at the light at the end of the tunnel in that respect, so I think as a group, collectively, we've never been stronger.
On how Tom Sermanni has been to work with:
Tom is a fantastic coach. He's very, very approachable; he thinks of the person first, as well as the player. He's come in and helped that rebuild phase, and you can see it out there; we're a much better team than we've ever been before. That's what I think at least, and I really give a lot of credit to him for making sure that we had such a crucial build-up leading up to the World Cup, against so many top-ranked teams. We've had a couple of wins against those teams and all that experience, and getting touches on the ball and forming relationships, is crucial, and he's orchestrated all of that, so it's major.
On her personal cheering section for these World Cup games:
My parents are here, my partner's here from Sweden. I know that a lot of other parents have come all the way over to see us. Everyone's families, friends, partners are out here, so it's great to have support, because being so far away, we don't get to see that many New Zealand flags in the crowd. Today there was a sea of orange, but we can still hear them despite the fact that they're small, and that means a lot.