The 2018/2019 season is almost upon us and so to get you in the mood for the action ahead, we're trawling the top three tiers of the newly re-branded women's pyramid to get the lowdown on the atmosphere, expectations, horrors and delights of pre-season from the on-field talents putting in the hard yards and the coaches barking the orders and shaping their teams…
We're checking in with clubs in the new-look FA Women's National League (formerly the FA WPL) and this time we're in Lancashire for a check-in with Division 1 North side Chorley FC Women, to hear from their defender and the club's media whizz Saskia Bowes, as well as Head Coach Andy Ramskill.
Saskia Bowes (Chorley FC Women) Defender
SK: How did the close-season break go for you – what did you get up to/how did you relax/unwind/stay in shape?
SB: In the close-season, it's important to rest and recover after the intensity of the campaign but the work off the pitch never stops. As a member of the committee, we have helped integrate a new development squad into our club as well as increased publicity and connections with our affiliation with Chorley FC. As a volunteer run club, it's all hands to the pump but it's a great club to be a part of and it's going from strength to strength. After a short break, it was back in the pool for swimming and in the gym to stay in shape.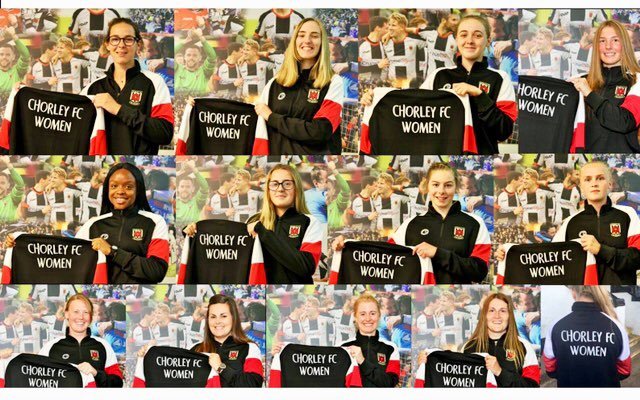 SK: How were you feeling on the first day back?
SB: Excited was the main emotion. Partially because I miss the social side of football when we are on close-season, but also because it's always brilliant to meet new players and supporters. I love seeing all the new faces and being able to play a sport that you love with such committed people.
SK: What did the players do on the first day back?
SB: We always have fitness testing on the first day. So, after a warm up, we tracked our power by using state of the art computers and pad technology before recording sprint times using lasers set up to record distances. It gives players something to work on whilst also seeing where people are at. As a fun team bonding exercise, we also did some ball skills and head tennis to get to know people. The finale was the bleep test… the work rate was unbelievable by the squad and it was great to see such positivity and encouragement.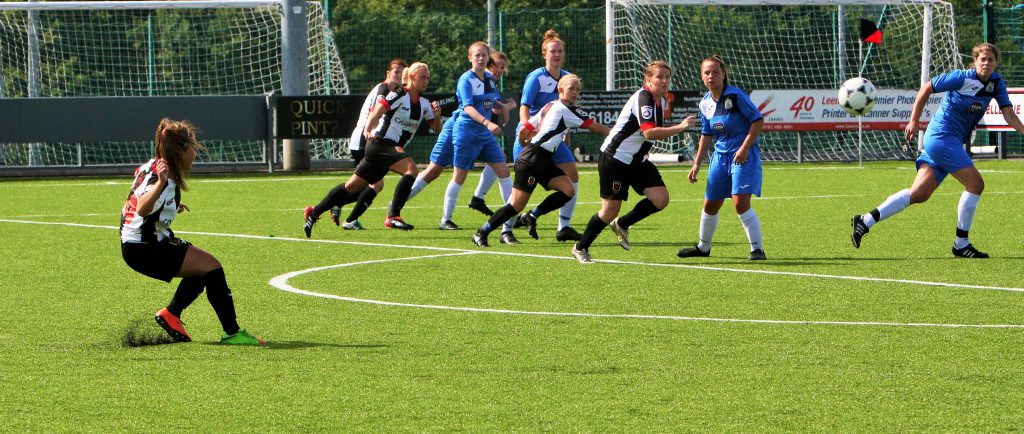 SK: How many new faces are there in the squad (staff) and how do you make them feel welcome?
SB: With the addition of our new development squad plus two brilliant coaches in Dean Stevely and Andrea Reece, we have added quite a lot of new faces. They have been integrated into the club effortlessly. This is partially due to the friendly atmosphere around the club and the eagerness of all the players, staff and supporters to get to know each other. We also have photoshoots at Victory Park which enable players to chat to each other in a relaxed environment. Head tennis on the first session is always good as let's just say, it comes more naturally to some players as others!
SK: Who's been first in the running/fitness sessions?
SB: We have a physically strong team which is only going to improve with the ambition of the coaching staff around the club. Every player has targets that they are working on and it's great to see all players encouraging each other through the pain! As a squad we are all trying to better ourselves and this makes for a healthy atmosphere.
SK: What has been the best thing about being back (and what has been the worst!)?
SB: The best thing by far is the feeling of being a part of something. We are all pushing in the same direction with the same ambition and it is exciting to be able to play football at a high level with some of your best friends; you can't beat it. The worst has to be the blisters after the training sessions, I am ready for the rain to come back!
SK: Who's been the comedian, making everyone laugh?
SB: The banter is crucial for keeping morale high over the gruelling pre-season and it helps to lighten the atmosphere. There are a few jokers as always but what makes the atmosphere great is that everyone chips in with funny comments; it's a great place to be!
SK: Who's been the chattiest?
SB: We don't have the quietest team on the whole which does make for a very social environment. I've been told that I am never lost for words, probably why I was asked to do the recent radio interview with Chorley FM! But all of the ladies are comfortable talking to any of their team mates or staff which enables the team to bond.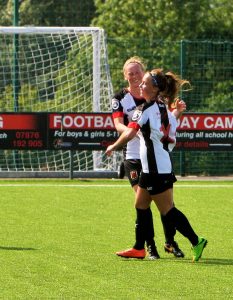 SK: Who's come back in the fanciest new footwear?
SB: Lisa Topping has ditched her Sketchers running shoes for some very smart, stylish shoes! Most of our players wear either black or white boots but Rachel Wood loves bright boots out on the left wing!
SK: Who has come back with the best tan?
SB: It is more like who has the best sunburn considering the lovely weather we have had and the pale nature of the team! Sun cream is always an essential part of pre-season so nobody has been too caught out with the tanlines and if they have, they've covered them up well.
SK: Who will put the most effort into preening and look their best for the pre-season photo shoots?
SB: As I am in charge of the media for the club, I get to see all of the photo shoots take place. This is a funny one because I'd have to say the whole team! I've never seen so many hairbrushes and mirrors at Victory Park! I must say everyone looked great though and it's a credit to all of the ladies to how smoothly the media side has gone in pre-season.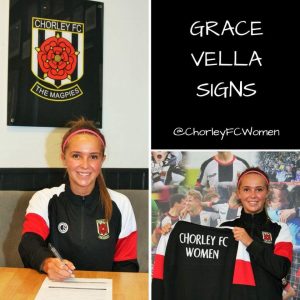 SK: Who is looking really sharp and in-form on the field, in pre-season?
SB: The whole squad is looking stronger and fitter as each training session progresses which is a credit to the job that the coaching staff do! Having won three awards last season at our presentation night, Lisa Topping is carrying on her form into the off season. The new players such as Grace Vella >>, Zara Musker and Sophie Flynn are also looking comfortable in a new style of play!
SK: Any personal targets you've set yourself for the upcoming season?
SB: I have several media targets which I am aiming to hit in order to expand the support base that we have but also to increase participation in the local area. On the pitch, my personal target is to focus on improving technically to suit the style of play. If I can stay injury free that would also be a bonus!
SK: Any facts, hidden talents or funny things you can tell us about one of your team mates that we might not know?
SB: Lisa Topping is studying towards her PhD qualification so she has the brains and also the footballing ability!
SK: Who will be your team's or your own biggest fan?
SB: I must say our supporters are brilliant. We had several travel up on a Friday night to watch us against Newcastle United WFC which was a six hour round trip – longer for some due to rush hour traffic. They travel with us in all weather and stay behind to enjoy food and a chat after each game. They make the club what it is and even some pets come along wearing Chorley merchandise coats!
SK: What is your home ground like and any tips for newbies turning up?
SB: Due to our affiliation with Chorley FC, all of our home games next season will be at Victory Park. It is a magnificent stadium with both standing and seating stands. The bar is open throughout the game as well as a place to purchase hot food on the premises! Our only tip for new supporters is to get involved. Our other supporters are very sociable and we pride ourselves on being a family club so enjoy the game of football and stay after for a lovely social meet up.
SK: What can we expect to see from your team and why should SK readers get behind your team in the upcoming season?
SB: You can expect a very attack minded set up with a lot of combination play throughout. We like to play football and we have the quality to do so! Our club is at the heart of the community and we pride ourselves on this. People of all ages and genders come together on a Sunday to enjoy a game of football and everybody involved in the club has a smile on their face every single Sunday. Plus we also serve Bovril in the club house so what's not to love?
SK: Where or how shall we follow you on social media, this season?
SB: We are on Twitter and Instagram (@ChorleyFCWomen) and on Facebook (Chorley FC Women) where we post photographs from all the games as well as all the gossip and news from the club! We do also do articles each week in the Chorley Guardian and Lancashire Evening Post.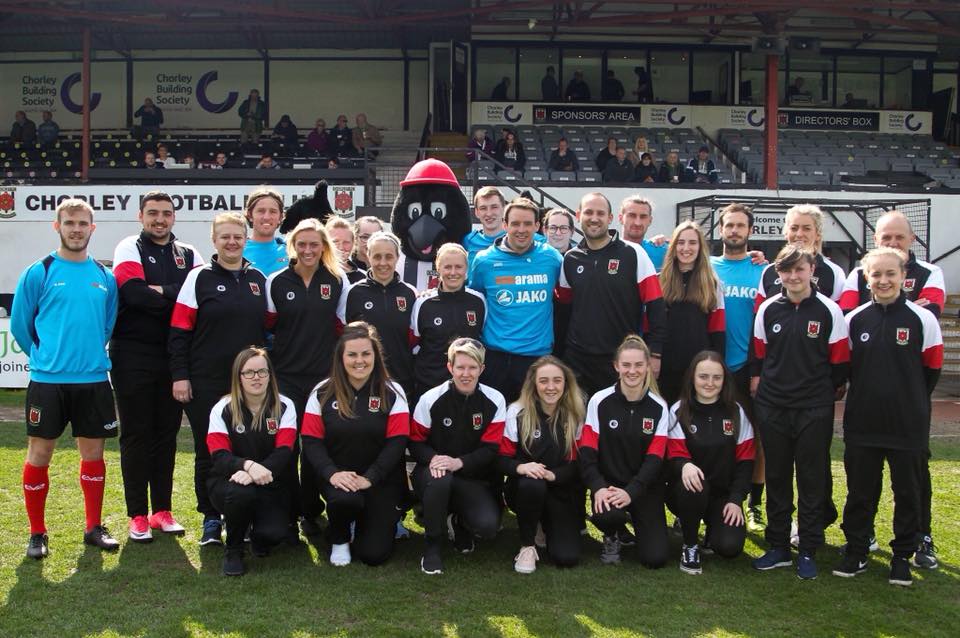 And over to Head Coach Andy Ramskill (congrats on your recent wedding, Andy, from all at SK!)…
SK: What`s been the most important task for you and your staff?
AR: Retaining and recruiting players. After getting to the Lancs County Cup Final and being reasonably successful in the other two cup competitions a few clubs were interested in our players – this does cause uncertainty. I`m happy that we managed to keep most of our players, whilst adding some quality to the squad.
SK:  Aside from readying the squad in terms of match fitness, what is the key message you hope to get across to the team for the upcoming season?
AR: The message is that we must create a more professional environment , with the right attitude, mentality and commitment  to develop and improve as a player from Development to 1st Team level.
SK: What have you or are you enjoying most about pre-season?
AR: I`ve enjoyed working with the new staff and doing some new creative sessions, plus making sure I get to know both the First and Development teams both as players and as people.
SK:  What is the most exciting thing about the upcoming season for you and the club?
AR: This is the first season that Chorley FC Women have had a Development Squad with some of the best young talent in the North West. It`s exciting for us that we can look to this squad to help provide the success and continuity that the club has enjoyed in the past. Also this season our new home ground is Victory Park Stadium – the home of Chorley FC.