Former France international Laura Georges (and Secretary General of the France Football Federation) has been left impressed with how the Under 20 Women's World Cup is going, despite admitting she wasn't too convinced at first, writes RICH LAVERTY.
The tournament is being held in the Brittany region of Georges' home country ahead of France hosting the main event a year from now.
"I think it's going pretty well," she said. "The volunteers are enjoying themselves, everything seems well organised and the level of the teams is pretty good. The first game I saw I wasn't impressed but today I was impressed with the teams I watched."
Those teams included Mo Marley's England who Georges watched draw 1-1 with Brazil, and the former defender who amassed 185 caps for her country believes the young Lionesses can be one of the contenders for the tournament.
"England is good, England is really good and I think they can fight for the title but I've been impressed with Brazil too."
France find themselves in the same position as England after two games. A win against Ghana followed by a 0-0 draw with New Zealand leaves the hosts with work to do against the already qualified Netherlands in the final match on Sunday.
But with players such as Lyon's Selma Bacha and Emelyne Laurent and PSG's Marie-Antoinette Katoto, Georges is optimistic about the future of the national team in France.
"I'm really excited, they will bring so much for the national team" she said, before adding: "But will they be as good with the full team? Usually they will but it's work, hard work and I hope they will still have the same energy in the first team as they do now."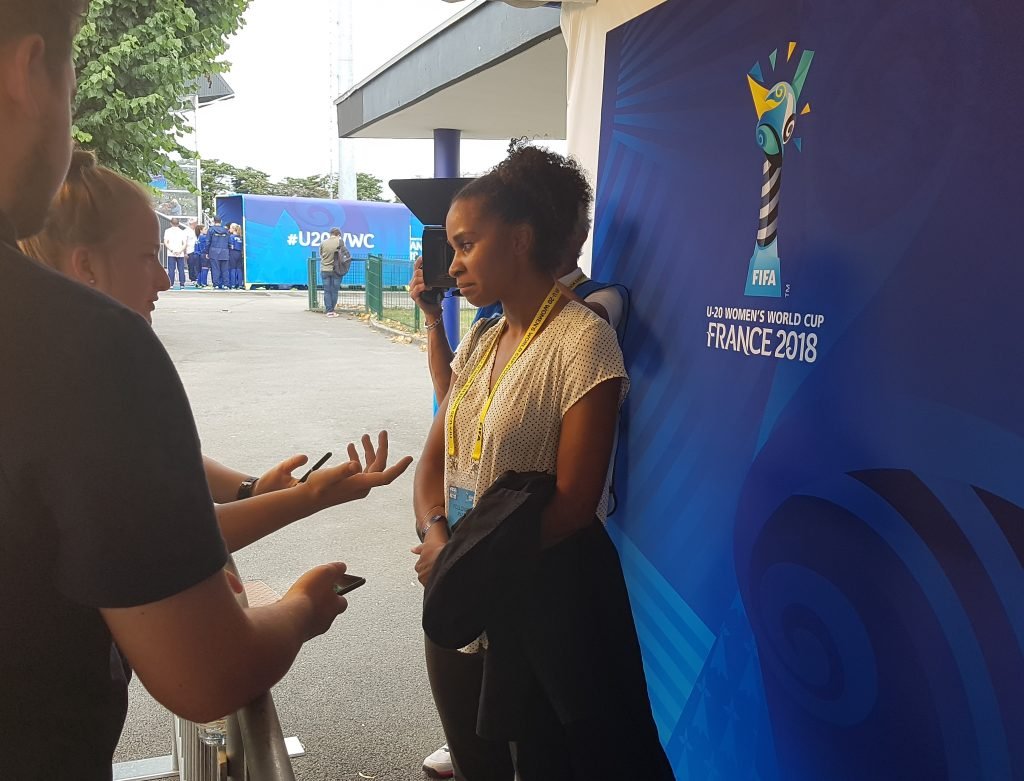 France are hosting the tournament off the back of the men's team winning the World Cup in Russia last month and the country appears to be riding the crest of a wave right now, with plenty of locals in France shirts seen at grounds around Brittany supporting the national teams, including England matches.
Now Georges hopes her former team can take inspiration under Corinne Diacre ahead of them hosting their own World Cup next summer.
"It's good to win, we have to continue on the same path with the women. The other teams are improving but France are improving too.
"We have a new coach, she's been there one year now and the team is starting to work well. There has been a lot of changes but we have a consistent group now, a solid group and a good base to work from. Everything is meant to be working so we can progress quickly."
In 15 years with the national team Georges' main successes came in the Cyprus Cup and SheBelieves Cup, with major honours escaping her at international level.
But with six Division 1 Feminine titles behind her, all won back-to-back with Lyon, three Coupe de France's and two Champions League titles, Georges is one of the most decorated players in French football and the perfect person to offer advice to the current crop of young players.
"My advice is always to enjoy it, you're not here to show off," said the former defender. "If you enjoy it as a player and with your team you will bring the best of yourself. You don't come here to look for a team to play for next season, you come for a World Cup and to enjoy it with your team, that's all."
In the time Georges has stepped away from playing football, her two former clubs (Lyon & PSG)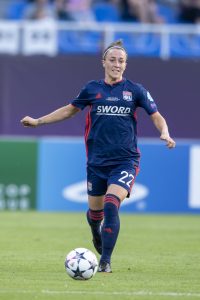 have continued their dominance in France and started to attract even more top talent from around the world, including England.
Fellow defender Lucy Bronze won both the league and Champions League in her debut season and has been joined for the new campaign by former Manchester City team mate Christiansen.
While Georges admits she hasn't seen a lot of latter, she was impressed with Bronze's first year in France.
Lucy did really well, she brought a big plus to the team. I don't know much about Izzy, I saw her in her national team but I hope she will enjoy Lyon and their style of play. I wish her good luck in France."
And as Lyon look for a remarkable 13thsuccessive Division 1 Feminine title this season, even Georges has to pause when asked what her other former club, Paris Saint-Germain, have to do to stop the champions.
"I don't know," she remarks. "I've played for Lyon and for PSG, I think they just have to keep fighting, get the same results every game. Lyon win every game so you have to be focused every game, keep a tight defence and do your best, that's all."