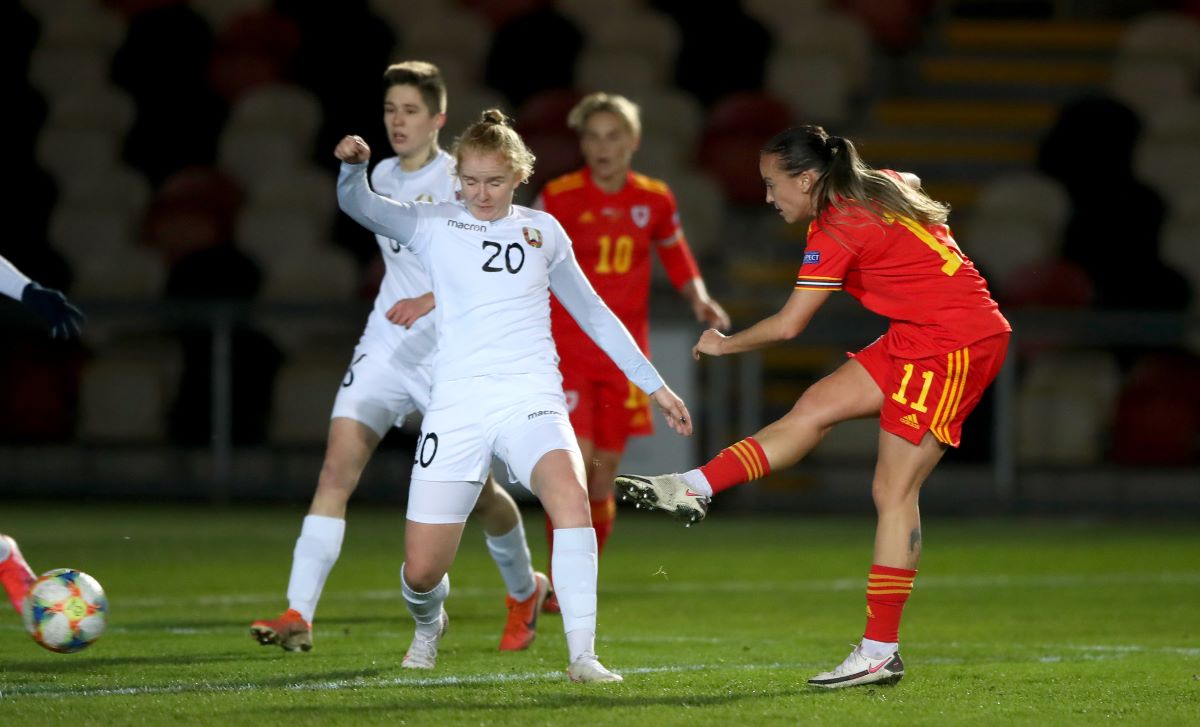 Wales beat Belarus 3-0 at Rodney Parade in their final UEFA Women's Euro qualifying group game but narrowly missed out on a play-off place to Northern Ireland.
Jayne Ludlow's side ended level on points with the Irish, who held a better away goals record from their head-to-head meetings.
Wales started on the front foot at Newport, as Ffion Morgan's pinpoint cross saw a Tash Harding header tipped round the post, moments later Jess Fishlock latched onto a ball into the area from Rhiannon Roberts, squaring it to Harding to fire home.
Fishlock delivered for Morgan to head against the post, before Rachel Rowe doubled the lead on 33 minutes, exchanging passes with Angharad James before rifling into the top left corner.
After the break, Anastasiya Shcherbachenia rattled the crossbar with a powerful free-kick from the edge of the area, but Harding then won a penalty, which Fishlock tucked away.
Wales 1. Laura O'Sullivan, 2. Ffion Morgan (22. Georgia Walters 80') , 4. Sophie Ingle, 5. Rhiannon Roberts, 6. Josie Green, 8. Angharad James, 10. Jess Fishlock (3. Gemma Evans 85'), 11. Natasha Harding (17. Nadia Lawrence 85'), 13. Rachel Rowe (9. Kayleigh Green 85'), 14. Hayley Ladd, 16. Charlie Estcourt (19. Lily Woodham 70')
Uused Subs: 12. Claire Skinner, 21. Poppy Soper, 7. Helen Ward, 15. Elise Hughes, 18. Kylie Nolan, 20. Carrie Jones, 23. Chloe Williams.
Belarus: 1. Nataliya Voskobovich, 3. Anastasiya Linnik, 5. Anastasiya Shcherbachenia, 6. Anastasiya Novikova, 8. Viktoriya Kazakevich, 9. Anna Kozyupa, 14. Karina Olikhovik (17. Tatyana Krasnova 25'), 15. Anastasiya Shuppo, 16. Valeryia Bohdan, 20. Kseniya Kubichnaya (4. Anastasiya Shlapakova 46'), 23. Anna Pilipenko
Unused Subs: 12. Ekaterina Miklashevich, 22. Ekaterina Kovalchuk, 7. Anna Sas, 10. Anastasiya Pobegaylo, 11. Milana Surovtseva, 13. Anastasiya Kharlanova, 18. Vita Nikolaenko, 19. Valeria Karachun
Northern Ireland reach Women's Euro play-offs for first time