Northern Ireland's qualification for Euro 2022 still seems an achievement of almost mind-blowing proportions yet despite being currently ranked 48th in the world (23 places below next-placed side Finland), Kenny Shiels' team continue to make bold strides and should not be underestimated by any opponent. This will be their first-ever major tournament appearance and so there was a sense of real joy and excitement about their involvement at the draw, as well as the determined tones of the ballsy underdog.
When the #GAWA were picked out to join current World Cup Qualifying group rivals Austria and England, Shiels heard cheers, whereas we heard gasps and groans, partially at the silly inevitably of it and perhaps some disappointment that they would be competing against each other so we couldn't separately cheer both sides? (He was in the hall though and we, the press, were in an adjoining room watching on TV!)
It matters little what we think anyway. It's way more interesting to know Kenny Shiels' thoughts and so here is some of what he had to say about being in Group A along with England, Norway and Austria …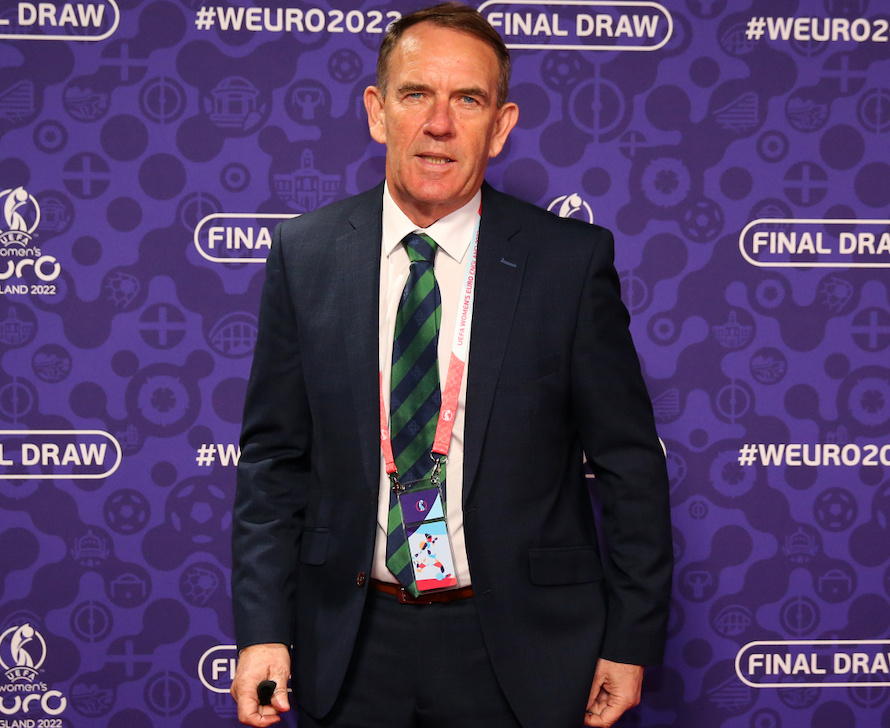 His thoughts on the draw:
Obviously any draw for us is going to be difficult. But the happiest people are the English, Norwegians, and Austrians – they've got us. When it came out the English people were all cheering and wooing 'we've got Northern Ireland', an easy match for them. But, we've got to segregate the three games and try and do our best in the first game and then think about the second one and then think about the third.
On the prospect of playing hosts England at the Euros:
We can't put any focus on it [playing England] my focus is on North Macedonia at the moment and then when we play those next two games both against Macedonia. Then next April, we play Austria and England again and I would think, as soon as we're finished with them…the most important match in your life is always your next match. That's the one that's important, and in my case that's Macedonia.
On the experience of playing big games against England and Austria in World Cup qualifying, potentially counting for a lot when it comes to facing them again next summer:
It's very true, it will bring the girls on. It'll help them to improve their game. Especially in the women's game you can learn things from the opposition, when you get beaten, you can learn so much from that. We have an old saying: "if you don't make a mistake, you're not trying." That's what we speak to the players about and "getting better never stops". Those are our two key sayings. If we can get a little bit better between now and April, then that will help us against Austria and England in April, because we play them in April and then when we play them again in July.
On all Northern Ireland games being in Southampton:
The flight from Northern Ireland is quicker, so the flights will probably be booked up. We have a thing we call the 'July fortnight' in Northern Ireland, that's when everybody shuts down for those two weeks. So there'll be lots of holidaymakers going from Northern Ireland… Southampton it pretty close to France and it's warmer and a better climate. Southampton is a great venue for us.
On whether his team keeps exceeding his expectations:
Yeah, they do. Honestly. I think it's fair to say that against England we mapped out their team, we did it to the last letter of England's players positions and their strengths and their weaknesses. So we put it all together and for 64 minutes, we nullified England. But then they brought on two more professionals and scored four in 12 minutes or something and killed us because we put so much energy and the preparation for the XI was brilliant. It was the same against Austria in preparation for the XI was fantastic. We were 2-1 up, and then the sub comes on and scores.
On ongoing attempts to enable the bulk of the squad to go full-time head of next summer:
We're trying to go full-time for five, six months. It's hard to do because we've got a part-time league running alongside it but we're gonna try and it would bring the gap in a little bit… and then England will only beat us 3-0. [Laughs]
It's fantastic that the government and the IFA are right behind us and we really do appreciate it. I think it's the only thing this government's agreed on since they came in!
On how much Norway might be surprised at his side's progress since they last met in Euros qualifying:
They're very clever people [the Norwegians] so I think they'll be right bang on ready for us, they'll have studied everything. We've played them in Belfast, we played them in Stavanger and now we're gonna play them in Southampton. The hard work has already started.
#WEURO2022 DRAW Group A Reaction: England's Sarina Wiegman encourages fans to "Buy tickets! The crowd are going to be our 12th woman."