It's not just the hosts France and our own Young Lionesses that kick off their #U20WWC campaign tomorrow, two of England's Group B opponents also meet at the Stage du Clos Gastel in the earlier match, when Brazil face Mexico. Both camps are unsurprisingly in an optimistic (though also cautious) mood, as DEAN COOKE and TOM McGRATH (@UoDFootyJournos) report.
Brazil Manager Dorivo Bueno Pacheco is confident with his side's chances ahead of Sunday's clash with Mexico, after their recent South American triumph.
Speaking ahead of the match, Pacheco said:
"Yes we are the South American champions, but we understand the World Cup is different level. It is different to anything that we have encountered in South America. However, we are ready and well prepared which puts us in a good position to face the challenges here."
Captain Ana Vitoria was in a buoyant mood throughout, claiming that the squad's development has been second to none:
"There is a challenge, not only for me but for the whole team. We are a young side, but we have progressed a lot. Despite the fact that we are anxious for the challenge in which we'll be facing – we are well prepared and calm."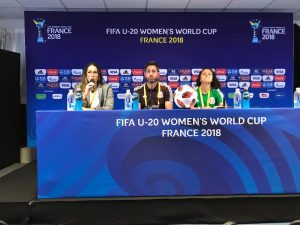 The Selecao's opponents Mexico, reached the quarter-finals of the last U20 Women's World Cup in Papua New Guinea in 2016 and El Tri's boss says he is heading into the tournament with a fully fit squad. Christopher Cuéllar, son of the long-time senior women's national team coach Leonardo (from 1998-2016), said:
"We have a fit side for the game tomorrow. We are well prepared and ready to give 100%. We believe in the way we play and hopefully we can show that at the World Cup."
El Tri's captain for the tournament is midfielder Alexia Delgado. The youngster has impressed throughout her youth career and has emphasised her own personal aims for the tournament:
"It's a great responsibility as captain, and I will always be there to support my team-mates. Personally, I want to challenge myself more than I have ever done before."
The game kicks-off at 13:30 local time in the French town of Dinan. England v Korea DPR follows at 16:30 local time.