Hat-trick hero Lauren Hemp says it's "all about the team" after England completed a remarkable second half performance to beat Mexico 6-1 and progress to the quarter-finals, reports RICH LAVERTY.
The young Lionesses were trailing at half-time thanks to Jacqueline Ovalle's wonder strike, but six goals after the break without reply left Mexico stunned and out of the tournament.
"Obviously I'm really pleased but we need to take this into the next game," said Hemp, who turned 18 earlier this week.
Hemp also credited her attacking team mates, all of them got on the score sheet during a crazy second half.
"It's great," she added. "All of us collectively have managed to get that result and if it wasn't for my team mates I wouldn't have scored those goals."

England's players and staff have talked a lot about recovering from setbacks since the disappointing European Championships campaign last summer, and this was the third setback in as many games the team found themselves recovering from, possibly their biggest yet.
But captain Grace Fisk says the mood was actually positive despite going in 1-0 down at the break, a situation where England were actually heading out of the tournament.
"Mo was actually pretty happy with the game plan because they hadn't got through us much," said the defender.
"It was a great goal but we were positive and relaxed. No need to panic, we knew it would come and it did.
"Us a year ago, maybe we'd have gone 1-0 down and it would have been hard to come back. Not only did we come back we came back like that. We're excited because it shows how far we've come over the last 12 months and we're really happy to be in the quarter-finals."
#U20WWC ?????????#DareToShine Player of the Match: @lauren__hemp ??????? pic.twitter.com/0BTMPtZVdV

— #U20WWC ??⛵ (@FIFAWWC) August 12, 2018
Player of the Match Hemp echoed the sentiment that the mood remained positive despite a first half performance where Mexico had largely dominated and England had struggled to create any sort of meaningful opportunity.
"We went in 1-0 down but we didn't let that defeat us," said the 18-year-old. "We knew what we had to do and if we stuck to the game plan we'd have a chance.
"Every game is a different challenge. We have to take that, embrace the moment, keep on pushing and keep on trying."
Both players said England very much stuck to their game plan at half-time and there were no changes tactically at the break, no negativity and they simply got on with the task at hand.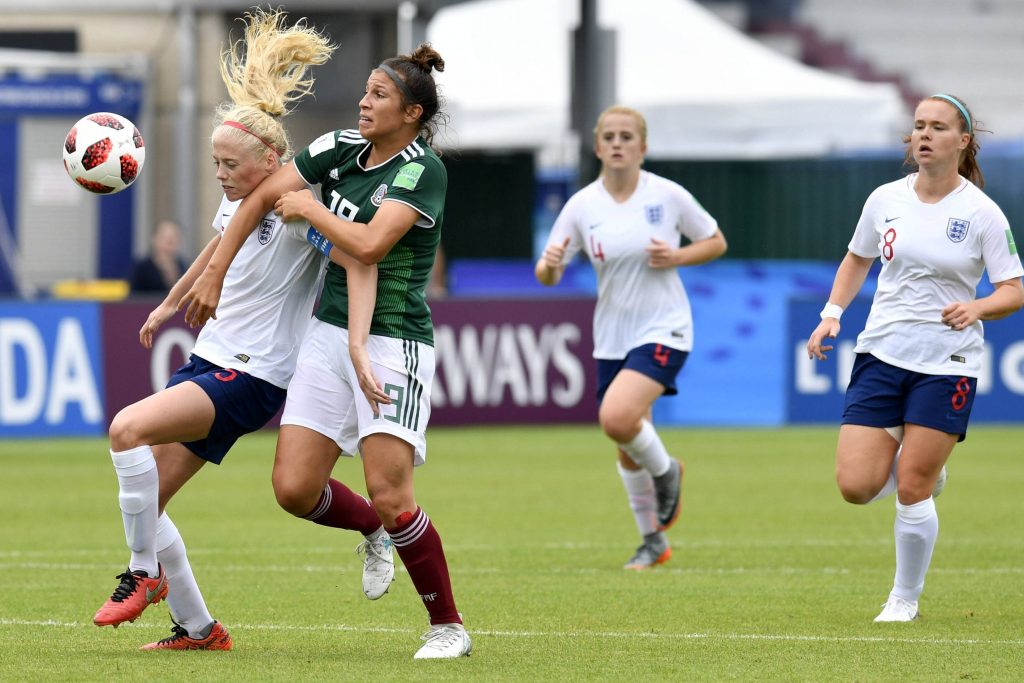 "It was an incredible game for us," said Fisk. "We knew we had more to give. They had their goal but it was the only thing they created. We were confident in ourselves and once we got one we kept pushing and pushing and our quality showed.
"We had a game plan and it was working well in some aspects but they were the more intense team first half. It shouldn't take a goal to hype you up again but it worked because we came out all guns blazing."
Hemp added, "It's a fantastic win. We were losing 1-0 but we didn't let that change the way we play. We stuck to the game plan, we pushed and pushed and that's what's so good about this team, we never give up."
Captain Fisk also believes England sensed the fact Mexico were struggling mentally after England's two quickfire goals at the start of the second half.
"You could see they weren't pressing as high, they looked a bit shaky and that's when you have to make the most of it so our attackers just kept going at them."
Hemp meanwhile just wants to get her hands on a match ball she'll cherish for many years to come.
"I have to find it first," she laughed. "But hopefully I'll get my hands on it soon."