No quote to start this blog. I may well have had something hilarious or truly profound, or both, said to me over the last few days but chances are it'll have been in French so it'll have completely passed me by. I can tell you that my French pronunciation of "l'eau" seemingly sounds a lot like "biere" based on evidence collected and numerous incorrect drinks delivered, although I'm not sure that's something I should really be complaining about.
It was back to St Malo on Thursday for another Group D double-header, and a somewhat damper St Malo than the one I had left in roughly 30 degree heat just a few days prior. As soon as the weather dried up though, it became clear it was going to be a very similar trip to the last double-header there – Germany getting the job done but not really setting the world alight and Haiti, on the other hand, getting the party started but not getting the job done. It's a script we should be familiar with now.

I was again on the €10 standing side of the ground which thankfully for some had seen the organisers relax their fairly strict no umbrellas policy, but as things cleared up eventually became quite a nice place to spend an afternoon.
A few Haitian fans were already dotted around getting in the party mood early but it was again the Germans in the majority over their opponents, this time the Chinese, and they did what they needed through a couple of decent first half efforts.
As in the first round of Group D games during the interval the stadium shifted distinctly from Germanic to Caribbean as the Haitians gathered for their moment in the sun and they were perhaps in even finer voice than the other day, cheering their team every kick and throw-in of the way. Sadly the football didn't quite match up to the level of the party, from either side, with the Haitians ultimately disappointed, if proud of their team's efforts at the full time whistle.

A bit of time after the games gave a chance to wander up towards the old town and the seafront where there's a bit more publicity for the tournament with planters in the main square just outside the ancient walls wrapped in the tournament branding. None of the advertising is overbearing but it's fairly hard to miss for anyone moving around in either St Malo or Dinan so it would be interesting to know how many people are actually heading along to the games for a look on the strength of a World Cup happening in their home town. I would hope a good number.
Into two rest days we went then and a chance to have a proper look around my host city of Rennes. At last summer's Euros the evening kick-offs (not to mention short travel times between pretty much every city) gave ample time during each day to explore somewhere new, but with two games to fit into an afternoon the chance for tourism has been a bit more limited at this World Cup.
Rennes is the capital of Brittany and seat of the region's Parliament in a lovely old building in the centre of town (and also one of the host cities at next summer's #FIFAWWC). Earlier this year the city was named by a weekly magazine (L'Express) as the most liveable city in France and it's easy to see why with lots going on, an accessible town centre and good transport links – a little over 90 minutes to Paris by the high-speed TGV.

The old town area is typical of many in this part of France with narrow cobbled streets, wooden-fronted buildings and some amazing architecture, not least the Town Hall, Opera and Parliament buildings. The real jewel in the crown for me though is the Parc du Thabor, a large city-centre park with so much to discover – French, English and botanical gardens, a waterfall, an aviary and so much more.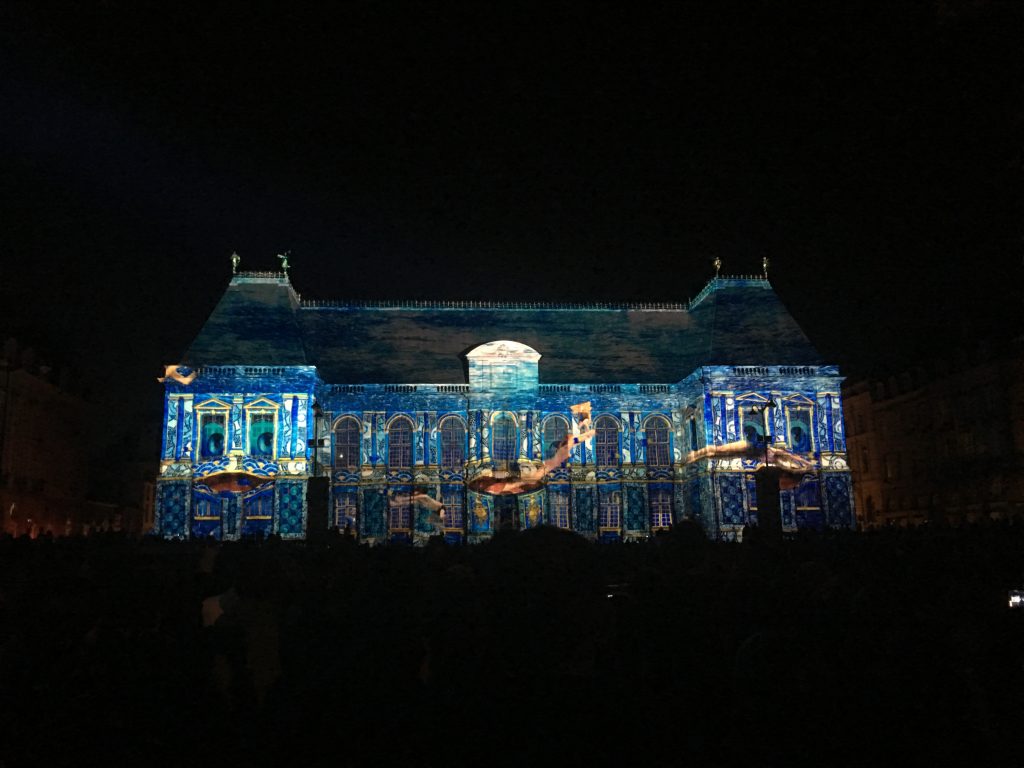 Rennes really did save its best until last, however – Parle m'en. Each night during the summer a spectacular light show story is projected onto the Brittany Parliament building. As it's on every night I was assuming there wouldn't be many people there. How wrong – the whole square in front of the Parliament was packed, and it quickly became apparent why. An amazing 17 minute story line was projected onto the facade of the building, what it was about I have no idea as it was in French but it was absolutely spectacular. If you're over here or heading over for the tournament it is an absolute must.
Alas though it is almost time to leave Rennes and head back to St Malo for the final two nights of the trip. Tomorrow the Young Lionesses take on Mexico in their final group game knowing a win leaves us top of the group. It's a sell-out for the double-header with France also in action against The Netherlands in the day's second game so it should be a great atmosphere and I know we'll be making plenty of noise to cheer on our lasses. Football's coming home again… two, three, four… looking back on when we first met…