Sitting in the humid warmth of Tampa Bay on the terrace at the team hotel, we had a chat with coach Phil Neville and keeper Carly Telford, looking ahead to this evening's Japan game. It's winner takes all in terms of the SheBelieves Cup (though a draw would likely see the USA retain the trophy if they beat Brazil in the later kick-off) but the #Lionesses camp are looking at the bigger picture and of course the World Cup in less than 100 day's time.
First up, here's some of what the ever-amiable Chelsea stopper had to say…
CARLY TELFORD
On the squad being in pretty good spirits after the USA game & looking ahead to the summer:
Yeah, it was a brilliant game. From an outsider's perspective it was probably everything you'd want in a game. It was end to end, there were brilliant goals and it was probably a good look at what the World Cup is going to be like. This year no-one can really put their hats on who they think will win it.
There are some exciting new teams that haven't been there before and they're competing with the best teams in the world – look at what Scotland did only losing 1-0 a few months ago against the USA. The USA have stuttered in a few games, we've had a few results that were good and others that haven't been great and I think it's all about the preparation going into it.
What Phil has been able to do is rotate players, he's had a look players in different positions. There's probably people scratching their heads at where he's playing people sometimes but that's how we want to go into this World Cup, being adaptable, knowing that players can play where we need them to, being unpredictable. 
In the Euros maybe that was our undoing. You knew who was going to play and how we were going to play and we came unstuck in the semi-final, so over the last 12-18 months we've been making sure we're prepared for any scenario and have enough experience running into a world cup that if they need to play they can.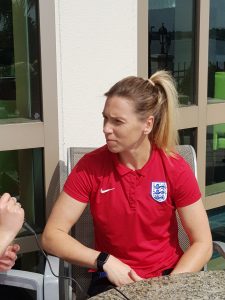 On what will be needed and what to expect against Japan:
We're going to have possess the ball a lot better. When it comes to Japan we're probably going to have to be patient and let them have the ball more than we've let anyone have it but at the same time just know that that's ok. Of course we want to be on the ball all of the time, we want to be pressing all of the time but it's hot and it's humid and they're a very good side, very technical.
It's important we pick the right times when we're going to press, keep the energy for when we go forward and make attacks count rather than be tired from chasing a lot – that's what teams can get sucked into against Japan. When you get a chance to go forward and if you're tired and wasteful then all you've got to do is the same thing again, so I think it's about picking our moments and opportunities and making them count, which I think we have done well this tournament when we've got opportunities in and around. We've actually scored goals and made it hard for others to break us down.
We also know they're quite small, so can we get aggressive with them and get amongst them? But at the same time we have to respect them. They're a top five nation, they've won a world cup, the squad may not have all of the experience that will travel with them to the world cup but these girls are bred to win and I'm sire some of them have come through from the U20 World Cup and they know how to win football games.
And here's some of what the gaffer had to say ⬇️
#SHEBELIEVESCUP 2019 ENG v JAPAN Pre-Match Chat: #Lionesses coach Phil Neville