Order Issue 75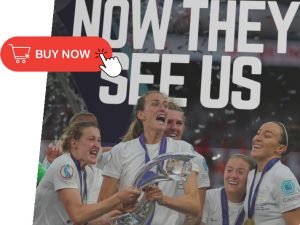 Please don't tell anybody else but our latest issue (#75) is something very special.
We have put together a review of England becoming Champions of Europe, full of photos and posters and snippets of what the players had to say along the road to making history.
What's more, we've gone bigger-size and perfect bound with an extendable cover to make issue #75 a true collectors' item at the higher cover price of £5.95 (incl. p&p).
OK, there's some other stuff too, as the new season gets underway. Also featured are:
Alanna Kennedy (Manchester City/Australia)
Sophie Ingle (Chelsea/Wales)
Rachael Laws (Liverpool)
Ruesha Littlejohn (Aston Villa/Rep. of Ireland)
Atlanta Primus (London City Lionesses/Jamaica)
Abi Harrison (Bristol City/Scotland)  
There's also 'fun' shorts with Lauren James (Chelsea/England), Emma Kelly (Sunderland), Christie Murray (Birmingham City/Scotland) and Kirsten O'Reilly (Crystal Palace). 

Alternatively take out an Annual Subscription for only £25.
By way of thanking She Kicks' subscribers for their continued support we are keeping the cost of a subscription at the usual price of £25 for 6 issues so if it's issue #75 you're after you can get your hands on what we think will be our best-ever issue without paying the extra!
Subscribing today is the best way to ensure you don't miss the very special issue #75 (we're sure to sell out!).
Click HERE for Annual Subscription details.
Never bought or read She Kicks before? You can preview the first 12 pages of #SK74 to get a taste for the mag, by taking a look at the digital issue here.
Don't forget to follow us on Facebook, Instagram and Twitter.