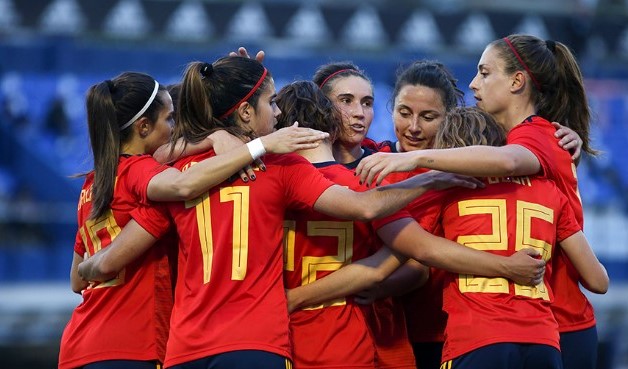 With Jorge Vilda's Spain squad continuing their preparations for the UEFA Women's EURO 2022 with impressive friendly victories over the Netherlands and Mexico, She Kicks' Nick Aitken caught up with Nati Gutiérrez – UEFA Pro licence holder and until recently the head coach of Málaga CF Femenino – for her expert technical analysis on April's two matches in Marbella.
She Kicks: So Nati, first things first, let's talk tactics. What tactical criteria did you find most interesting about Spain's performance versus the Netherlands?
NG: Our coach sprung a bit of a surprise against Holland by changing to a 3-5-2, with three central defenders, a change designed to give No10 Jenni Hermoso even greater freedom of movement. The idea was for her to be able to create overloads when Spain had the ball and also allow her to dictate the tempo in attack, whether receiving the ball with her back to goal or facing goalwards.
The mobility of the creative midfielders Alexia Putellas and Aitana Bonmatí was also key, with the fact that Spain had three players in central midfield a boost to the two attackers. In the holding role, Patri Guijarro did a spectacular job of keeping the balance between attack and defence – continually switching positions with centre-backs Mapi León, Irene Paredes and Andrea Pereira, always aware of when they'd pushed forward and filling the gaps they left, as well as being quick to recover the ball whenever it was lost.
In defensive terms, Spain's main focus is on "defending by keeping ball" and, despite the change of formation, they continued to do that successfully. It was very interesting to see the two wing-backs selected, with Vilda opting for two attacking wide players in Marta Cardona and Mariona Caldentey. When Spain were in possession, both players were given plenty of freedom to create chances, make space and use their 1v1 ability at every opportunity. With Esther González up front, who's been in fine goalscoring form this season, all Spain's attacking players also put in an excellent defensive shift throughout the 90 minutes, pressuring high, continually breaking through the opposition's backline and keeping the Dutch defenders pinned back – opening up more space to create chances and get shots off.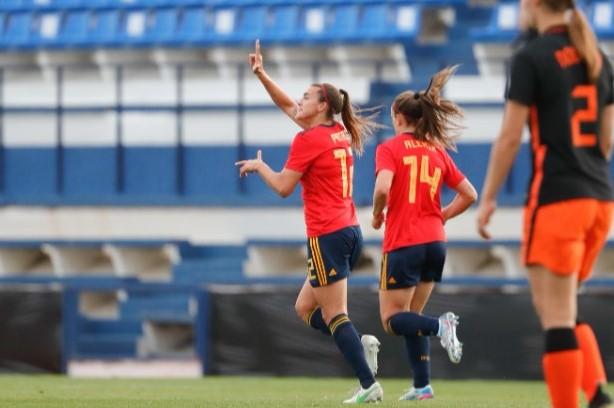 SK: Against the world's very best teams, in recent years Spain have often dominated possession but found it difficult to score goals. Have you seen signs this problem is being solved?
NG: Yes, I've seen Spain become more clinical in front of goal – the work being done with the players at national-team level and back with their clubs is paying dividends. The Spanish league is getting better and better, our country's clubs are ever more professional and that's reflected in their performances once they reach the national team. You can see that they're better prepared, both physically and tactically, and I've no doubt this coming decade will see La Selección enjoy a lot of success.
SK: Barça stars Alexia Putellas and Patri Guijarro grown into two of the most complete midfielders in world football. What is it that makes them so special? What is the advantage of having so many Barcelona players in the squad?
NG: Yes, it's great news for our country that players like those have become world-class midfielders. It's no accident that they're so special, because those two players' footballing intelligence is limitless, while their professionalism and humility – always wanting to be the best and working every day to make it happen – make them examples to follow. It's a pleasure getting the opportunity to see them play on the global stage and they've a great synergy with Barcelona. The club is helping them continuously improve their performances, while they're helping the club go toe-to-toe with any other European team. Barça reached the Champions League final in 2019 and I think we're very close to seeing them or another Spanish team win it – hopefully this season!
SK: For the Mexico game, Jorge Vilda made a lot of changes to his starting XI. What impact did these changes have on the team's style, tactics and performance?
NG: The impact was positive because, alongside the changes, Jorge gave his players the ideal tactical structure for taking on Mexico. Spain's overarching playing style – defending with the ball and pressing high – didn't change and helped them maintain a consistency of performance.
For me, it was interesting to see how, when bringing the ball out from the back, Spain's back four effectively became a line of three – with right-back Marta Corredera level with two centre-backs Laia Aleixandri and Ivana Andrés, and left-back Leila Ouahabi pushing forward up the flank. At the same time, forward Nahikari García moved between the lines, either taking up the inside channel or pinning back the Mexican full-back and centre-back. This meant that, in
attack, there were periods of play where the formation was very similar to against Holland, and it was another impressive job done by the players and coaching staff.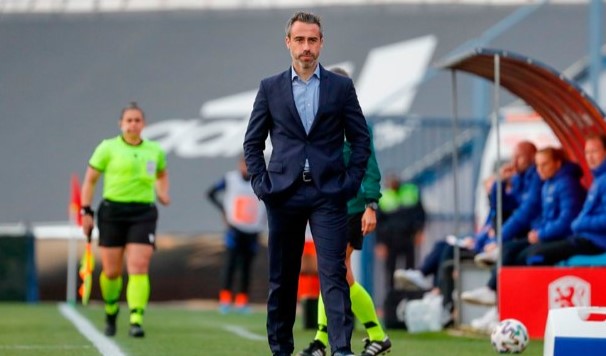 SK: Finally, which of the players that are not automatic starters impressed you most? For what reasons?
NG: I really enjoyed seeing how much character Laia Aleixandri showed defensively – anticipating the danger created by the Mexican attackers and shutting down their most dangerous player whenever she came into her area – as well as going forward, when she slotted perfectly into Spain's playing style, with intelligent through balls etc.
It was good to see that La Selección have a lot more than just 11 players capable of being starters and that, even with a lot of changes, they kept another clean sheet. I also enjoyed watching Bárbara Latorre, who's a player with a lot of potential. She brings freshness and mobility to the team with and without the ball – showing plenty of tactical intelligence.
Fancy continuing the conversation? Connect with Nati Gutiérrez via LinkedIn at https://www.linkedin.com/in/nati-gutiérrez/ or follow her on Twitter & Instagram at @nnattigutierrez
Interview provided by @onubacomms – specialists in translation & multilingual content
in women's football.