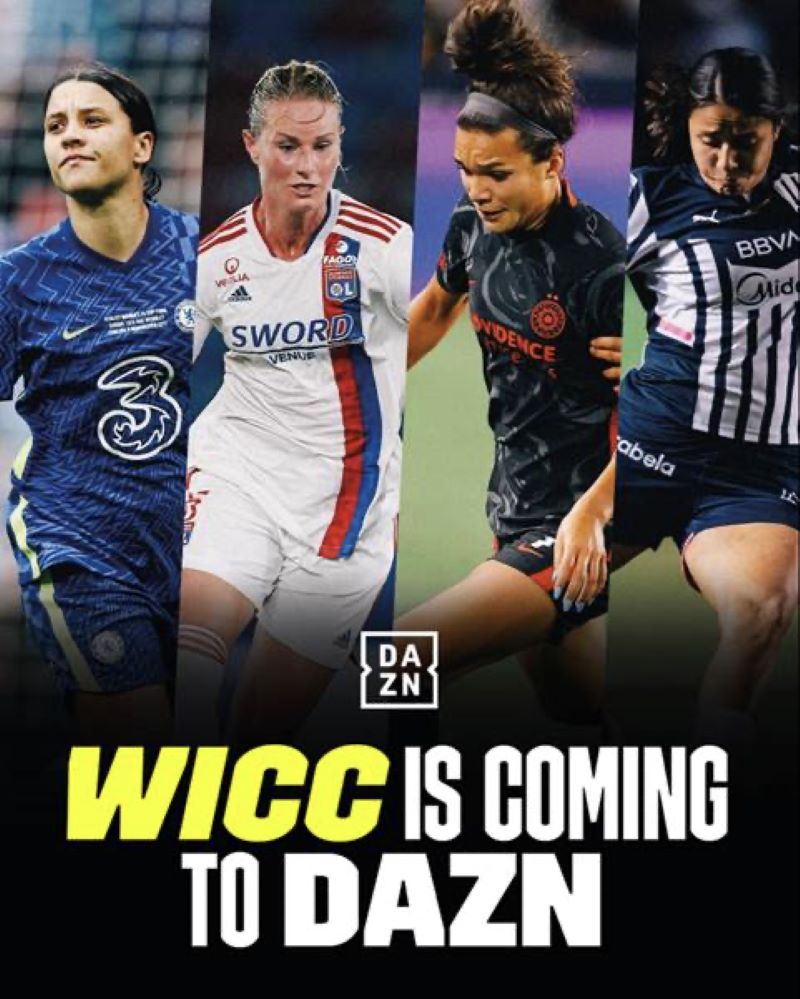 DAZN will exclusively broadcast next week's prestigious Women's International Champions Cup in the UK, among other countries.
The tournament – which features four of the most winning European and North American club teams in the history of the sport – will be available both live and on demand on DAZN as well as for free on DAZN's dedicated UEFA Women's Champions League (UWCL) YouTube channel.
In a year when the meteoric rise of women's sport continues, including record-breaking viewership and attendance from the last season of the UWCL to the recent UEFA Women's EURO, DAZN is committed as ever to its steadfast mission of accelerating interest in the women's game through global exposure and coverage like never before. Notably, DAZN has guaranteed both WICC matches featuring reigning UWCL champs Olympique Lyonnais will be available in French language commentary, to ensure a more engaging viewing experience for French footy fanatics.
This year's Women's International Champions Cup will feature four trophy-winning teams that represent the best in women's club soccer.
Olympique Lyonnais (France): Winners of the 2022 UEFA Women's Champions League trophy, 2021-22 D1 Féminine, and 2019 WICC championship title.
Chelsea FC Women's (England): Winners of the 2021-22 FA Women's Super League and 2022 Women's FA Cup, making their WICC debut.
Portland Thorns (U.S.): 2021 WICC defending champions, qualifying as winners of the 2021 NWSL Shield and 2021 NWSL Challenge Cup.
C.F. Monterrey (Mexico): 2021 Torneo Grita México Apertura champions and first team ever from Mexico to compete in the WICC.
The full schedule is as follows, with all events taking place at Providence Park, Oregon – the home of the Portland Thorns:
Match Day 1, Wednesday, 17 August:
Semi-Final 1: 1am UK time – Olympique Lyonnais v Chelsea
Semi-Final 2: 3:30am UK time – Portland Thorns v C.F. Monterrey
Match Day 2, Saturday, 20 August:
Third Place Match: 00:00am UK time
Championship Final: 3:00am UK time
""Securing the global rights to the Women's International Champions Cup is fantastic for DAZN as we continue to grow audiences and engagement in women's sport," said Shay Segev, CEO, DAZN Group. "This tournament comes after an unforgettable summer of women's football in Europe, and it promises to be an exciting precursor to the next UWCL season on DAZN."
Fans can tune in to the WICC on DAZN and DAZN's YouTube channel in more than 175 markets across Europe, Asia, Africa, and North America. The full list of territories can be found HERE. New subscribers to DAZN can download the app and/or sign up at www.DAZN.com.