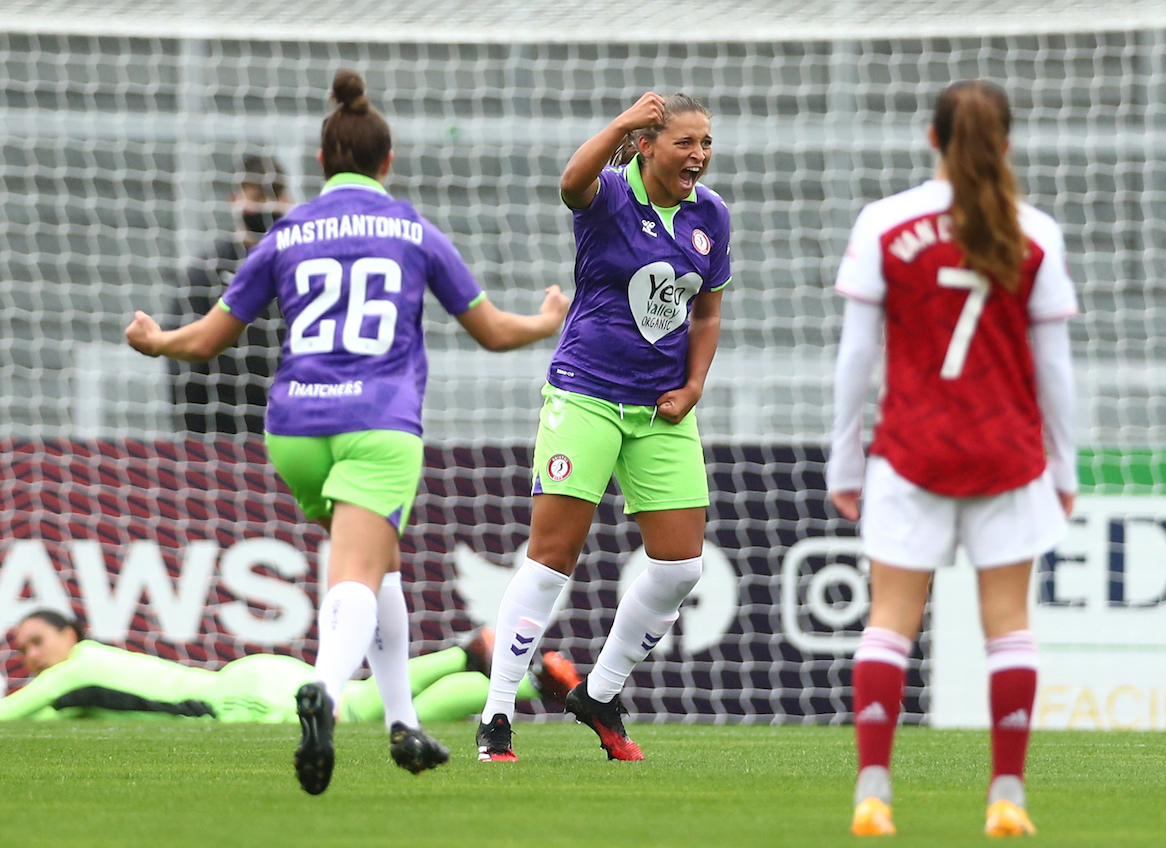 Hotshot forward Abi Harrison signalled her return to form on Sunday by banging in a long-range strike against Arsenal. It wasn't enough to win the game for Bristol City, but it certainly put the wind up the league leaders and left her manager purring, reports CATHERINE ETOE.
"She ran her socks off," Vixens boss Tanya Oxtoby told She Kicks afterwards. "She does so much hard work off the ball so for her to get on the scoresheet, I'm really pleased."
An instinctive striker, Harrison hit a whopping 95 goals in 113 appearances for Scottish Women's Premier League side Hibernian before switching to Bristol and the WSL in January 2019.
The two-time SWPL golden boot winner hit the ground running in her debut season with the Vixens, but a dreaded ACL injury suffered in November brought her second to an early close. The road to recovery has been arduous, but if her performance against Arsenal was a yardstick, this 22-year-old goal-getter is back.
Luckily, she agreed to be grilled by the media in the run-up to the season. Here's your chance then to get to know her a little bit better…
On working under Tanya Oxtoby:
She's a great manager. She's a manager that, with her qualities, I work well under, on and off the pitch. Throughout the rehab, there's never been a point when I've felt excluded. Off the pitch I was always involved and felt more than ever part of the squad. That's hats off to Tanya and the environment she demands that we have here.
On the environment at Bristol for the club's many young players:
A lot of the players might be young, but there's a wealth of experience as well, and even the young ones, like say Aimee Palmer – she's been playing at this level for a while now. We can all learn off each other. The older ones in the team learn off the young ones and vice versa, so we all help the team. Everyone you speak to about Bristol loves their time here and feels they really develop. That's what we work on, making each other better players and people.
On her dream of becoming a professional:
We're a bit behind in Scotland, in the sense that the professional teams have only just started in the past year, so when you say to people that you want to play football, in their eyes it's not possible. From the age of four or five I wanted to play for the club I supported which was Celtic, and I managed to achieve that but it wasn't enough for me, from the sense that you always want more.
On early reactions to her dream of playing professionally:
I remember my primary school teacher asked me what I wanted to do when I was older and she laughed in my face and said that wasn't possible. And then you get the same comments at high school – you know, you'd miss school to go and play football and there were a few comments, 'would I get an A'Level in football or would I get it in biology?' So to look back it makes it all that sweeter, and it was my dream.
On what made her think the time was right to switch to the WSL:

I made the move after I think it was seven seasons in the top flight in Scotland, so although I'm young, I had been playing at that level for a while. I felt it was the right time. I felt physically, mentally, I was ready to make the jump and get a new challenge. I've got fond memories of Scotland, but yes it was time to kick on and I think I've improved no doubt since being here, as a person and a player.
On which player she admired as a youngster:
In school we had a project on 'my hero' and mine was Julie Fleeting, a Scotland striker that smashed it down here and across the pond as well. Luckily my Dad knew her Dad so I was able to do a telephone interview [with her]. I must have been eight or nine at the time and she was at the peak of her career. I said, 'Do you want to come down and coach me one time?' and she said, 'Maybe if I get the time'. Fast forward six years, I turn up to Celtic training and she's stood next to me! We managed to play together for maybe a season or a season-and-a-half, and in that [time] I probably learnt more as a player than in the rest of my career, just from watching her, analysing how she plays, where she goes, how she moves. We managed to share a pitch together which was a dream come true for me, and I hope that maybe one day I can repay the favour and do that for somebody else.
On whether it's true that she was eligible for three national teams:
I've been capped for Scotland, but not competitively, but I was born in London and my Grandad's Jamaican, so there are a few different nationalities there.
On choosing Scotland: 
I moved from England back to Scotland when I was one, so all my family are Scottish, I was schooled in Scotland and I went through the system there, so it's just been a natural progression. To be honest it never crossed my mind in terms of representing any other countries. I'm hoping for that competitive cap soon and then to kick on in my international career.
On the differences between football in Scotland and England:
The biggest one for me is the physicality down here. I think the players are conditioned better, they're fitter, stronger, faster, but also probably the ability as well. The top players from Scotland, because it's not professional or hasn't been up until recently, make the move away, so every year the level and what the teams are trying to do gets harder and harder.
On Scotland as a breeding ground:
Scotland knows in itself that it can be a breeding place for some of the best players in the world and I think you see that in the WSL, with the likes of Kim Little and Lisa Evans, they started in Scotland. So it's a great place to grow and progress, but in terms of taking it to the next level I knew I had to come down here.
On the future for the Scottish national team:
We've been at the last two major tournaments, so that's what we expect from ourselves now, and we did well at those tournaments so we're just looking to progress and take ideas from the countries that are leading and paving the way before us.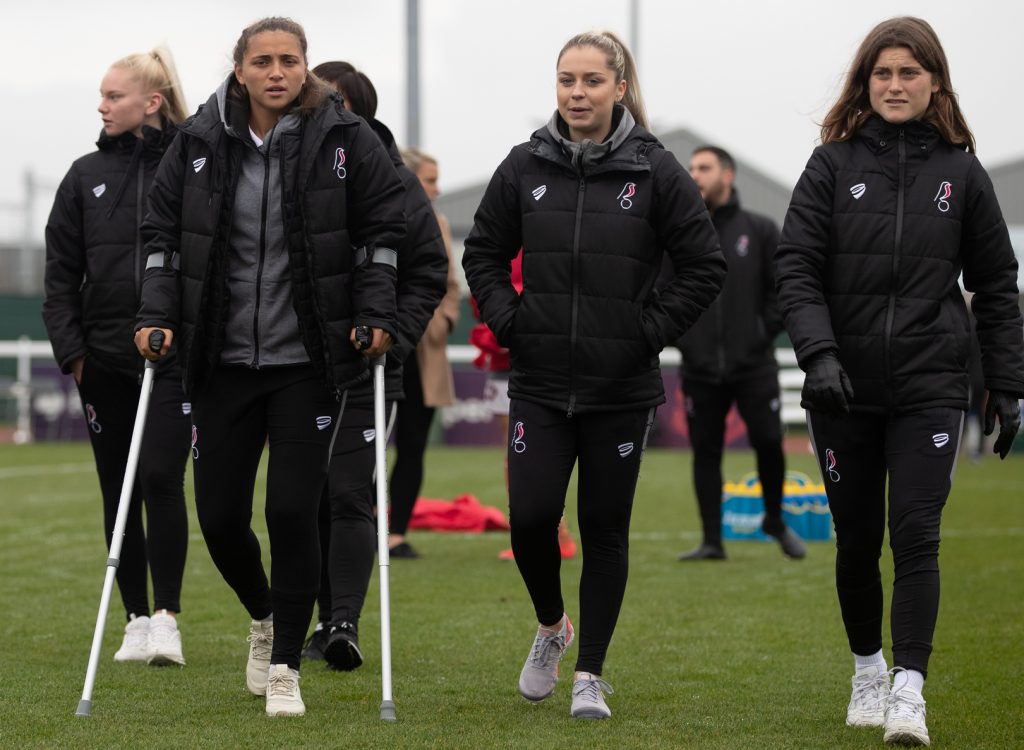 On her return to football after her ACL injury:
The plan was always for this season. At no point have I felt rushed. The timing has been great in terms of it's run smoothly, and building up with the girls in pre-season. I'm just ready to kick on now.
On her motivation after missing so much of last season:
It took me a long while to get used to the league here. I felt as though I'd just found my feet, and was playing well, and then it was devastating to get the injury. But I've been working hard. I usually complain about running in pre-season, but there were no complaints from me this year!
On her mental resilience:
The injury is terrible and you don't wish it upon anyone, but it's shown me a different side to me. Anyone that knew me before knew the gym wasn't my place and I wasn't a fan, but once you see the gains, and going from not being able to lift your own leg, to being able to squat more than your body weight, it all pays off. Really you just need to trust the process. That's something I was told by my family when I was young, because they believed in me, and once you believe in yourself and you've got a good support network around you, the sky is the limit.
On what's next:
To get back to my best and even better. I don't think I can rest on just being back to what I was before the injury, because I've developed areas that needed developing but I maybe wasn't paying attention to because other areas were carrying me through. So I've been able to take a step back and look at myself and life in a different way. It's been a hard journey but one I definitely came out of the other side better.