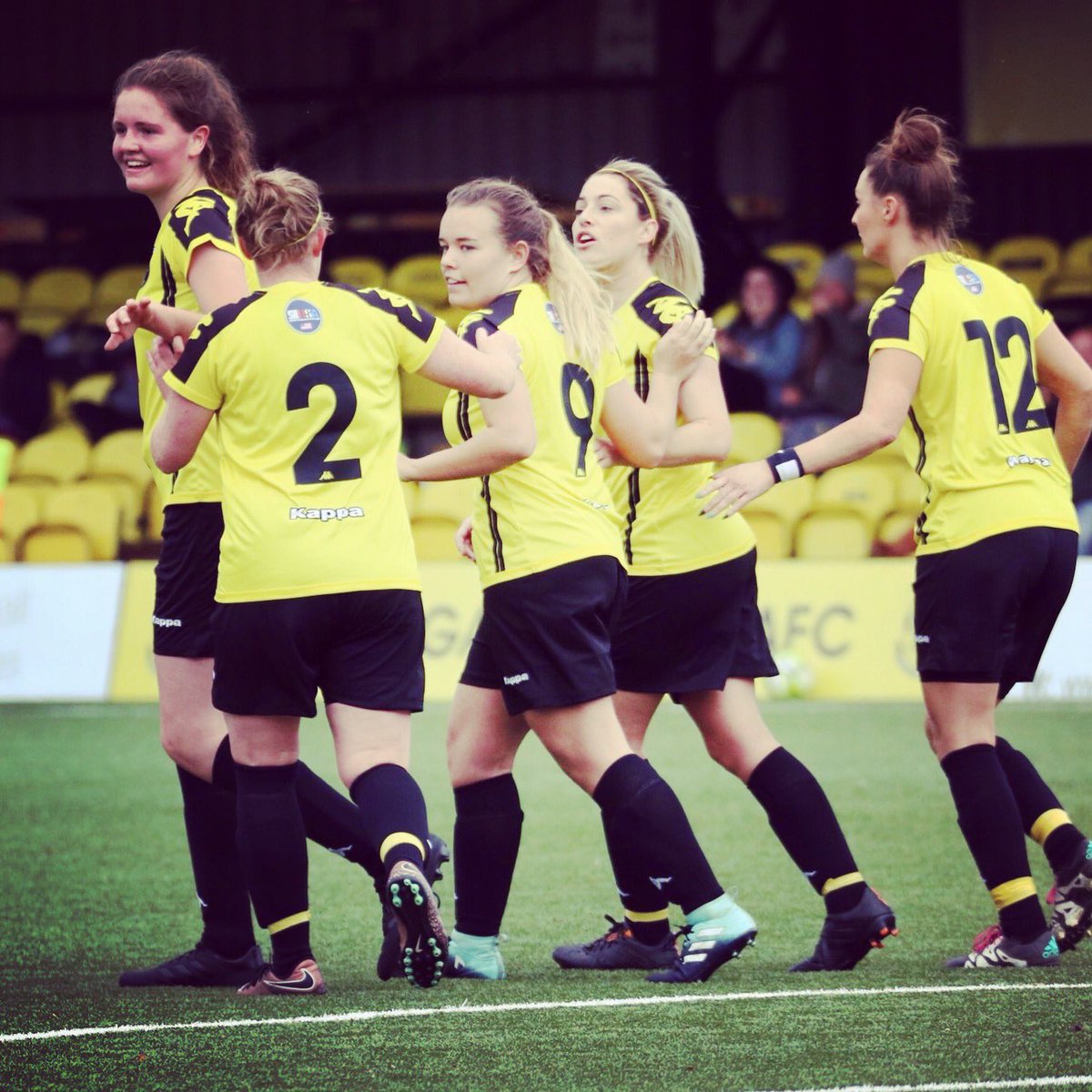 Although the snow was generally the winner, Harrogate Town have had reason to celebrate after making it from the County Leagues to the Regional Premier in only two seasons.
EASTERN – Wins for Histon & Hoddesdon
1 NORTH – Histon put more of a gap between themselves and visitors Ipswich Town DS, whom they beat 3-1. Abi Davies got a couple and Sophie Lanham a penalty for the Cambridgeshire side.
1 SOUTH – Hoddesdon Town Owls defeated second-placed Harlow Town 2-1, with a goal apiece for Hannah Kelly and Sian Owens.
EAST MIDLANDS – Mills meet Nettleham midweek
No games played but Mansfield Hosiery Mills are scheduled to host title-hopefuls Nettleham this Wednesday.
LONDON & SOUTH EAST – Phoenix gain on Wasps
PREMIER – AFC Phoenix are five points behind leaders Crawley Wasps, after a 5-1 defeat of Fulham. Substitute Elizabeth Wicks struck twice, with one each from Natalia Mann, Lucy Monkman and Saskia Philp.
SOUTH EAST COUNTIES PREMIER – Third-placed Meridian were 3-2 winners at Eastbourne Ladies, where Hannah Corlett bagged a brace and Amy Russ their other goal, while Jessica King and Shantelle Omar were on target for the hosts.
Two other lower level games survived, as Minster-on Sea side Oasis Reds drew 1-1 with Ashford Angels to go level on points with Kent Division 2 East leaders Diamond United Blues, who were busy thrashing Long Lane DS 8-0 in the Kent Divisional Cup, aided by a Jordan Langstone treble.
NORTH EAST – Harrogate Town promoted again
Nothing survived but Harrogate Town had been declared Division 1 South champions with two game to spare. Despite not playing last Sunday, Altofts failure to win handed them the title and a second successive promotion, having been North Riding League winners in 2016-17. Meanwhile, Harrogate's Jade Pennock has made a step up in joining Doncaster Rovers Belles.
NORTH WEST – Wigan go third
PREMIER – Wigan Athletic went third when hitting hosts Blackpool for six. Sir Tom Finney edged Blackburn CSC 1-0, with a last minute from Sam Ball.
1 NORTHERN – Preston North End got off the bottom in climbing three places with a 3-1 win over Bolton Wanderers U-21 Reserves, who slip into last place.
1 SOUTHERN – Altrincham are seventh after a 7-0 success at lowly City of Liverpool. Liverpool Marshalls Feds Reserves' 4-1 victory over Northwich Vixens put them second, Georgia-May Murphy, Emily Douglas, Nicole Johnston and Filippa Savva with a goal each. West Didsbury & Chorlton went third with their 5-2 win at Warrington Wolverines, achieved after going behind and later getting pegged back at 2-2. Jane Hodges and Nat Callaghan netted for West, before Sarah Penney notched her first hat-trick for the club.
SOUTHERN – Flyers up against Saints
Again, nothing was played but fourth-placed Winchester City Flyers to have a Southampton DFA Cup semi-final with Southampton Saints on Thursday.
SOUTH WEST – Easy points for Buckland & Bideford
PREMIER – Leaders Buckland Athletic had a walkover against Forest Green Rovers, while Keynsham Town DS are due to entertain Downend Flyers on Thursday.
1 WESTERN – Bideford had a walkover against basement side Activate.
WEST MIDLANDS – White out.
It was snow-go in the West Mids.