After exiting the dual carriageway, the drive to St George's Park becomes a mazy route through sleepy villages, stuck behind bumbling tractors. Today's Satnav route diversion of choice went through Draycott in the Clay and passed 'The Roebuck'. The gastro pub can now proudly boast that it shares its name with a young England Women's goalkeeper, whom at just 20 years old has already concocted quite the early career for herself.
Just four miles from this watering hole is the national football centre where Ellie Roebuck is continuing to quench her thirst on a healthy appetite of first team football at Manchester City, accompanied by the fillet of international recognition. Sharing responsibilities with fellow Lioness Karen Bardsley last term, Roebuck has seized the opportunity presented to her in light of the experienced goalkeeper being side lined until the festive period by a hamstring injury.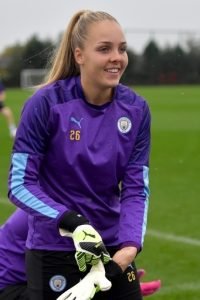 Having missed just one game for the Citizen's this campaign, she has collected five clean sheets in all competitions as Nick Cushing's side look to move on from the disappointment of exiting the Champions League at the hands of Atletico Madrid, for the second season running.
Firmly on the international radar for a number of years, Roebuck signed her first professional contract with City at the start of 2018 and that summer was part of the Young Lionesses squad which won bronze at the Under-20 World Cup in France.
A childhood fan of Sheffield United's men's side, the goalkeeper grew up on a diet of watching the Blades, until a trip to Wembley in her early teenage years opened her eyes to her possible future in football. As the Lionesses took on their German counterparts under the iconic arch in 2014 Roebuck watched on in awe, as she computed the possibility of a career in football.
With four senior caps to her name before her 21st birthday, Roebuck spoke to Thomas Smith, (Football Journalism Student, University of Derby) ahead of England renewing their rivalry with Germany in front of a sell-out crowd at the national stadium, before a trip to face the Czech Republic.
ELLIE on her experience of the preparation in this camp:
"We came on camp on Monday, got together, had dinner together and got stuck in yesterday. We had some physical tests in the morning and then we were straight back out on the grass. Today we are back on the grass so I think we want to put in what we want to deliver out at Wembley on Saturday out on the grass. Getting on the pitch and getting back to playing together."
On the physical tests and if they have changed:
"No, it's the same. So, we started the process after the World Cup and it is kind of a bench mark to see where we are at, measure fatigue, measure if we have had any improvements. It is kind of just the standard testing that we do, so we are used to it, nothing has really changed. I think we like to keep quite a bit of consistency in camp, so from that point of view we are used to doing it and nothing was really a surprise."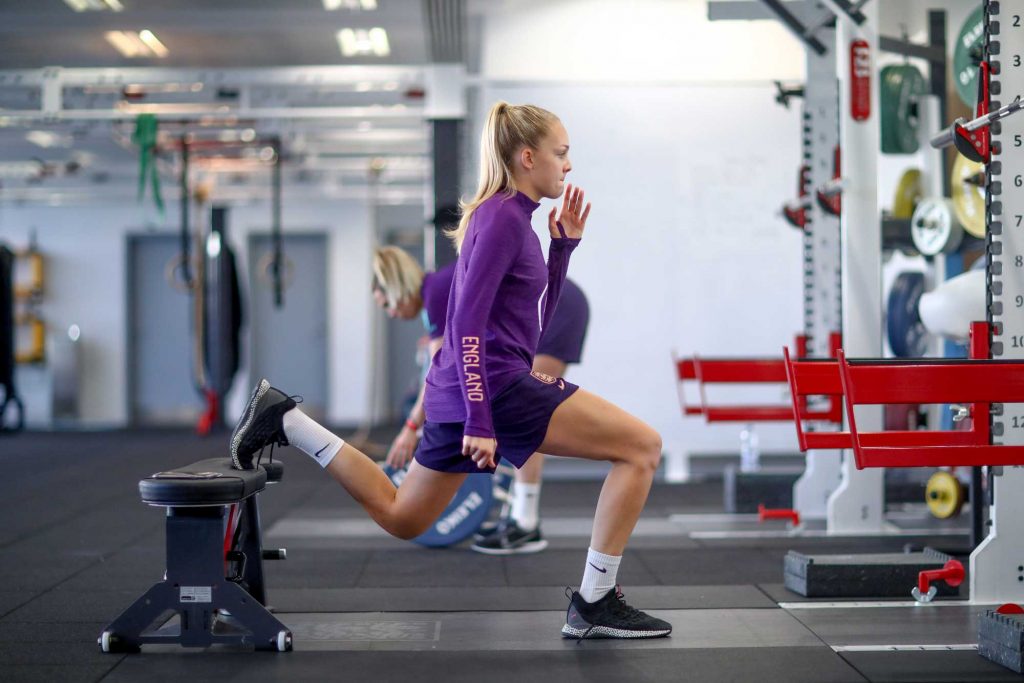 On getting called up to England camps and whether when the Wembley game makes that a different feeling:
"Definitely, the fact we are playing at Wembley and the potential of it being a 90,000 crowd is obviously unbelievable and to think about that is not necessarily a scary thought but exciting. Especially with this group of players it could be an unbelievable occasion. But I wouldn't necessarily say it is a different feeling because every time I get called up for England no matter what I still have to pinch myself. Obviously, I am quite new so every time it is just an unbelievable achievement for me."
On her family being at Wembley:
"They come everywhere, so I wouldn't expect anything less from them being such a big occasion. So, I am sure they will be there in the stands supporting us.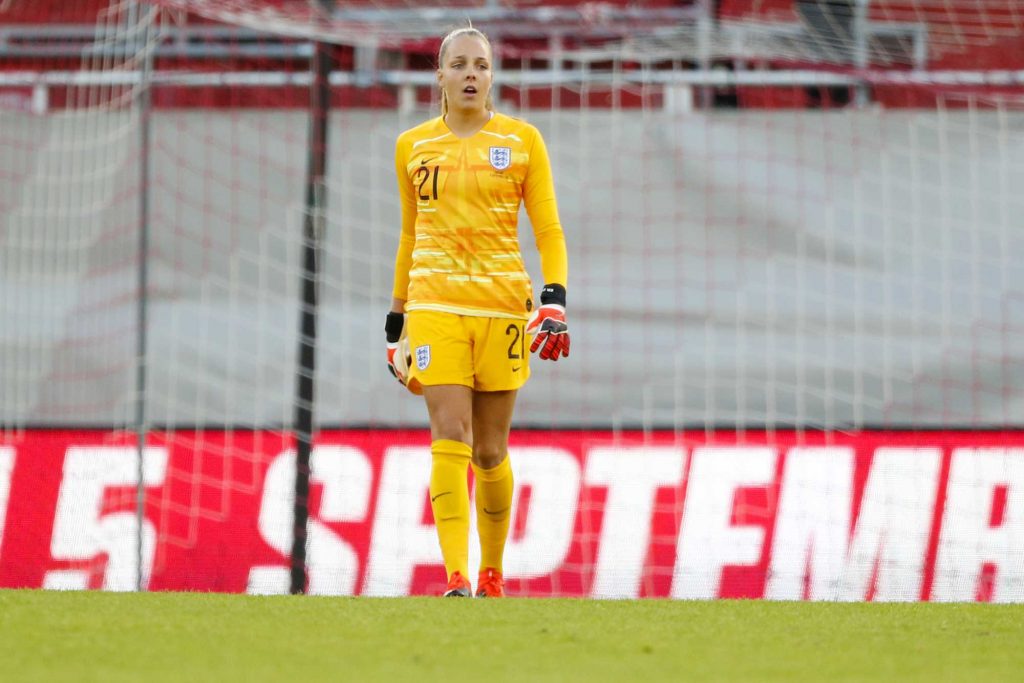 On expecting to play:
"I would never come into a camp expecting to play. I think within the squad we have depth in every position so anyone could play. We are now in a really fortunate position where you wouldn't necessarily notice if somebody is in or out, because the depth that we have in every position is unbelievable so I think anyone could step in and do the job needed for the team."
On the expected sell-out crowd:
"It just shows the growth of the women's game. We are all here to push that and increase the growth of the game. So regardless of whether I play or I don't play I think for women's football in itself and me being a part of women's football I think it will be unbelievable for everyone."
On any differences in Phil [Neville] since the summer and over the last couple of camps:
"No, I don't think so. Phil has always been the same since the start. He always keeps in contact; he comes and watches our games so we see him at our club games quite often. I don't necessarily think anything has changed really. The same mentality is always there and the same basics and the same principles that we live off, so from that point of view I don't think anything has changed. It is more just now we really want to push on and keep improving."
On the occasion and what has Phil done to keep the camp light hearted when needed:
"It is a big occasion, but we have played in big occasions before if you look back to the summer. The USA semi-final was a big occasion, so within the group we have got a lot of experience but I think they know how to manage these big occasions. So, to be honest with you it doesn't feel any different to any other camp, so I think that is a positive."
On if Phil does anything if it gets a bit tense in the camp:
"I wouldn't say I have ever felt it to be too tense to be honest with you. We have got a really good group but I guess on Thursday when we travel down we will have some time to take some time off, go out for food as a team and things like that. That takes you away when you can almost get trapped in a bubble because you are here and this is all you know for nine or ten days. That will be nice and a good opportunity for us to change environment and things like that.
"Being a St George's Park you can't really get out, there is not anywhere to go, so it will be a nice change to head down to London. But the focus has always got to be the football."
On the team feeling any pressure due to recent results:
"Yeah, we know that the results haven't gone the way that we wanted them to go. I don't think that is necessarily a sign of we're not working hard enough. I feel like we are doing everything right. Obviously getting the win against Portugal hopefully that can create some momentum going into this game. England v Germany, what better way to try and get the win and in front of all them people it will be a great way to go into the Christmas break and push on for the next year really."
On whether a win would silence the doubters a little bit:
"Yeah potentially, I guess we kind of try not to focus on that kind of outside perception whether we are winning or we are losing. We know internally that we are in a good place, we have trust in everything that we are doing. So, from that point of view I feel like we are in a good place putting the numbers on the board and hopefully getting the scores to reflect that."
On how important is this international break is in terms of the grander process that Phil talks about:
"Definitely putting in fixtures playing Germany it's a high profile game, it will be a tough test. So, in preparation for the She Believes they are always tough, I think it is really important that we have this fixture now because there is quite a long gap until the next camp so to try and create some momentum. Like I have said it will only be a positive and then going into the summer just trying to get as many fixtures to try and create that momentum."
On performance over result:
"Definitely, but then again, we're a football team and we want to win. As a focus, you never go out to try and lose a match. I think obviously we focus on the performance and if we're doing the right things the right way, trying to play the England way, the England style and to keep that progressing, getting us better and stronger within that, but I don't think that we'd ever kind of sacrifice. We want to win football matches, and that's not happened for us in the last few fixtures. To be able to go out there and put on a good performance in front of 90,000 people, and then get a win, would be the cherry on the cake."
On Phil and Nick Cushing:
"Phil's a really good guy. From me coming in, he brought me into the system, so I'm very grateful for that, but I think as a young player, it can sometimes be hard to approach managers, but he's been unbelievable in that, really welcoming within the group. I think we've got a good group of girls anyway so that was naturally fine, and obviously I knew a lot of the girls anyway, but as a manager we all have a lot of respect for him and we think the kind of style and stuff he's bringing in is only going to be positive for the English game and that progression. There is a difference between him and Nick – naturally obviously every manager has their own styles and their own way, but I think it's more when you're on camp you have your England head on, and when you go away you have your City head on. But I think they're both great guys – really approachable, and they've got really good ways of managing people within the team."
On memories of Lionesses v Germany at Wembley in 2014:
"Obviously, Wembley is an unbelievable stadium. I've bene fortunate in that I've got quite a lot of memories of going to watch football games there growing up, so from that point of view I've been really lucky. I went to the last England-Germany game as a fan. That was an unbelievable occasion – that was probably one of my first memories where I thought, wow, you could actually probably do something in the women's game now, so to have that platform and hopefully for the young girls in the crowd who are like myself at the last one to be able to think the same and hopefully progress and want to be a part of women's football. I was 13, 14, I think."

On still being a young goalkeeper and her achievements:
"A lot of people actually tell me to do that [appreciate her achievements more] quite often because I have quite high standards for myself and I'm always pushing for more, but I think when I signed for City when I was 15, I think if I'd expected to have played over 50 games, then I'd have snapped someone's hand off, literally, so to be in that fortunate position, for Nick and Phil to have the faith in me, for Phil to bring me into the squad and Nick to play me week in, week out and really put that faith in me and back me – it's an unbelievable feeling. I do sometimes sit back and think, I'm only just 20, I'm playing Champions League, I've made my England debut – it is an unbelievable feeling. I don't think I'd ever have expected it. If someone had told me that I'd probably have told them to shut up a few years ago, so sometimes I do sit back, but then I'm the type of personality that just wants more and more and more, so I never really think, I've done that – that's alright. It's like, what's next. Whether that's a good thing or a bad thing I don't know."
On drawing inspiration from the match Germany in 2014:
"100%. I think just going to a women's game – I've always been quite a big fan of men's football growing up. I support Sheff United so growing up I was always at them games, but I think to actually have that perception change in my head that, wow, there are that many people at a women's football match, and this could be something special to be a part of growing up, was unbelievable. I think at that age I was very unsure of what was next in women's football and obviously now being able to be professional and do it as a job was unbelievable, so I think that was definitely kind of a mentality switch that was kind of, right, if I focus here, there could be something. So, I think if we obviously get the sell-out on Saturday, the amount of young girls that will be there – I think that will be something really special. I think it was about 45,000 – to think where it could go in the next four or five years is also a scary thought, but I think to go from 45 [thousand], which I personally was like, gobsmacked at, to then be a part of the team where there's going to be hopefully 90,000 people at Wembley, I think will just be a great feeling for everyone. I think that's kind of deserved for everyone involved for women's football, whether it's you guys or us as players. I think everyone's kind of contributed to that, so I think for everyone that supports women's football, it will be really well-deserved."
On how her family would react if she saved a penalty:
"I can imagine my dad would be going pretty crazy and obviously Germany are a very good team, so I think that would be a pretty special moment."
READ MORE FROM THE #LIONESSES ⬇️