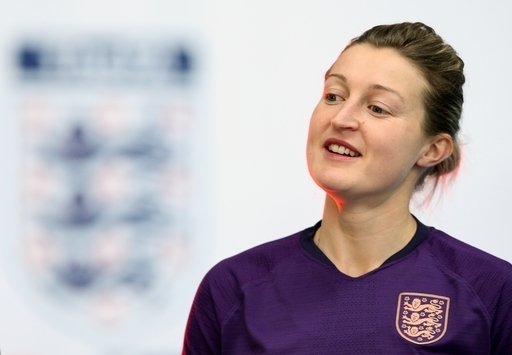 She enjoys the freedom of Aylesbury and so often the freedom of the penalty box thanks to her predatory instincts, but following a World Cup of goals and having gone so close to glory, Ellen White has experienced an interrupted and "frustrating" start to the 2019-2020 season, reports Thomas Smith (Football Journalism Student, University of Derby).
Her high-profile summer switch from the City of Birmingham to Manchester initially proved a false dawn with a frustrating knee injury sidelining the 30-year-old. But back from the treatment table and up and running in the goalscoring charts, the striker has returned to the international fold for England's marquee international fixture against Germany.
It seems the fitting comeback – after missing the last two England camps – for the self-acknowledged "super patriotic" White, who reflected a beacon of patriotism ahead of the sell-out matchup at Wembley Stadium this Saturday in what she believes won't be a very friendly 'friendly'.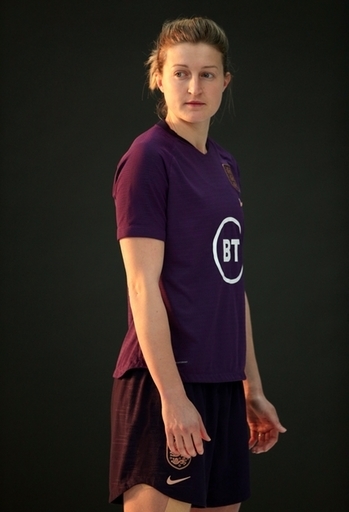 In White's absence the Lionesses have underwhelmed with defeats against Norway and Brazil, sandwiched in-between an error-ridden draw away to Belgium and a laboured victory over Portugal. But whilst externally, some questions have been asked about Phil Neville's tenure, White dismissed such talk and offered insight into how the former Manchester United man has improved her game.
Case in evidence was her prolific World Cup performances, where the 88-international-cap holder claimed the adidas Bronze Boot scoring in five of her six tournament appearances. This achievement, despite her absence from the pitch, has not gone unrecognised with the forward being nominated for the women's Ballon D'or 2019 following her goalscoring exploits on the biggest stage of all.
Although White remains typically grounded and is laser focused on the marquee international friendly against Germany, as she discussed her aims to convert more armchair dwellers from Coronation Street to women's football ahead of EURO 2021 and much more, with journos, at The National Football Centre, St. George's Park…
Do you feel all eyes are on you as you return after recent results?
EW: "It's tough, we're basically trying to get right for 2021, so there's going to be a lot of changes, different things, different systems, different personnel, and there may not be great performances in that, but ultimately it's all for one goal and that is to be peaking and performing for 2021 and that's our priority. So, it's been challenging watching but I've been speaking to a lot of the girls and I understand from the whole group what we want to achieve. We are all going for the greater goal, which is 2021."
So you're not rocking into the camp saying 'I'm back!'?
EW: "We've got some very talented players and hopefully everything comes together and when we've got everything clicking, the goals will come. We've got some very good players and hopefully we'll get some good performances this week."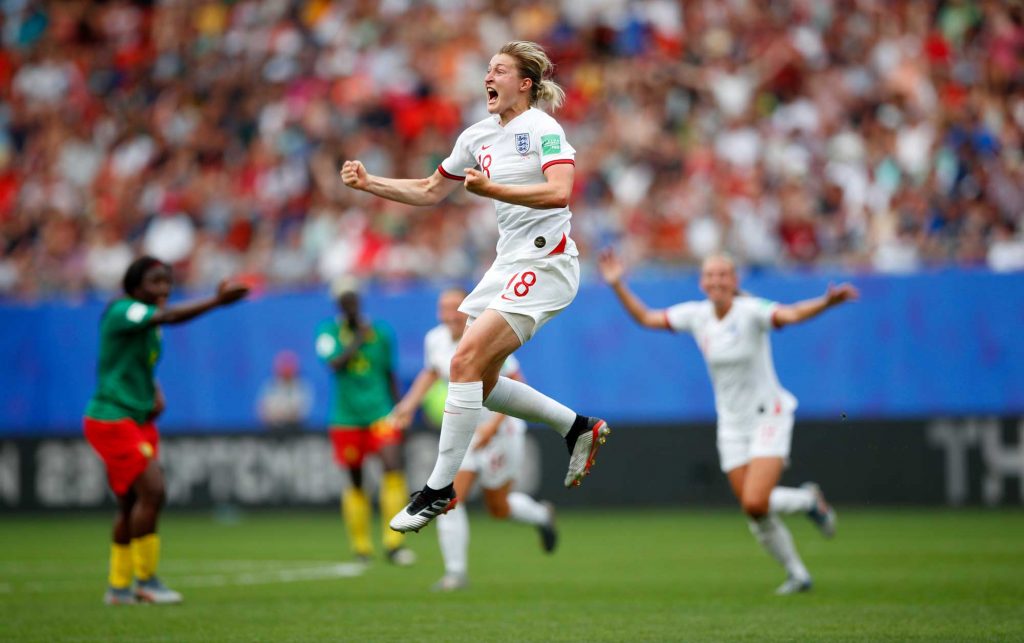 How sweet would it feel to score at Germany in front of 90,000 people, is that what you think about before going to sleep?
EW: "You're not going to lie, it's an incredible thing to know we're playing at Wembley and to make it even more special we're playing against Germany. I'm super patriotic in terms of being very English, and the rivalry between England and Germany is massive and those games are so exciting. So, for us we're really looking forward to a special occasion and we're really proud of being a part of with so many people wanting to come and watch us and be part of history at the same time. It's a celebration at the same time and to thank the fans for supporting us at the World Cup, and hopefully the progression of women's football to grow and to get bigger and bigger."
Would you have believed this was possible a year ago, 90,000 at Wembley for a friendly?
EW: "I'd have hoped that was something we could achieve the way the game was going. The amount of people that were supporting and that were watching at the World Cup it was something that we were hoping we were going to achieve, and hopefully this is the start of us selling out massive stadiums and people supporting us and wanting to come and watch women's football. We really love playing in front of a home crowd that are loving being a part of women's football and being part of supporting England at the same time, so hopefully it's something that will continue."
Do you get emotional when you're walking out onto the pitch?
EW: "I'll probably be crying if I'm walking out to be honest because it's such an amazing occasion. You can't help but be swept up in that emotion. Even at the World Cup it was emotional before walking out for games. It's an amazing achievement to be part of a World Cup, to be walking out with people supporting you and it's going to be an amazing occasion with lots of family and friends there as well, if you're not nervous I don't know how you do it to be honest, so it's going to be exciting."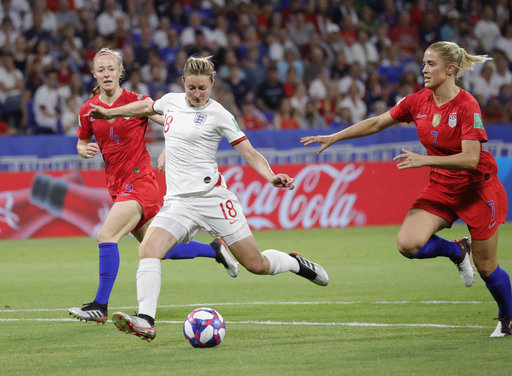 How's your confidence after the Ballon D'or nomination?
EW: "It's not something I ever would have expected so to be nominated amongst some extremely talented players and women I feel very proud to be part of those nominations and it's really lovely to be a part of it."
Do you feel like a different striker?
EW: "I feel older… do you know what I feel really lucky to be in the position I am and I've worked really hard since my injury to try and get back to the form and the way I was at the world cup. For me I just want to keep getting better and learning, developing and trying to improve as a player. But my main priority is to get as many minutes and try and perform and try to help the team in any way I can at the moment."
Phil's two-year anniversary is in January, how have you found working with him – is he approachable?
EW: "Awful, he's horrible [laughs]. No he's a really lovely guy and for us he understands what it's like to be a professional footballer he understands what it's like to play for an international team and I think that's been great for us. The communication has been there and for me as a striker he kind of tweaked bits of my game that I was a little bit resistant to start with but I think it's really help with and I think it showed at the World Cup. You know being in the right place at the right time and that type of thing, so he's been a great addition to England and we're proud that he's our manager at the moment."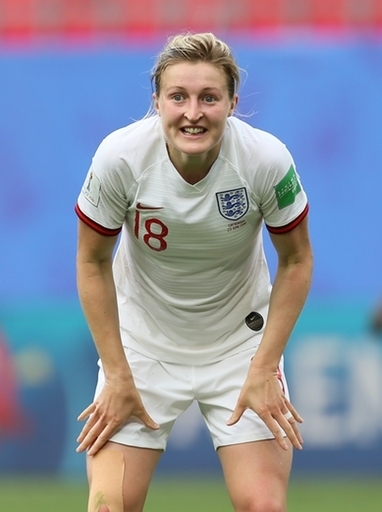 What did Phil change?
EW: "He initially said to stay in the 18-yard box which I was… quite resistant about because I like to run about a bit and get involved but essentially staying in the width of the goal is where you're going to score goals. It took a while for me to change my game a little and really understand what he meant by that; he's probably going to know this now! But yeah it seemed to work really well. Being in the right place at the right time and the timing. But at the World Cup I was surrounded by very talented players putting the crosses in so it's having the balance of the talented players but also being in the right place at the right time."
Has he given any advice on scrutiny – dealing with pressure?
EW: "I think for us we want to be recognised. We want that level of attention, we want to be up there kind of like the men if you will but with that comes criticism. So, we just need to take it with a little bit of pinch and salt and not get too involved and not get too bogged down in that type of thing. He has spoken to us a little bit about it and just not kind of taking it to heart if you know what I mean, so I think the main thing for us is to do what we do in camp and know what we want to achieve and what we can achieve on the pitch at the same time but stay collected as a team and not get too emotional about the criticism that comes with that and ultimately we know our end goal and how we're going to achieve that."
The transition you as a player have experienced, from being semi-pro to professional, is so different to the men's game?
EW: "There's probably quite a few of us that are still involved in England at the moment that have come through that whole kind of rank and we've got youngsters that are very talented and have been able to kind of come into the game and be professional footballers. So, there's just so many aspects and so many different kind of players that have experienced all different levels and I think it's us all coming together and knowing where we started and what we want to achieve and how we want to achieve it and what more we want to achieve as well as a country in terms of women's football. I think it's really important that everyone still knows that and definitely hopefully with the kind of ex-players that are coming to the game at Wembley we can show the recognition of what they achieved and how they got us to where we are at the moment as well."
Despite recent results do you still have faith in Phil?
EW: "Of course, we know what we want to achieve we know what we need to do to achieve that and what it takes and within the squad we understand that and we know that we want to be peaking come 2021. So, with that comes transition different personnel different game plans, structures within the team and who we're playing so as long as we all understand that and know that we're on that right path and we understand what we need to achieve to get there."
Why haven't the results been there?
EW: "I think it's just what we've just said really. We're still going through a little bit of change. Coming off the back of the World Cup it can be quite challenging to perform at those levels but we're in a good place now. Everyone is singing from the same hymn sheet. Hopefully we can put in some big performances this week."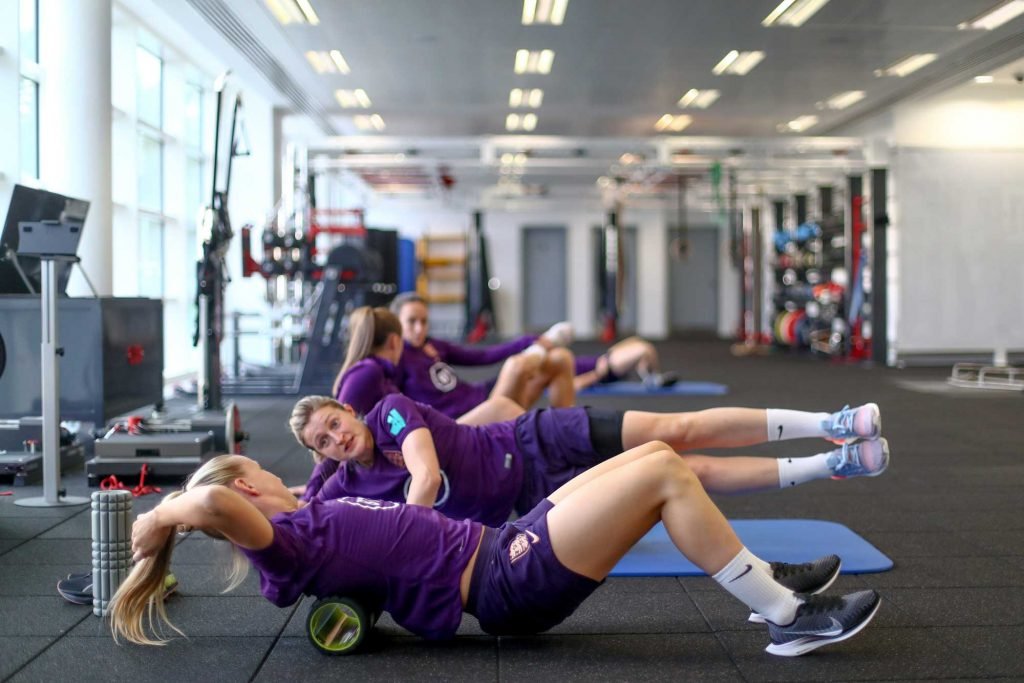 Have you had people noticing you?
EW: "Yeah, I have. And funnily enough it has been men, older men, who've said they prefer to watch women's football than Coronation Street [laughs]. It's been really nice for them to go 'I'm completely converted, it was really easy to watch, I just clicked on the TV and it was there'. The passion that we showed out there, it's great that we've been able to convert some fans to women's football and to really enjoy it. Hopefully they'll continue to support and follow us, come to games, and support us locally as well. That's been a lovely thing to come back to, as much as I was obviously super gutted, it's those things that I will hold dearly. Coming back off the World Cup knowing that people changed their attitude or mindset."
You enjoy German football, of course? [We all know her Modeste celebration comes from a trip to watch Bundesliga footie.]
EW: "Not only the way they play it's the atmosphere in the stadiums too, a lot of the fans are entwined. I went to a Cologne game and I was sat next to a Dortmund fan he high-fived me whenever anyone scored and was like 'woo this is great', my husband has got a beer, they literally stay to the very end, nobody leaves, all clapping every player off the pitch, it's just a really passionate sport. We love watching different sports and going to different countries and looking at how they approach football. It's nice to watch."
Not too friendly on Saturday then?
EW: "No! One of my teammates plays for Germany as well, don't worry I will be very English."
Where does a sold-out Wembley rank for you?
EW: "It's got to be up there. We're potentially making history if we beat the US v Japan game in 2012. I'm especially really proud to know so many players that have gone through amateur, working, early gym starts, still playing for their clubs and for England, so many sacrifices. It's really recognising how many people have sacrificed so many things to get to where we are, selling out Wembley. The fact that we're inviting so many people and ex-players is a real celebration for them but also for us to say thanks. Hopefully we can continue this journey and keep the momentum going."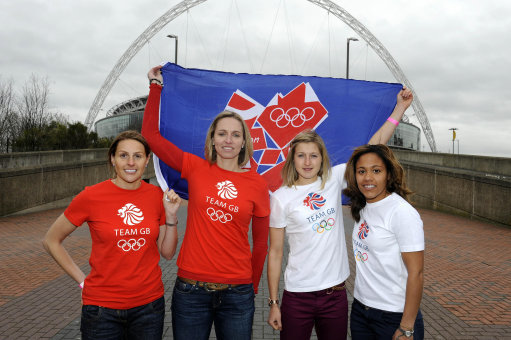 Can this now prove a catalyst to continue boosting the women's game?
EW: "100%, I think that's really important. The number of people that watched that US game and since we've come back is exciting and really important."
And overall be a win for women's sport?
EW: "It's been an incredible summer, or year, for women's sport. If we can keep that momentum of really putting women's sport up there alongside men's sport at the same time, I think that's really important. The amount of people across the board that have watched different women's sport has been incredible and if we can have a little part of projecting women's sport into the limelight then we're really proud of that."
PLAYER INTERVIEW: Manchester City GK Ellie Roebuck talks #Lionesses, Wembley & more…
NEW ISSUE:  ORDER #SK57 NOW ⬇️ #attackmnd