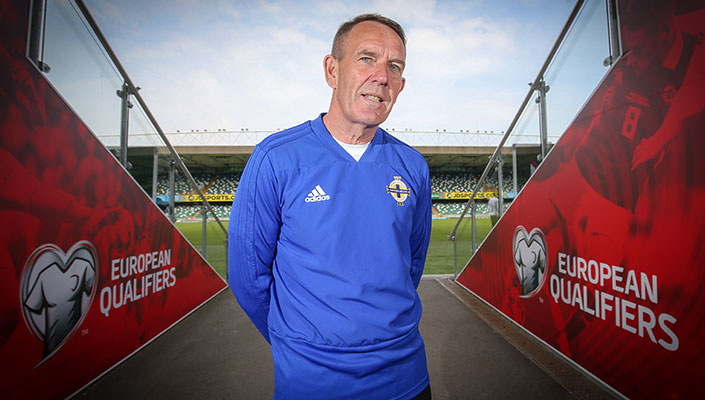 Manager Kenny Shiels has selected his first Northern Ireland squad as they meet for a training camp before the start of their Euro 2021 qualifying campaign.
There are returns for Nadene Caldwell and Lauren Brennan as well as a chance for younger players such as Kelsie Burrows, Toni-Leigh Finnegan and Caitlin McGuinness to impress the new manager, reports irishfa.com
The team will meet on Friday for the camp which will be the first time they've been together since their impressive performance at the Turkish Women's Cup in March where they finished third with three wins out of four games.
They begin their Euro 2021 qualifiers at home to Norway on Friday 30 August followed by an away trip to Newport County FC to face Wales on Tuesday 3 September.
Northern Ireland Training Camp Squad:
Goalkeepers: Becky Flaherty (Everton) Lauren Perry (Linfield)
Defenders: Ashley Hutton (Linfield) Julie Nelson (Crusaders) Demi Vance (Glentoran) Freya Holdaway (Crystal Palace) Jessica Foy (Glentoran) Laura Rafferty (Brighton & Hove Albion) Rachel Newborough (TBC) Billie Simpson (Cliftonville) Natalie Johnston (Leicester City WFC) Kelsie Burrows (Linfield) Toni-Leigh Finnegan (Cliftonville) Claragh Connor (Sion Swifts)
Midfielders: Sarah McFadden (Durham) Rachel Furness (Reading) Megan Bell (Linfield) Marissa Callaghan (Cliftonville) Ciara Sherwood (Crystal Palace) Rebecca McKenna (Linfield) Kerry Montgomery (Motherwell) Nadene Caldwell (Glentoran) Emma McMaster (Cliftonville) Chloe McCarron (Linfield)
Attackers: Simone Magill (Everton) Louise McDaniel (Linfield) Lauren Brennan (Sion Swifts) Caitlin McGuinness (Linfield)