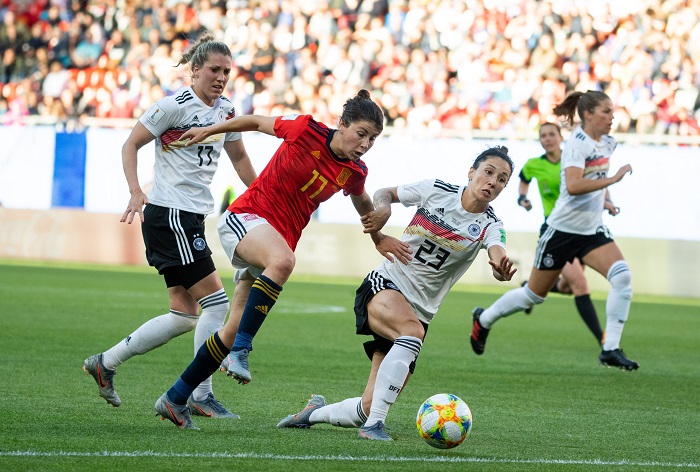 The two favourites for Group B met in Valenciennes last night, with Germany and Spain both looking to follow up their opening-game victories. With heavy rainfall during the match, there were many moments of players losing their footing, while lively challenges were also frequent. The only goal of the night came from Germany's Sara Däbritz, as the new Paris Saint-Germain signing bundled home after Sandra Paños had pushed out Alexandra Popp's header.
It leaves Martina Voss-Tecklenburg's side in pole position to go on and secure the group, with South Africa and China due to face each other tonight in Paris. Here were the post-match thoughts of Germany goalkeeper Almuth Schult and defender Sara Doorsoun, as well as Spain's Marta Corredera.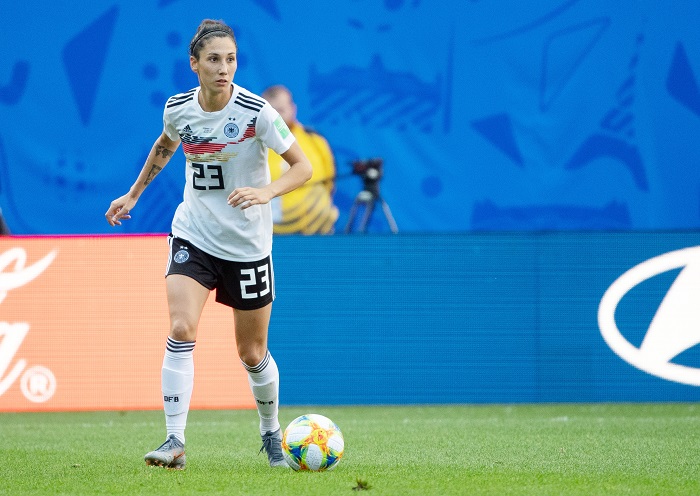 Sara Doorsoun
On what she is most happy with from the opening two games and what needs to improve:
I'm most happy with the six points, definitely. We fight and as an opponent, I think it isn't nice to play against us, because we have one defender, second defender, third. We help each other on the pitch and never give up; typical Germany mentality. We know that we have to play better when we have the ball, be cool and keep the ball, and do not play so many long balls, and just trust ourselves.
On what Martina Voss-Tecklenburg has changed or developed since taking over from interim coach Horst Hrubesch:
I think they talked to each other a lot before she came to us. The things he did with us, maybe they were from Martina, or Martina's idea, but for example, she gives me a lot of trust. Even if we make mistakes, she says 'go on, go on, next one,' and for me, that's one of the most important things.
On how close this team currently feels to being able to win the tournament:
We always say 'step by step' and 'game to game,' and today we got the next three points. The next opponent South Africa's definitely a tough opponent, too. We know that we have to win this game to definitely be first in our group. We want to win every game, and hopefully, at the end we will be in the final.
Marta Corredera
On the positives and frustrations of Spain's performance:
It's frustrating because we had the ball, we had the possession and we had many chances to score goals. We were unlucky that the game went how it did, so it's a little bit sad, I think.
On how she is a different player now with the national team to the Marta who left Arsenal in 2016:
Well, I learned a lot in England about how to deal with top players. I'm a more physical player now, more contact. I'm also more mentally ready for the game, so I think this Marta now is more ready for everything, both on and off the pitch.
On how strong a chance she currently feels Spain have to reach the semi-final or final:
We don't want to talk about it, we just want to show everyone that Spain is here. Spain is ready to fly, I think. We showed to everyone that every time we play them that we are close to the top national teams; Germany, USA. So we are ready to be there, and we are working for that, very hard.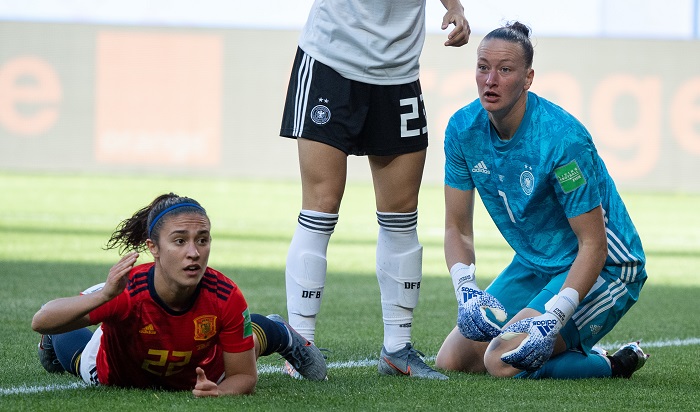 Almuth Schult
On the feelings she takes away from the game:
Of course I'm happy that we won. We have no goal against us, we have six points in the group; that's perfect. It was the first goal for us to be through in the knockout stage, so we are happy about it. The frustrating part is the beginning of the game was not as good as we wanted; Spain had some good chances and we were lucky that they didn't score. We won at the end, so it's fine.
On what Martina Voss-Tecklenburg has been like to work with, perhaps compared to other coaches:
Every coach is different, every coach has a different mentality. She tries to give every player a chance, that's why we have a lot of young players here. We have a young team and also there are some experienced players. This makes a good mix and she's not afraid to put a 17-year-old girl in the first eleven. She's looking to give players experience and give them a future.
On what England's Mary Earps has been like to work with at Wolfsburg:
She's a really funny person, she's a person who is always smiling, she loves to laugh. She's also a hard worker, she wants to learn, she came to Germany to learn, to have another culture and another goalkeeper technique. I think she learned a lot. It was a good year with her and I wish her all the best. Maybe in the next few years she will be in the first eleven for England.
On whether Wolfsburg's different national team players talk about games they may be about to play against one another:
Yeah, we talk about it. It depends which opponent you play, but Nilla Fischer was my roommate for six years, and now at the World Cup I wish her luck, she wished me luck. Then we talk after the games like 'hey, this was good,' or if we see that anybody is injured we ask like 'how are you doing?' So we are talking and it's cool to have this exchange with other players.
On how close she thinks Germany are to hitting their top form in this tournament:
I think we are now in the tournament, we are ready to fight for the title. Everybody saw that we have a really good fighting mode, that we work together. If we have a substitution, it doesn't matter, we put some strong players in. It doesn't matter if you play technical or not, it's just about who's on the pitch and just to want to win this game.