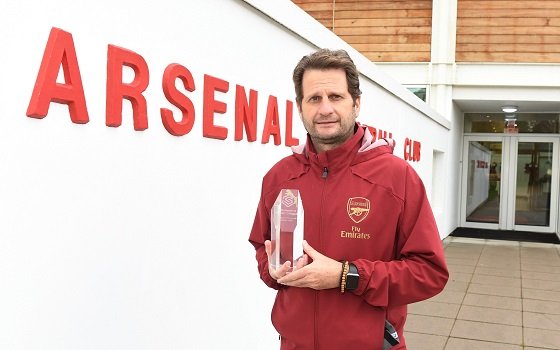 The LMA has awarded Arsenal's Joe Montemurro the FAWSL Manager of the Month trophy for October, while  the FA Women's Championship award went to the management team of Durham.
Montemurro's Arsenal continued their perfect start to the 2018/19 campaign with three emphatic wins, starting with a 5-0 victory over current WSL Champions Chelsea before also defeating Reading 6-0 and Bristol City 4-0.
On receiving the trophy from Thomas Lyte, Montemurro told the League Managers' Association website: "It's been a great month, the team is playing well and we are keeping to our style of play. We've really honed in on details and we've got the rewards for it.
"From my perspective, it should be Staff of the Month or Team of the Month because without the staff and players, this amazing recognition isn't possible."
Chair of the League Managers Association panel Marieanne Spacey-Cale said: "There has been a real transformation at the club since Joe's arrival, and his work and vision is beginning to pay off with the players all looking like they are enjoying playing for the club and each other.
"Last month, he maintained their unbeaten start to the season and the manner in which they defeated the reigning champions in Chelsea has set the bar high for the rest of the season."
Durham's management team comprising Lee Sanders (General Manager), Chris Moore (Head Coach) and Steph Libbey (Assistant Head Coach) enjoyed an unbeaten month, taking seven points from three games against Aston Villa, Crystal Palace and London Bees.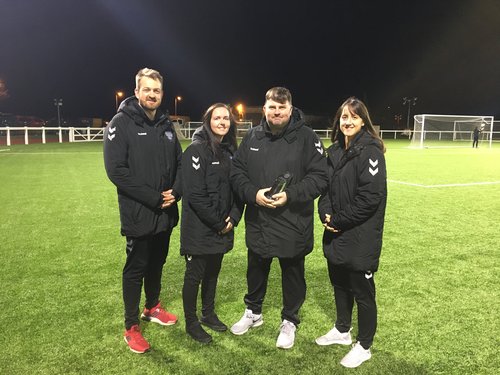 Speaking on behalf of the management team, General Manager Lee Sanders said: "It's a huge honour for the club and the management team and coaching staff to receive this award. A huge amount of credit must go to our first team coach Steph Libbey who puts a tremendous amount of hours in on the grass alongside the rest of the coaching staff – Chris, Mark, Andy and Simon – and our medical staff – Nat and Dave – plus the operational staff who ensure everything runs smoothly.
"And last but not least, the players should receive praise for this as they are the ones that have to cross the line and get the results like we have done, and that has culminated in us receiving this award."
On Durham's achievements, Chair of the LMA panel Spacey-Cale said: "The management team at Durham Women's Football Club has done a fantastic job so far this season, especially throughout October.
"They've demonstrated the importance of working well together behind the scenes to support the players and help them perform in training and most importantly, during matches."