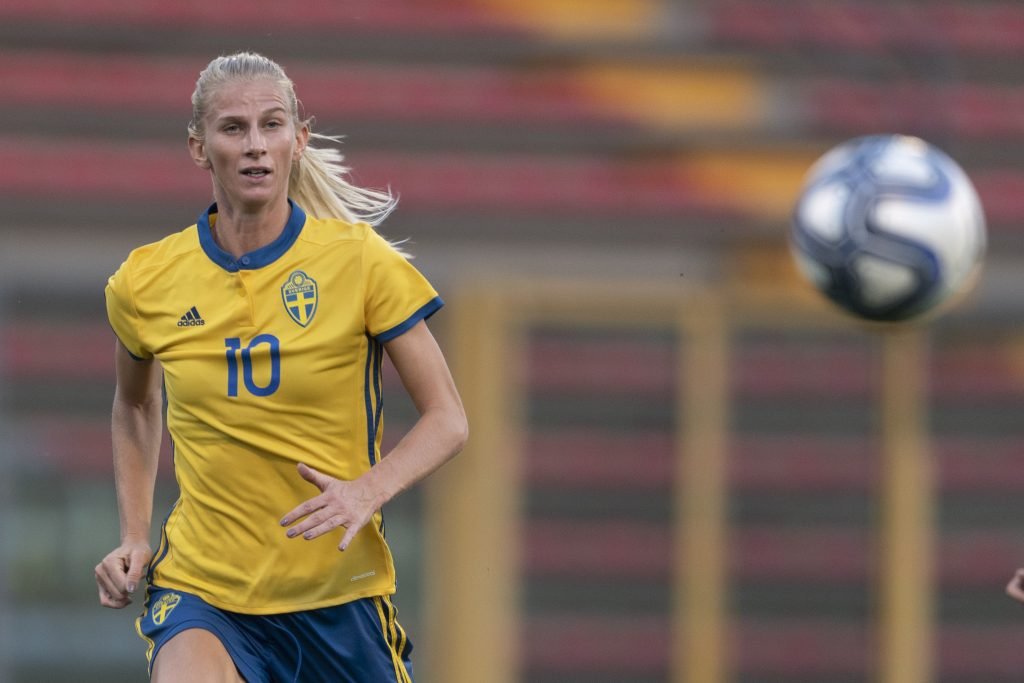 Sweden ran out 2-0 winners over England at Rotherham's AESSEAL New York Stadium on Sunday, and interestingly enough, there were also more Chelsea players lining up in the Blågult (Blueyellow) than in Phil Neville's team. It was 3-2 to the Swedes in that regard, with Hedvig Lindahl, Jonna Andersson and Magdalena Eriksson the Chelsea players in question.
Opening goalscorer Sofia Jakobsson was also a Blue once upon a time and she reminded English fans of her talents, as she curled an effort over Carly Telford in the first half. The current Montpellier HSC ace told She Kicks post-match how she is starting to feel like 'the old Sofia,' as she continues her impressive comeback from the ACL injury which took away her Euro 2017 prospects. Magdalena Eriksson, meanwhile, reflected on 'one half each' for the two teams, pointing to the superior clinical touch shown by the visitors.
Here were the thoughts of the pair after Sunday afternoon's meeting in South Yorkshire…
Sofia Jakobsson
Easy place to start – how did you rate your goal today?
I think it was not one of the strongest shots that I've had, but it was a good action before the goal. I think I was dribbling the ball well and then I saw that nobody from the defensive line stepped up, so I was thinking 'okay, why not shoot?' Then it went in, so it was nice.
Thinking of the times Sweden have played England in the past, are they different opponents now, or still very similar to how they used to be?
I think it's the same. It's a really physical team. It's also a lot of talented players who are some of the best players in the world, with Lucy Bronze and some of the other girls. It was a really good team we were facing today.
Your captain Caroline Seger has mentioned the team taking small steps all the time to be ready for the World Cup, but are they becoming greater strides now to where you need to be?
I think we still have a lot of games, with the Algarve Cup and some other games. I think we have some small steps we need to take to be at the top, but we are in a good way and I think it's interesting for the summer.
For you on a personal level, aside from the goal today, how are you feeling in terms of your overall form and your happiness as a player? Is this a high point for you?
Yeah, I've had some really good games here in the national team and I feel really good and happy to be back playing with the national team after my injury. I'm starting to feel like I'm back as the old Sofia, so that's nice.
We remember the Sofia who played in the WSL back in 2013, have you changed much since Chelsea?
I think I have changed a little bit. Of course, I am the same in that I use my speed, but I think I have become more technical, playing in France with the other technical players. I think I have taken some steps in my career, but I'm kind of the same player.
Did you enjoy being back over here in England? How has the week gone for you and what have you got up to?
Yeah, we were in Manchester and watched the Champions League; Manchester City against Shakhtar Donetsk. That was a really nice experience, and then we were shopping a little bit in Manchester, too. We had two really nice days there and then we've just been practicing before this game.
Magdalena Eriksson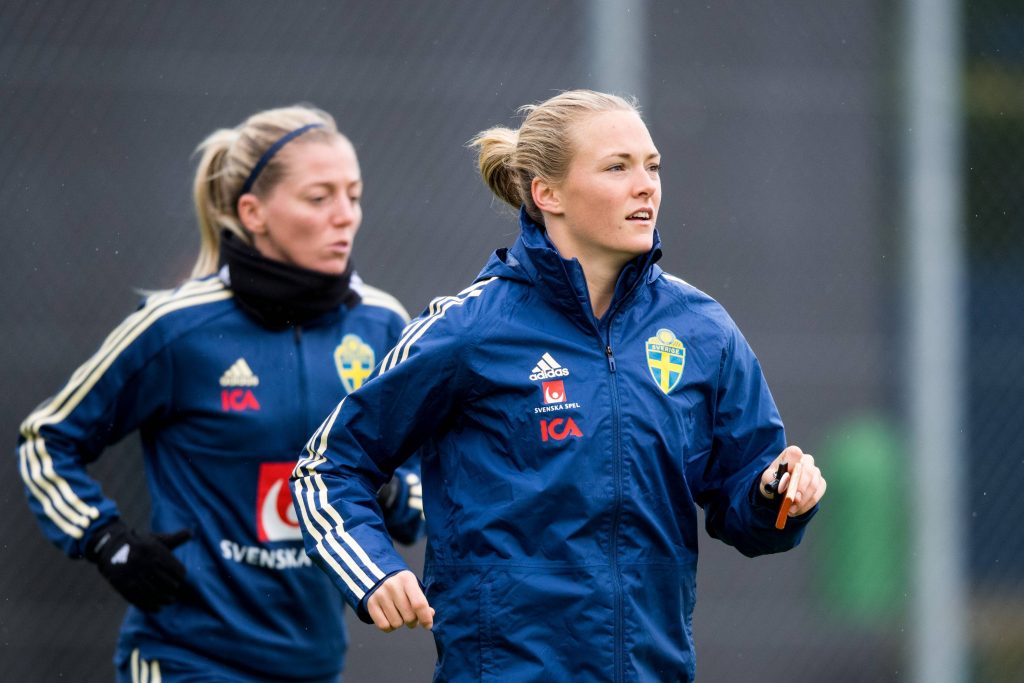 Where did England make it tough for you today? Where did it also feel like you were getting most success?
Well I can say we had one half each, so we had the first half, they had the second half. They came out stronger in the first period of the second half and then it started to ease and I think we were in control again. It was a game that was back and forth, and we took our chances and they didn't.
You reached the quarter-final of the Euros last year, do you feel better equipped now to succeed in the World Cup where you fell short in that tournament?
I think we're getting into a really good place at the moment. We have a new coach who's established his ideas on the team and it's starting to pay off as well. We always had a good defence in Sweden and we're starting to develop our attacking play as well. I think in a few sequences today we played really, really well, so I'm really pleased and I'm looking forward to the World Cup next year and seeing what we can do there.
What has Peter Gerhardsson been like to work with and how is he different or similar to Emma Hayes at Chelsea?
Well they're both big characters, big role models in that way. Coach-wise, they're pretty different because they're from different coaching cultures; Peter works more the Swedish way and Emma's more the English type of manager. Football-wise, they're very different, but personally, they're similar. They're big personalities and they're good leaders.
Are you really feeling the benefit of having that mix of styles and bringing something different back to the national team? Is it making you a more rounded player?
Definitely. I've become a much better player since I moved to England. I've learned a different style of football; a more aggressive style, more front-foot style. It's really good for me to learn that way and to combine that with the Swedish way. I think it's an optimal combination.
Finally, what happens with your club will also form an important part of your World Cup preparation. At Chelsea this season, it's been tough at times (currently 4th in the WSL), but do you feel you are overcoming that now?
We're getting there now, I think. We had a really good week before the international break; we qualified in the Champions League and we won two games in a row in the league. We've had some good performances, it's just been that little edge that we've been missing. It's gonna happen sometimes but I think we need to focus on the performances and focus on our play, which has been good. It's just been the little part that has been missing.