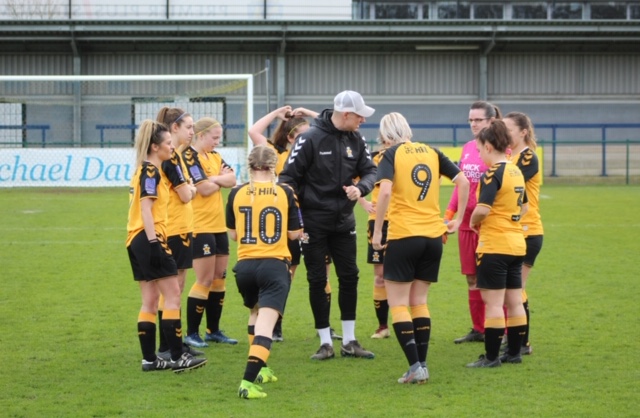 Ben Yeomans, Cambridge United Women's Head Coach, tells us how his side were on the up before lockdown, following what was a testing start to their FA WNL Division 1 South East campaign.
SK: Tell us a little about your footballing history and any personal highs.
BT: As a youngster I played local football to a good standard and represented my county (Huntingdonshire) for three seasons from u15-u18. As an adult I've played for Godmanchester, Histon and now currently playing for Mildenhall. I have always had a fascination with the tactical side of football from a young age and became a full time football coach at 18 years old. I'm passionate about providing high quality education to the lowest levels of the game, where I feel it is lacked the most. Through a mutual friend I was recommended to work with Cambridge United Women a few years back on an ad-hoc basis and now, 3/4 years later, find myself in the hot-seat.
SK: How had your season been going until the lockdown?
BT: The season up to lockdown had been a real rollercoaster. The season in general was always going to be transitional; I wanted a complete overhaul in the style of football that the girls would play this year compared to how they used to play last season, and everybody was keen and on board. We had had an extremely difficult start, losing a number of first team players to a higher standard late into pre-season, leaving us with a depleted squad, topping off with injuries to key players. We lost to the last kick of the game in our season opener at home to Enfield and had been plagued with similar results for the first month or so.
We had a run of nearly two months without a game that really helped us; the girls were down-heartened and we got together, re-evaluated the season and re-prepared for the remainder. We beat a high-flying Leyton Orient side 3-0 at home and this was just what the team needed to believe in themselves. After Christmas we really kicked on and were showing our class. Unbeaten in three games (one County Cup game included), scoring 14 goals and conceding just one; the girls showed a huge level of determination, drive and togetherness and we were eager to kick on with our remaining games.
The lock down came at a really bad time as we had won two league games on the bounce against teams around us in the league and our next game was against Cambridge City, who are our local rivals and were also close to use in the league. In general, the season ended on a positive, winning games, training hard and we had a tight-knit feeling within us that i'm eager to carry into next season.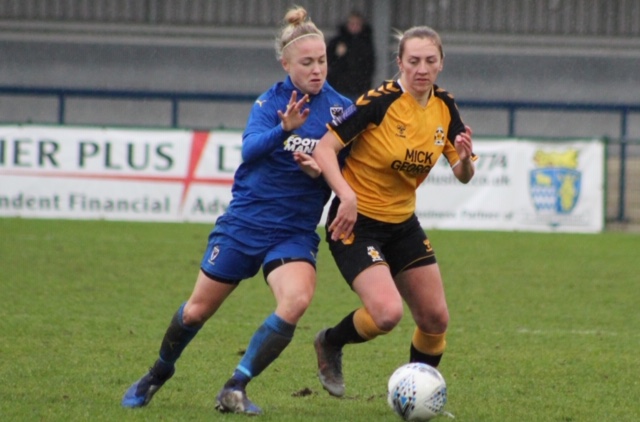 SK: How did you do against your local rivals?
BT: I'm not a huge believer in rivalries from an emotional point of view and don't tend to adapt my preparations based on any geographical or historical factors, but I know a lot of the team and supporters do. Early on in the season we drew 2-2 away [to  Cambridge City] on a Wednesday night, which was a game I really expected to win. City were good, and deserved their point, but I feel we were the makers of our own downfall in both the goals that we conceded.
SK: Any Rising star, club veteran or stand out personality we should know about?
BT: We have a number of extremely talented players within our club, young and experienced, who all add great quality to our squad. To name a few:
Kelley Blanchflower is the most talented ladies football player I have ever witnessed, showing unbelievable technical ability and knowledge of the game.
Liz Pamplin is in her early 40's, has been in the club for an extremely long time as a midfield player, but had earned her shirt as our first team goalkeeper this season and had performed better than anybody could have hoped.
Amber Cantwell was a real talisman for us in preseason and the early stages of the season having a natural engine, brilliant technical ability and a desire to never quit. She was a real leader in the way she played but unfortunately tore her medial ligament in the midweek game against City and left her out until after Christmas.
Angelina Nixon is a young girl who came through our youth development but ended up moving to Norwich City at the start of the year. She eventually came back to use and has shown real promise as an exciting talent with bags of tricks but still a lot to learn.
Gisela Otten joined the club midway through the season out of nowhere. She contact us through a mutual friend and has been a rock in the centre of our midfield since the first minutes she stepped on the pitch; adding grit, determination and a dogged style of play, she creates a platform for the more expressive players to play with more freedom.
SK: How are you trying to keep fit and fill the void in football?
BT: The lack of football is a tricky one, we have given the girls a template of fitness exercises we would like them to do, whether they do them or not is a different story! We have regular virtual meetings together, little fitness classes or quiz nights and stay in touch via Whatsapp as a group. The majority of the squad are well motivated and are ken to stay fit and sharp, everybody is really looking forward to getting back on the training pitch. The staff have done as much as they can so far to prepare for next season, making sure when we are ready to go back, we are chomping at the bit to create the perfect environment for the girls.
Billericay Town Ladies aim for 'an even greater level of professionalism'