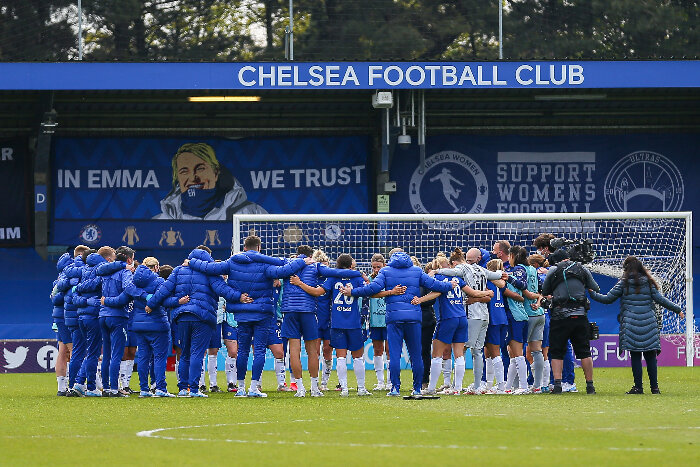 With a tactics-cum-play board showing off her son's formation plans to her left, Emma Hayes was chipper as she met the press on Zoom and looked forward to the week to come writes CATHERINE ETOE.
"I am going to have a glorious week training these players ready for the biggest game in their lives and I am going to be magic all week!" declared the 44-year-old Chelsea boss.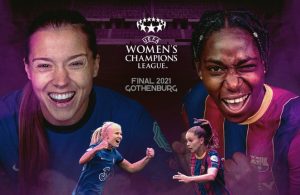 It was to be expected, Hayes had just won her fourth WSL title and was now building towards a showpiece Champions League final that had been the stuff of her childhood dreams.
Sam Kerr, with her camera switched off, was a little more low key as she faced the media less than 24 hours after being crowned a champion of England.
But the WSL's golden boot winner was clearly looking forward to the week ahead too. These are, after all, the kind of days the Australian dreamt of when she signed on the dotted line for Hayes back in 2019.
☝️ 𝐃𝐀𝐘 𝐓𝐎 𝐆𝐎!

… until one team gets to lift this beauty 🏆😍#UWCLfinal pic.twitter.com/WV1gF08dqU

— UEFA Women's Champions League (@UWCL) May 15, 2021
Now, we reckon that even the neutrals among us are surely rubbing their hands at the prospect of Sunday's showdown between Chelsea and Barcelona in Gothenburg.
So to get you in the mood, here are some of the best bits from those press grillings, from those who make Chelsea tick, to fortune tellers, families, dogs, butterflies and Fran Kirby. 
Emma Hayes on Barcelona and the final:
Barcelona is an incredible team. You see it in the way they beat PSG. They have the ability going forward to score goals against anyone, that's clear. But so do we. I think it'll be a very entertaining game between two fantastic football teams.
On winning the UEFA Cup as Vic Akers' assistant in 2007:
Did we think we were going to win it? I don't think we thought too much about it, I think the spirit of the squad was so tight that it didn't stress too much about it. That's something I see a resemblance of in the team I've got now.
On this Chelsea side compared to that Arsenal one:
Similarities, I think in terms of the team being built together over a period of time; the mentality in the dressing room; similar playing styles on some levels; similar characters. The difference is the strength in depth. We've got more strength in depth than that team did.
On success at Chelsea:
Adrian Jacob [Chelsea Women chairman] said to me when Pernille Harder and Sam Kerr were sat eating their dinner together, 'Would you have imagined two years ago that they would be sitting here lifting the [WSL] trophy?' and I went, 'Yes' because that's who I am. You've got to think big in life and it was my calling.
On fortune tellers and working hard:
I've never been to a card reader ever in my life, bar once, and she told me I would do amazing things at Chelsea and I would inspire generations of little girls. So I'm just fulfilling what I should be doing. The rest of it is sheer hard work and lots of people, players, staff. I think about what Paul Green [assistant manager] and Stuart Searle [goalkeeper coach] have done for the last nine years. People who've absolutely put a shift in, not seen much of their families, and done everything for me and the football club. We're there because we work our backsides off to be in this position.
On getting ready for her son's third birthday the day after the final:
I've got to get myself nice and organised before I go to make sure the house is ready, so it's decorated with enough planes, trains and automobiles and that I can have a fabulous day with my son. Trust me, it is as important to me as it is walking my team out on Sunday.
On leaving a legacy for her son:
I know people – Kaz Carney always says – that Harry changed me as a coach. I wouldn't disagree with that. I'm sure becoming a parent changes everyone. In terms of it being more meaningful, I just feel that with every game that is played or every title we contend for, I take it in more than I've ever done.
On her family helping out:
I wouldn't be in this job if it wasn't for my family. My family are the ones that allow me to go to work every day because they help with child care. Any parent knows how hard it is when you're juggling work and juggling your kids. My mum walked in the house today and said 'I'm just letting you know, this is the plan for Harry.' She took it right off my hands. That's what's allowed me to do my job – my family.
On how she would like her career to be described:
Winning is always at the top. I know it probably shouldn't be, but being a winner is what drives me. I've always wanted to blow the sport up so I'm proud to say I think I've played my part in doing that. That was always intentional. And the last thing is genuine. What you see is what you get. I'm not someone else.
On her feelings walking out in the final on Sunday:
I've already played it out in my head anyway. I am so experienced, I've walked out in a million arenas. I'll have already seen the stadium the day before, I don't have a crowd to look at. I'm sure I'll have a big fat smile on my face because I've got the best job in the world, the best team in the world and I'll enjoy every minute of it. I'm ready, we're all ready, we can't wait.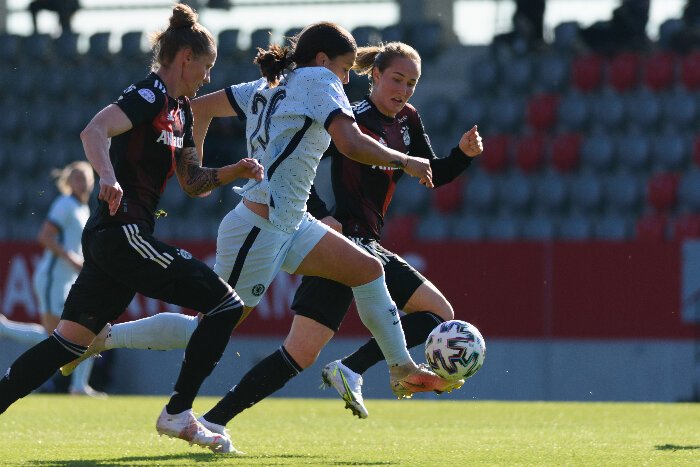 Sam Kerr on breaking new ground with Chelsea in the Champions League:
Whenever you're doing something that hasn't been done before, it's a little bit extra special. So for us it's a really proud moment. But we haven't won anything yet. So it's special, but we've still got more to go.
On facing Barcelona:
Looking at our team, we're electric going forward, I think on the counter-attack we're super, super quick. So I think that's gonna have to work in our favour against Barcelona, but they're a quality team. We'll focus on ourselves, but we also have to respect their strengths and weaknesses.
On how good getting to the final is for English football:
Yeah, it's really good for our league. It would have been nice if [Manchester] City had won their semi-final too and we could've had an extra English team in there, but it shows how strong the league is and to have two teams go that deep in the semi-finals, and potentially Arsenal next year, it's going to be only good things for the league.
On her family not being able to be at the final:
Mum and Dad for sure would have been over, my Nan probably too. It's disappointing but we're lucky now that there's so many ways they can watch women's football all around the world. I remember when [Australia] won the Asian Cup there was no way for my Mum and Dad to watch it live. So, as much as it sucks, I'm lucky that they get to watch still. It's been nearly a year since I've been home and looks like it'll be another year until I get home without quarantine so it's been tough, but I know I have my family's support and I know they'll be watching from across the world.
On what she has missed:
I mean nothing compares to Australia, it's just home. It's just that feeling of being in your own space and the coffee, my family, my dog. I haven't seen my dog in like over a year. I mean you can FaceTime your family. I can't FaceTime my dog and say 'I'm coming home soon', or 'There's a pandemic going on that's why I'm not there', she probably thinks I'm just neglecting her, so it's just the little things to be honest.
On Aussies watching the match in the middle of their night:
Everyone's been following along. My mum says there's a massive spread in the paper in Perth, where I'm from. I think everyone's going to get up and support the Chelsea girls.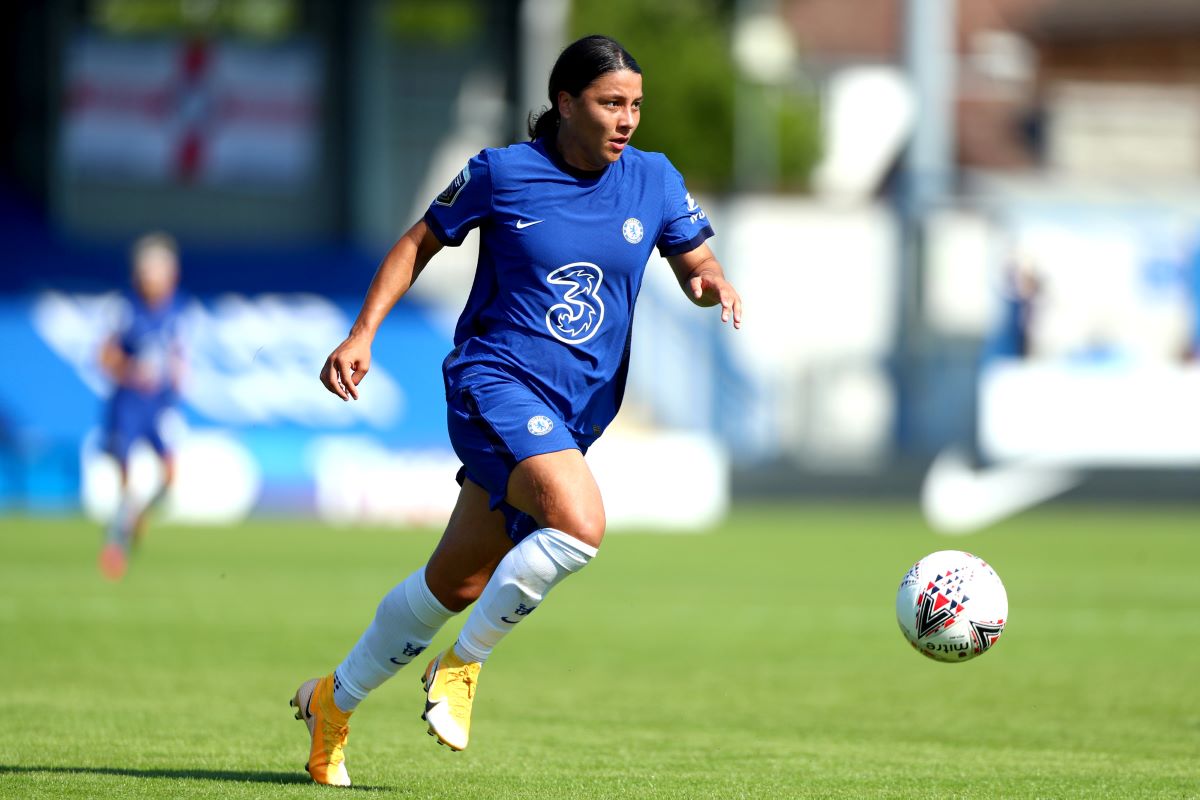 On how she has adapted to English football:
I've had to adapt my hold up play, coming to the ball. My combination play has gone to another level, I feel, because I've had to; I've been forced to be able to play quickly in tight spaces. When you have quality players all around you, it challenges you to be better every day. I've had to find a new way of playing and I've really enjoyed it.
On Fran Kirby:
I feel like we're very, very similar. We want to play quickly, one, two touch. It's quite scary for other teams because I feel like when we play quick and we play fast that no one can get near us.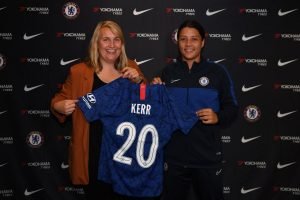 I had a lot of people doubting me at the start of the year and Emma trusted me and always kept faith in me. She was messaging me saying, 'It will come, I believe in you, you're the best player for the job'. Her belief in me has really given me the confidence to get back into form.
On being compared to Lionel Messi:
It's cool that people are talking about men's footballers and women's footballers in the same level. At the end of the day, we're both just footballers – only he's a legend and probably one of the greatest of all time! I don't think I'm close to his level yet, but it is nice to have six golden boots like him.
On the season:
This season's been so long and there's been so many ups and downs. Like there's been moments when I'm like, 'I just want to go home, I'm missing my family, it's cold, it's hard', but winning titles and winning things just make it all worth it. So it's not all roses and butterflies, for sure, but at the end of the day I do it because I love it.
WHERE CAN YOU WATCH THE FINAL? Full list is here.
SHE KICKS A BEAT WITH (special): Fran Kirby (Chelsea/England)