PLAY IT AGAIN, SUPER FRAN…
SHE KICKS' CHRIS BROOKES KICKS A BEAT WITH… FRAN KIRBY
While overwhelming positives in 2020 were in scarce supply, the year did ultimately restore a prime talent and one of women's football's most universally popular players to the pitch. The sight of Fran Kirby wheeling away in joy after scoring has that warm, 'favourite old song' feel.
So, while we celebrate the England and Chelsea star's storming return of late, she joins us for this 'She Kicks a Beat' special…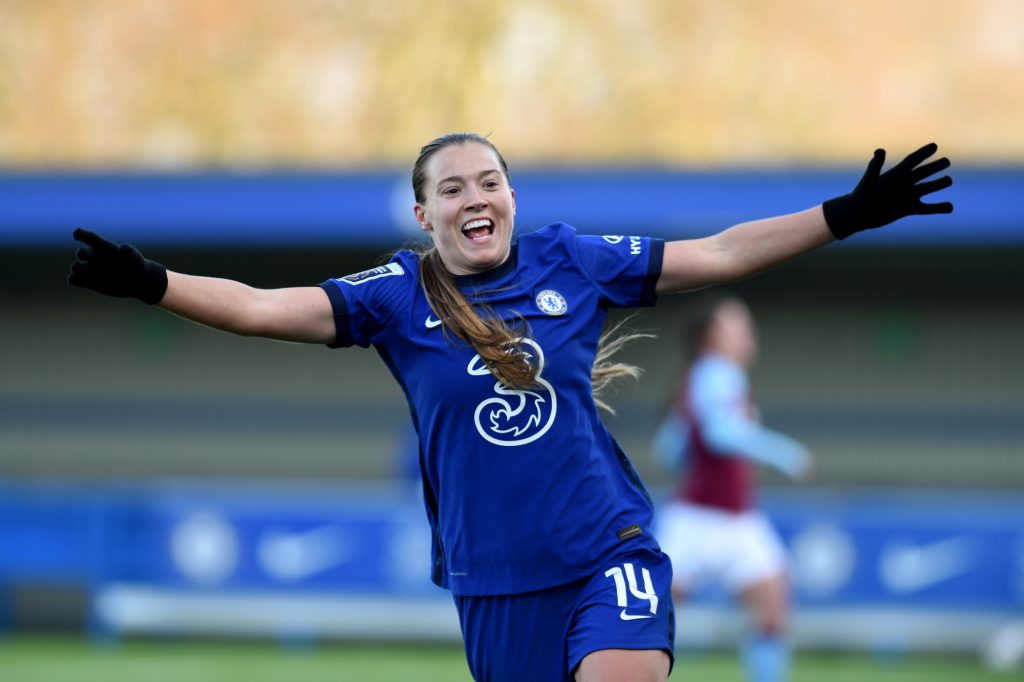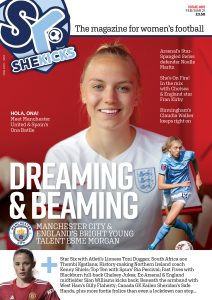 So, what tunes would we be listening to in #Franclub? 
Every new season brings its big objectives for a player, from clean sheets to personal goal tallies, to finally winning that trophy that has eluded you. The latter certainly resonates with Chelsea, and the FA WSL holders' pursuit of the UEFA Champions League will always be stronger with Fran Kirby around.
In helping the Blues past Benfica in the last 32 in December, she became their all-time leading scorer, with goals number 69 and 70. There was a time, though, when the figures she was trying to get to were slightly different – like around £12.99, for starters!
"I remember (the first CD I bought), specifically because I remember I saved a lot of money up to buy this album, and to buy a little pool table for my house that my mum allowed me to get," Fran recalls. "It was Shaggy's album ('Hotshot'), the one with 'Angel' on."
"That was the first one I got, and I got a little radio to go with it as well so I could play the album all day while I was playing pool in my garage! So yeah, that one is definitely the first one I bought."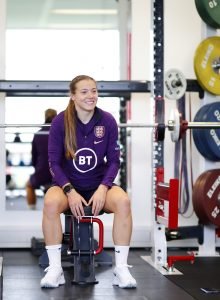 Fran's everyday surroundings have shifted since then, while a CD in 2021 is roughly as popular as 4-4-2 in modern football! The devices have changed but the sounds still matter for Chelsea's silky number 14, especially on match day.
"For sure, I always listen to music. I love music, I love any type of music, so I like to just kind of go with what I'm feeling in that moment.
"Sometimes I'll listen to really upbeat stuff, sometimes I'll listen to relaxed stuff if I'm feeling a little bit nervous, but definitely always got the headphones in or blaring the music out in the car."
The 27-year-old has scored at all three of her major tournaments for England, including two FIFA World Cups. While plenty connected to the women's game were already more than aware of her talents, her group-phase goal against Mexico in 2015, as she scooped over one defender, chopped inside another, and prodded home off the far post, announced her to a far bigger audience.
As the top-level athlete she has become known as since, endorsements have followed for the former Reading goal machine. So, what will she typically lock into on those Beats headphones?!
"I can go through a week where I'm listening to the new kind of hits, or I'll listen to the old-school, so a bit of Whitney (Houston), a bit of Stevie Wonder, people like that. Then I can go to the complete opposite, where I'm listening to country music; this week, I've been listening to a lot of Carrie Underwood.
"Tomorrow, I could be listening to Wes Nelson, so it's really, really mixed."
As the Lionesses selected for the 2019 World Cup squad were announced individually by famous names, Fran had her place publicly confirmed by multi-million-selling singer-songwriter Ellie Goulding. Given her pick of any performers from all-time to see live, she says that Michael Jackson and Whitney Houston would top the bill.
From the gigs she has been to, Bruno Mars at the O2 Arena was the standout.
"That was one of the best ones, and I went with Erin Cuthbert, so we had a real good laugh, just dancing around to his tunes."
Much surrounding Chelsea's women's team has been built up during Emma Hayes' near-nine-year tenure, though Fran thinks she was fortunate to arrive when one aspect was being overlooked!
"When I joined Chelsea, it was kind of going through the stages where initiations weren't quite part of the team at the time, so I was quite lucky in that sense. To be fair, I always love a singalong in the gym or anything like that, so I'd say that's my initiation every day!"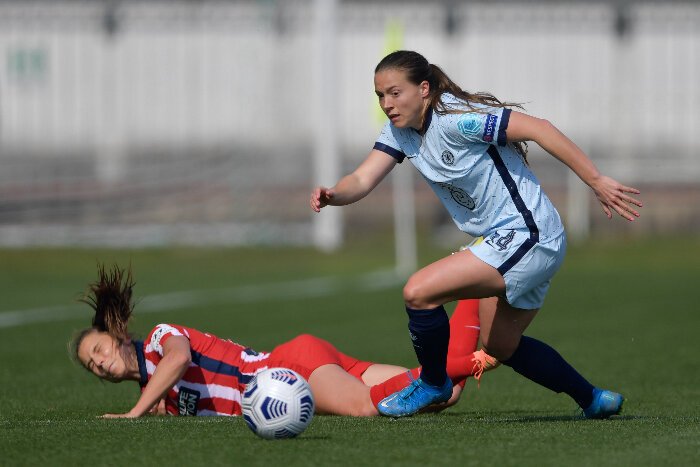 Thanks to football's love of making new players sing for their teammates, those in the game get to catch some memorable performances free of charge. Off the back of Chelsea's double-winning 2017/18 season – for which Fran won numerous accolades – one of their summer additions went all out when the subsequent initiation came calling.
"We had one year where everyone went in a group, and a couple of girls did a Grease kind of thing; it was Ali Riley and she had the wig and everything to play Sandy, so she was really on it."
When it comes to setting Chelsea's matchday mood, Fran's fellow goal-getter Beth England typically snaps up the chance as team DJ. Fran describes the usual way of it with England, in these post-Alex Scott times.
"I think Leah Williamson jumps on the DJ blocks. It's the same kind of vibe as in Chelsea's changing room; it's very chilled, the music's going and you're kind of focusing on the game, rather than dancing.
"You have a few people here and there who are trying to make you laugh, like Jill (Scott), she's always up for a dance – no matter when!"
Now a three-time FA WSL winner (plus the Spring Series in 2017), Fran has more history than most with this magazine. She featured at just ten years old, in SK's 'Fair Game' days, and went by the description of 'midfield/goalkeeper'!
She was asked then which she would choose: winning the lottery, playing for England, or winning the FA Cup? Playing for England, she said (and the FA Cup came anyway).
We have one more lofty ambition to throw her way here, as Super Fran turns recording artist. We just need one or more teammates from her career to join her in this (probably hypothetical) studio.
"Well for starters, I probably wouldn't do it! You'd have to pay me a lot of money to do that one!
"I'd probably pick someone like Ali Riley or Crystal Dunn. When Crystal Dunn was over, she did the Fugees and she was actually quite a good singer, so I'd probably pick Crystal and she could do most of the song, and I'd just do the background noises!"
For many more music interviews with the players, head to Chris' site BeatsAndRhymesFC.com
And here's some extra, bonus cuts of insight…
Fran Kirby, on what she feels gets the best out of her as a player, from a manager. Thrive off encouragement? Or play well when fired-up/angry?
I'm a bit of both. You always want encouragement and you always want that respect, and to feel valued. Also, people being honest, not beating around the bush. As long as it's not taken out of context, and it's constructive, then I think that helps me a lot, rather than just saying 'that's not good enough'; that doesn't help me. When I'm angry, I go one of two ways. I think that happens more in training, because I know in games I have to be completely, fully focused, but in training, I'll get the ball and I'll just try and smack it as hard as I can in the goal. Sometimes it works, sometimes it doesn't!
On other interests/ambitions away from football:
Well, obviously I have my dogs, so I walk them when I need to get some fresh air, and they've been a massive help in these tough times. I've been doing a part-time uni degree, business and administration, so that's taken up quite a bit of time in the evenings. I've been reading books about mindset and things like that; that's actually been really helpful going into the season.
On whether her studies are with a future in football in mind, after playing:
I think of course I want to stay in football. It's not something where I wanna go 'okay, I've finished playing now, I'm out,' but I definitely want to find something away from football that I enjoy doing. I think we get so wrapped up in 'football's our life, football's this, football's that,' and you forget that there's such a bigger picture out there, such a bigger world than the one that we're in. So, I would love to kind of venture out into something else. I don't know what, but that Is something I've really thought about and I'd like to do.
On why former United States midfielder Lauren Holiday was her toughest opponent:
I couldn't get anywhere near her for however long I was on the pitch. I remember hoping that it was gonna be my number that came up to be subbed at one point because I was so tired! I was just chasing her for the whole game.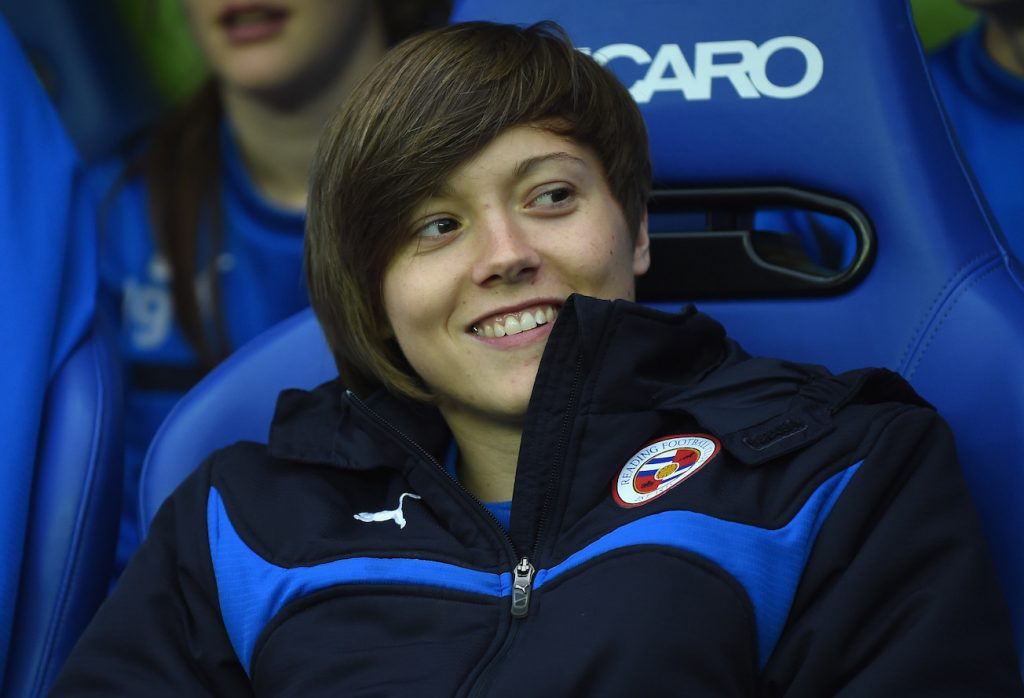 On what she's learned, from that kid at Reading, to someone who's now played in front of millions watching, and having people and friends in her life from around the world:
I think I've had to learn a lot; a lot of life lessons since growing up at Reading. Also growing with how women's football has grown. At the beginning, that was quite tough. It's getting bigger, it's getting more media attention, and we are role models now. We have to show that in everyday life. When I first came through Reading, it wasn't the case of everyone putting the magnifying glass on what you were doing. I think I had to get away from Reading to experience something new, take myself out of that comfort zone and learn who I am. I don't think I would have got that if I'd just stayed in the same place. I wouldn't have met the most amazing people that I have and travelled the world, so I'm extremely lucky.