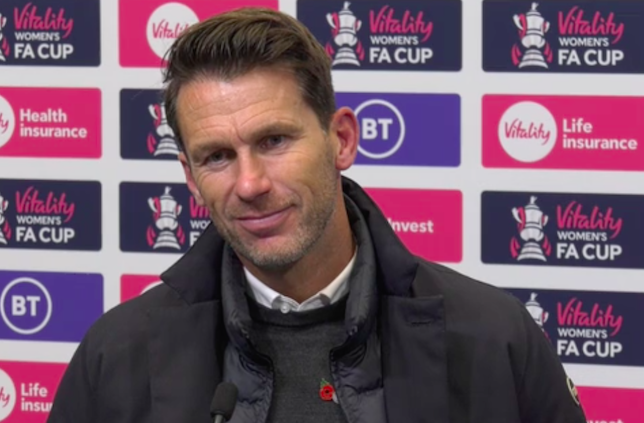 Having watched his Manchester City side triumph over Everton with a 3-1 win in extra-time at Wembley and then enjoyed a brief moment to celebrate with his players and staff on the pitch, manager Gareth Taylor joined the media for a post-match chat from the safety of a virtual press conference. He was full of praise for the squad and talked about setting the challenge of winning the competition twice in one season.
Here's more of what he had to say…
On what it was that got them through against Everton:
Desire and will. I have to be honest. I think it was a tough situation to be in, I felt we played some really good stuff and controlled the game, had to deal with the sucker punch of conceding in the second period. Scoring the goal just before half-time, I was contemplating coming in at half-time at 0-0, it didn't think seem like we were going to make the most of our dominance and our chances but to come in a goal ahead from Sam Mewis was great. Then within ten minutes in the second period we had to find some resolve because that's tough – I've been there and when you concede like that in a game when you're fairly dominant – the will imposed by the players, as a collective, and that's the players that were on the pitch, the substitutes who came onto the game, was top class. 
On what it means to him:
It means everything. I'm fresh to this. I've not even hit double figures yet for games under my belt. But I think it's amazing. I've been blown away by the support and by the girls and the level of attitude and application and this just reinforces the message. We want to achieve big things. We want to make history, challenge the players to do what no other club is likely to ever do again and win the FA Cup twice in one season. It will be tough, I know it will be because everyone wants to win. It's a mixture of emotions at the minute. I don't think it's quite sunk in because of the game and how it evolved but I'm really proud at this moment.
On how this win could maybe be a springboard for results and form in the league:
I think this win could be a springboard. We try not to overlap the games but this is my ninth game and four of those have been in cup competitions and five have been league games. We've had two draws. I thought in the two draws we had in the WSL we played really well, we need to obviously improve our final actions, you probably saw elements of that today, in a performance where we were fairly dominant we just needed to find what we did in extra time. So, today was about winning. This is new for a lot of the players, new for me, it takes some time to bed in, so this gives us a platform to really push on and it just confirms that the processes and everything else we stick to.
The players deserve all of the credit, they really do. They've been top class, every one of them. I'm new to this. I'm going to make mistakes but I'll try and do everything I can for this team and this club.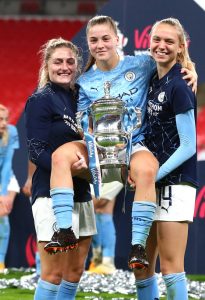 On the performances of Georgia Stanway and Jess Park, stepping up amidst a squad of recently introduced world stars:
You've seen it today. The impact they have made was great. I thought Jess, to show that maturity for someone who is so young, in that performance and how she got Everton on the back foot and she did that in the other cup competition earlier in the month and she will really improve playing ahead of Lucy Bronze, next to Sam Mewis and at times Ellen White, playing off her as the number nine. What we're trying to do is improve and improve the squad and sometimes that takes a little bit of time but I think it's really building on the foundations of that we have already. We've been successful previously and want to try and kick on and win more things and that's not easy because everyone else is trying to win things. I've really seen the level of quality of teams in the WSL improve this season.
On whether he started to wonder if it was 'one of those days' when MacIver was making save after save, the woodwork intervened and the ball wasn't going in the net:
Naturally that thought goes through your mind. I'm not going to lie. I just wanted us to carry on playing our game. When we put the ball at risk we gave Everton a half-sniff of a chance of progressing. Once we stuck the principles of keeping the ball we knew we'd arrive in the final third. It probably took us a little longer than I thought but I was pretty confident going into extra time. I think if Everton had scored late on, towards the end of the ninety minutes that's different but it gave us time to continue playing our way, we kept knocking on the door and eventually it opened.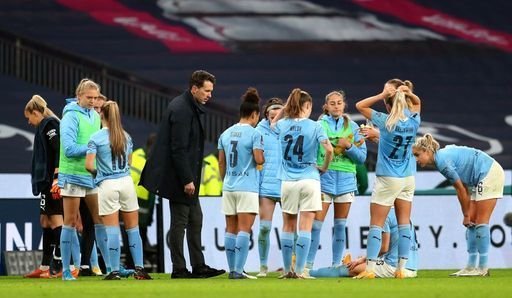 On selecting Alex Greenwood as a left-sided centre back:
Alex has played as a left-sided centre-back for Lyon previously. She played that position more often last season than as left-back. I thought Demi Stokes was excellent for us today, she really grew into the game and stuck at it. I thought Alex was great as well and Gemma [Bonner] has done brilliant this season. It was the toss of a coin in terms of how we wanted build against Everton and sometimes having that left foot there gives you some balance.
The contribution of Sam Mewis in the game and the season so far:
She's a huge player for us. Sometimes in the throes of the season and when games are coming thick and fast, you don't get time to reflect on the impact that she has had. She has been top class, not just in her performances but in the way she conducts herself. I saw this when we were watching and going through recruiting videos with my boss Gavin [Makel] and Alan Mahon, I was saying, "This player seems such a team player." That's the main thing you look for. If you've got someone who is there for the team and you've seen that with her role she played for the U.S., you know she's going to drag players along with you. The effect she's had on the young players, like Jess Park, has been amazing. I don't take her impact lightly, she has been amazing.
On the busy schedule coming up:
I think it's great, as a coach, you just want momentum. We've got a decent squad, we're in another competition on Wednesday and another competition at the weekend so the important part is that everyone is fit and available and knocking on the door to be selected. Disappointing players by leaving them out today, I think you saw evidence that they came onto the pitch in and made a real impact and that's all you can ask for.
On playing a final in such different circumstances:
For me today was a really proud moment. The one thing that was missing is the supporters. Hopefully the next best thing is them being at home and sharing in our joy from a long way away but we feel the love and we should be proud of the team. And Everton supporters should be proud of them as well because they put up a really good fight today and Willie is a coach that I've got a lot of time for and he's a guy that I really respect. When we came into the dressing rooms today, the messages of support, the TV screens were on with all of the supporters at home, it was just amazing. It's a strange situation playing in an empty stadium but we feel that the supporters are with us and behind us and hopefully we can continue to give them things to be happy about and enjoy. 
2019/20 Vitality #WomensFACup Final POST MATCH REACTION: Kirk 'immensely proud' of Everton Team & vows to return