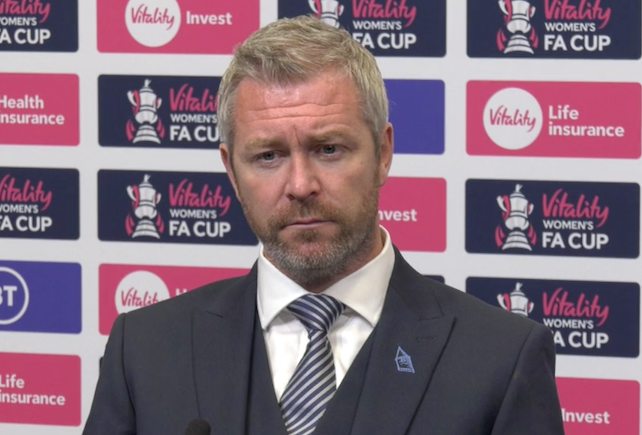 Following Manchester City's 3-1 extra-time win over Everton in the most closely contested final in the Wembley era, losing manager Willie Kirk joined the media for a post-match chat in the now customary virtual press conference-style. He was understandably proud of his side's valiant efforts and spoke eloquently and convincingly of the exciting future ahead for his gutsy and talented group of players.
Here's what he had to say…
Willie Kirk on his overall feeling about the efforts of his team:
They have given absolutely everything they had in the tank. Very, very proud of them. Obviously, there has to be a loser, you never want to be that loser but in terms of what we did on the pitch and what we asked of them, they did that. Immensely proud of the players, the staff and the club in terms of the support we've had. I don't think we could have done much more today but that will inspire us to come back.
On whether the final scoreline (3-1) was a little harsh:
Yeah I think we would all have accepted 2-1. I think City would have just accepted 2-1. Obviously, the longer it goes you're thinking penalties, then you lose a goal and we continued to create chances at every scoreline apart from at 3-1 when the final whistle went. We were a continuous threat. I thought we could have been a little better in that final third in terms of making those good chances great chances but City deserve it because they had to perform, they had to push hard themselves because we pushed them hard. So congratulations to them and, as I said, that will inspire us to come back. I want to keep coming back to Wembley.
On the performance of his players, particularly GK (and Player of the Match) Sandy MacIver:  
Outstanding. From start to finish. She took knocks, she did everything she could to keep the ball out of the back of the net. Sometimes it wasn't pretty, sometimes it was a punch or a slap, there was one cross she was at full stretch and she just had to get something on it but I thought she was outstanding today and very much showed that, for me, she's England's number one. 
On the game being a launchpad for success:
I think I said that if we'd won it could be the launchpad to go on to achieve great success over the next few years. I still think that. The matter on that defeat, the way it's happened, what I got off the players – it only heightens your trust, it only reinforces your beliefs and I still think it can be a launchpad for success. We will be back here. The players will be determined to do that and we will keep pushing them to do that.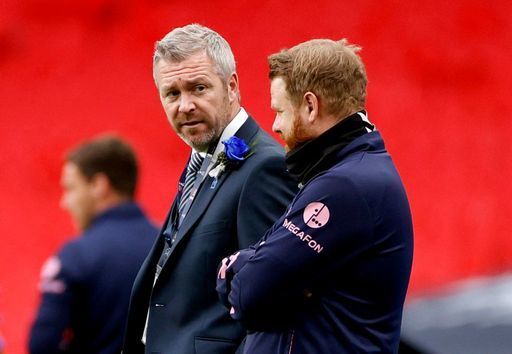 On the feeling that it is just the start of the journey for this group of players:
I said to them after the game and I've said to them a couple of times, that I would never cap their potential, I think they've got an incredible amount of potential as a group. We will continue to strengthen that in terms of making those players better. We will continue to get support from the club, especially after today, the club will be proud of that performance – they've been great today – we just fell short. 
On the value of the experience for a young group:
I think the beauty of this group is that they are centrally learning from these experiences. Obviously we came form behind to beat Everton in the quarter final and we used that today at half-time to make sure we got back into this game and we did. So they've learned from that. Look at Molly Pike and Poppy Pattinson, 19 and 20 years-old respectively. That experience will hold them good stead. Grace Clinton, 17-years-old, being on the bench, just to witness that and be part of the emotion. Sandy MacIver, 22, it is such a young team. We're in a good place, we're in good shape and I firmly believe we will have a good season.
On players taking knocks and still continuing – like Valérie Gauvin, who went on to score:
There were a few of them, big players for us, but I thought everyone who came on… I thought Molly Pike was a real pain in the backside for City, I thought Simone Magill done fantastic when she came on, young Poppy [Pattinson] came on and hasn't had much game time and did well and that allowed Dan [Turner] to push in. So not just Val, we lost big players today through illness and injury: Sevecke, Graham, Gauvin. Everybody knows now Valérie is a top goalscorer, everyone knows why I brought her to the club. She's one of the best strikers in the world. She will continue to get better and she will continue to get fitter because it wasn't just a knock on the knee, we're still working on that fitness. We'll continue to improve her and hopefully she'll continue to terrorise defences!
2019/20 Vitality #WomensFACup Final POST MATCH REACTION: Kirk 'immensely proud' of Everton Team & vows to return