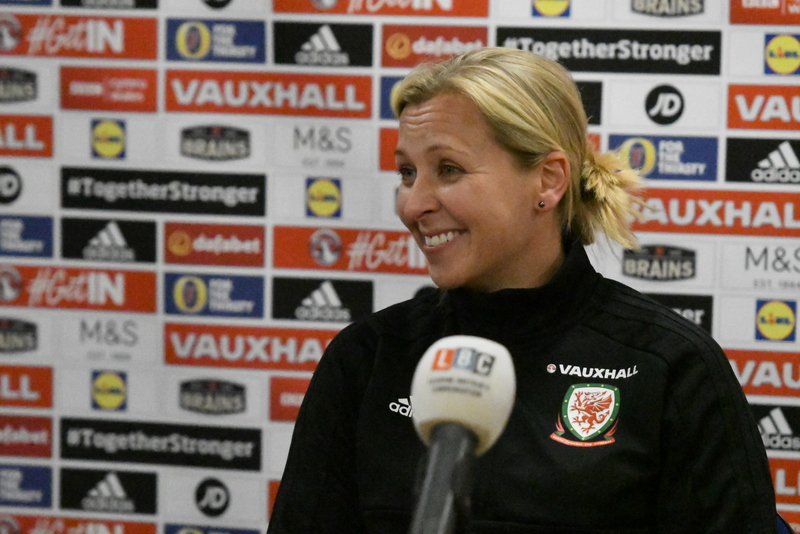 Jayne Ludlow has announced the Wales U-17 and U-19 sides to attend forthcoming training camps.
The FAW say that the head coach will be hoping her U-19 side continues their development after reaching last year's UEFA Elite Round. Ludlow has selected Olivia Clark, Elise Hughes, Ffion Morgan and Alice Griffiths, who are also part of the senior squad facing England at the end of August.
Meanwhile, the U-17 squad will also be taking part in a training camp as they prepare for their UEFA Qualifying round.
Wales U-19s
OLIVIA CLARK (Nettleham), AIMEE WATSON (Bristol City), MIA NORTH (Yeovil Town), AMINA VINE (Cardiff City), FFION MORGAN (Cardiff City), THIERRY-JO GAUVAIN (Yeovil Town), LUCIA CARPANINI (Bristol City), TAMSYN SIBANDA (Arsenal), CHELSEA DEACON (Barry Town), EMILY RICHARDS (Swansea City), SHANNON DUKES (Everton), ALICE GRIFFITHS (Cardiff City), CHLOE WILLIAMS (Wolverhampton Wanderers), NIA REES (Cardiff City LFC), ANAIS TRINCI (Bristol City). ELISE HUGHES (Everton), EMILY JONES (Everton), CASSIA PIKE (Liverpool), GRACE HORRELL (Cardiff City LFC), RHIANNE OAKLEY (Bristol City)
Wales U-17s
DEANNA LEWIS (Cyncoed), SASKIA KACARY (Crystal Palace), Poppy SOPER (Cardiff City), HAYLEY HOARE (Cyncoed), ESTHER MORGAN (Chelsea), MORGAN ROGERS (Cardiff City LFC), LUCY ATTWOOD (Cyncoed), JOSIE SMITH (Everton), SOPHIE NORMAN (Cyncoed), GRACE GODWIN (Aston Villa), GRACE MORRIS (Wales Performance Squad), CERYS BEVAN (Pontardawe), ANNA BEBB (Birmingham City), MEGAN LEWIS (Villa Dino Christchurch), CERYS JONES (Cardiff City LFC), JOSIE LONGHURST (Cardiff City LFC), ELLEN JONES (Bristol City), PHOEBE HAMPSON (Everton), MARIA FRANCIS-JONES (Wales Performance Squad), CARRIE JONES (Wales Performance Squad), ZOE COLLYER (Bristol City), JASMINE SIMPSON (Cardiff City LFC), AVA SUCKLEY (Stoke City), FFION SPENCE (Barry Town)